By Leigh O'Connor.
A hamburger is a universal food that brings people together and is loved by everyone. No matter what's between your buns on Friday, May 28 – we'll all be celebrating International Hamburger Day with our favourite!
Did you know during World War I, the US Government tried to rename hamburgers as 'liberty sandwiches'?
Here are four more fun facts about burgers and five joints to indulge your cravings next Friday:
•The largest hamburger in the world weighed 1164.2 kg and was made by six Germans in Pilsting on July 9, 2017. It had three meat patties, tomatoes, lettuce, cucumber, onions, hamburger sauce and a gi-normous bun.
•Americans consume around 13 billion hamburgers a year, enough to circle the Earth 32 times.
•The Big Mac was first introduced in 1968 and sold for 49 cents American.
•PETA (People for the Ethical Treatment of Animals) once offered the town of Hamburg in New York, $US15,000 to change its name to Veggieburg.
It's burger o'clock somewhere in the world…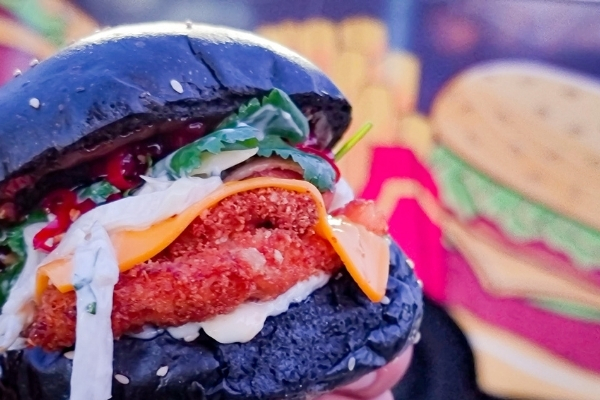 Wrap your hands around a Katsu Burger from Buns on Wheels.
Those seeking a mobile fix next Friday can follow
Buns on Wheels
food truck around Melbourne for all things burgers and loaded fries. This new kid in town is based in Clayton and can be found trundling around the city streets, markets and festivals, easily visible with its black paint job, covered with vibrant fast-food images.
Wrap your hands around a Katsu Burger – crumbed chicken schnitzel, remoulade, Japanese mayo, katsu ketchup, housemade chilli jam and cilantro, on a toasted sesame black bun; and a side of Fiery Fries, with special cheese sauce, marinated pulled pork, bulgogi mayo, spring onion and sesame seeds.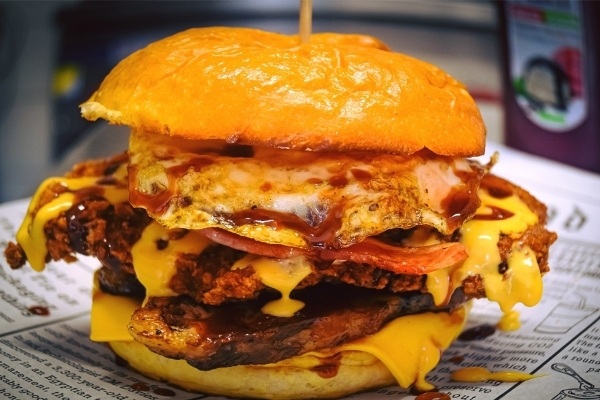 It all started with Simon Says' The Op Shop Burger.
Your burger, your way, along with mouthwatering sides await at Perth's most unique fast-food joint,
Simon Says
on Progress Street in Morley. From the graffiti-style mural on the outside wall to Super Heroes plastered inside, find your superpower while checking out a menu offering everything from burgers to curries, roast chicken, steak and ribs, all seasoned with bush tucker ingredients.
It all started with the original Op Shop burger – chicken, beef brisket, maple-candied bacon, fried egg, cheese and BBQ sauce – or satisfy the inner carnivore with The Sinner, beef patty, melted cheddar, pulled lamb, beef brisket, caramelised fried onion, egg, bacon, Swiss cheese, pickles, truffle mayo and cheese.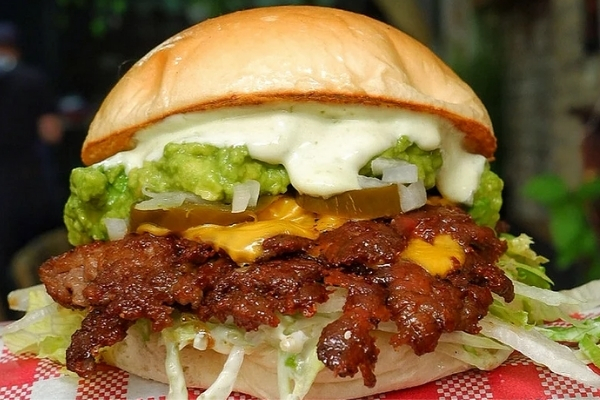 Don't go past a Double Envy from Get Out of Here Burger.
Celebrate International Hamburger Day with a free cheeseburger with any order at
Get Out of Here Burger
on High Street in Thornbury. Located at Swamplands Bar, expect new-age fast food with a Southern twist at this joint, where live music, good times and good burgers go hand in hand with fried chicken and vegetarian options.
Don't go past a Double Envy burger – two smashed Angus beef patties, double American cheese, smashed avocado, GT sauce, diced onion, jalapenos and shredded lettuce – or maybe the Fricken fried chicken burger has your name on it, with housemade pickles, lettuce and garlic aioli; finished by a mega chocolate mousse sundae.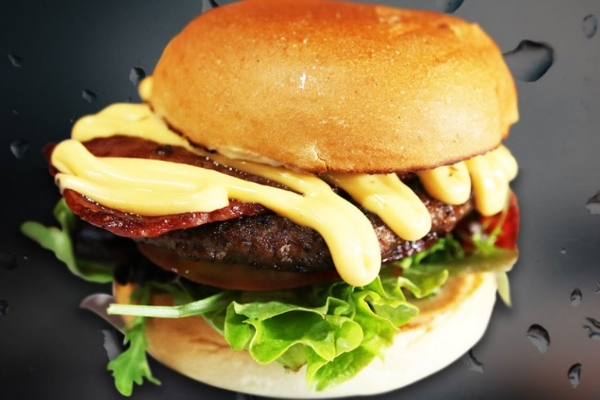 Camel goodness in a burger at Dougies Grill Auburn.
If your heart says burger…just don't deny it! Chow down on a lip-smacking camel burger on Friday at
Dougies Grill
on Auburn Road in Auburn – where the burgers are addictive, along with finger-lickin' good Portuguese-style grilled chicken. Yes, we did say this burger has a 100% camel patty, along with mixed leaves, tomato, beetroot, onion, American cheese and Dougies' secret sauce.
There's a burger for all tastes at this restaurant, where a moody vibe of red embossed wallpaper, black leather booth seating, black subway tiles and exposed brick awaits. Those looking for a light bite may opt for a classic chicken wrap, while the health-conscious delve into a grilled steak salad, with rocket, feta and famous sauce.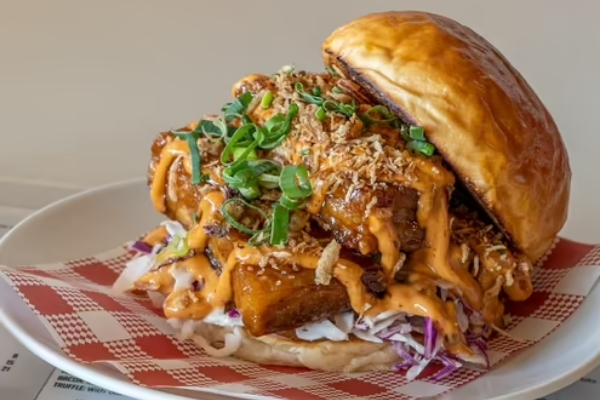 Easy Street's maple-glazed pork belly burger.
Find beats, beers and burgers on the menu at
Easy Street Diner
on Gold Coast Highway in Mermaid Beach. Drop by next Friday to wrap your hands around some of the tastiest, juiciest, most authentic American-style burgers you'll find this side of Texas; this joint is wholly inspired by the cuisine of the USA, from Super Heroes on the walls to red-checked napkins and glowing neon signage.
Grab a maple-glazed pork belly creation, smothered in chipotle mayo and topped with crispy onions and shallots; or prepare to take the Triple Royale challenge – triple the meat and triple the cheese – with a side of Motherload fries, cheese sauce, pork belly, bacon bits, burger sauce, mac and cheese and shallots.
Remember a burger without cheese is like a hug without a squeeze! For more places to celebrate on Friday, click
here.