By Leigh O'Connor.
Easter is a time for families to come together over food, wine and good times.
As a Chef, husband and father of three sons, Peter Kuruvita knows what it means to gather around the table with family and friends and celebrate all that life has to offer.
His newly opened venue
ALBA by Kuruvita
is already making huge waves on the Noosa Heads dining scene.
Tucked away in Parkridge Resort on Alba Close with calm grassy surrounds, this new hub of food and beverage offerings combines a café, providore, pizzeria and a relaxed all-day bar offering, which evolves into a stylish restaurant and cocktail bar as the day progresses.
The complex also hosts ALBA's 'Chef's Kitchen', a creative space for cooking classes, private Chefs' tables and a kitchen studio.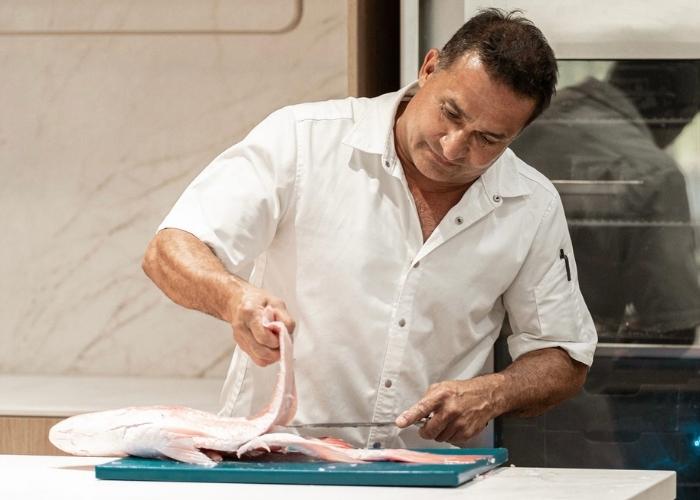 "After a rough start due to the Queensland border only opening a week before Christmas, ALBA is finally hitting its straps and becoming everything I envisaged as time goes on," Peter tells AGFG.
"We have the restaurant humming and have just opened the next phase – the 'Chef's Kitchen' cooking school."
Peter says the vision was to create a branded house, a business which had many options for guests and streams of revenue. The effect of COVID on hospitality has made a lot of operators look for ways to run a business if unforeseen restrictions are put on them.
"ALBA is a unique property in a beautiful calm part of Noosa Heads. It has a combination of different offerings completely different to anywhere else – our use of Sri Lankan and Subcontinental influences in our menu and the fact you can buy gifts and gourmet products from the providore while you dine, or do a cooking class."
A long-time dream, the 'Chef's Kitchen' is a fully wired studio with video and recording equipment for broadcasting live-streamed classes, or it can be hired out for filming and photography.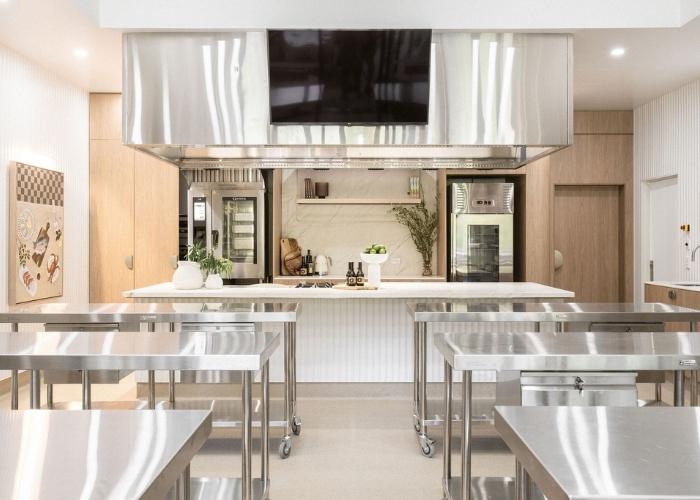 "Once again, COVID had us thinking outside the box, as a beautifully designed space it also makes a unique private dining room and perfect for private Chef's tables."
The providore side of ALBA evolved partly from necessity – surrounded by 700 residences who had nowhere to go for bread and essentials.
"We bake bread in the restaurant anyway so I thought why not make it special? We have antipasto, cheese, a small bottle shop and gourmet products for people to enjoy on their balconies at home.
"We support local businesses with their products and gifts; my signed cookbooks and 'Lord & Lion' spice boxes are also available. It's a mix of very local products and Sri Lankan cooking items."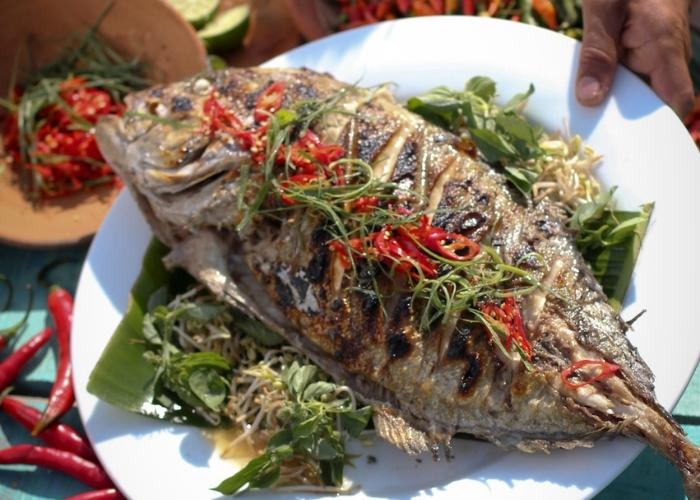 "The weather is usually still nice enough to enjoy the outdoors at Easter. This recipe is perfect to cook on the BBQ at a social gathering – the flavour of barbequed whole fish is simple and perfect by itself, but I can never resist a bit of spice!
"The Indonesian sambal is the perfect accompaniment to fresh seafood and easy to whip up. To me a whole fish symbolises togetherness."
Wherever you are this Easter, whoever you are with…we hope Peter's recipe brings you, family and friends together.