We all have special memories of home…as a multi-cultural nation, Australia embraces many different ethnicities, who have chosen to make this country home.
With the global pandemic curbing not only international travel but also preventing us from travelling interstate to visit family and friends, we have all had to make sacrifices.
What evokes memories of home for you? Is it the smell of fragrant tropical flowers, an Indian curry simmering in the kitchen, or the aroma of coconut suntan oil? Whatever sets off those waves of homesickness, we have you covered.
Every Friday, AGFG will highlight a restaurant, venue, or product from around the globe and this week we are heading to Switzerland:
Founded from a passion for Swiss food and culture,
The Matterhorn
on Pacific Highway in Turramurra delivers on all counts. The only Swiss restaurant in the area, expect a traditional musician to play every Friday, while sipping a glass of Swiss wine made locally; in authentic surrounds of subtle accents, walls adorned with artwork, softly glowing candles and red clothed tables.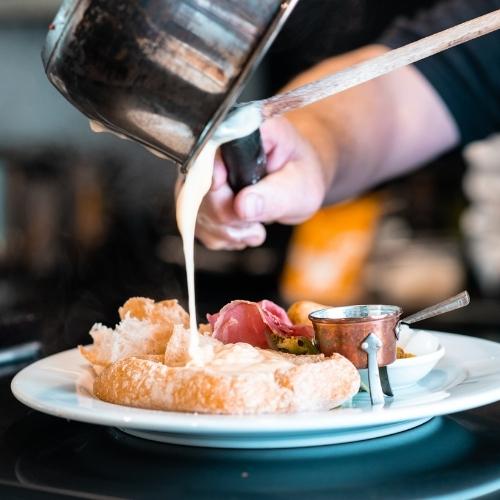 A must-have dish that reminds people of Switzerland:
Cheese fondue is synonymous with Swiss cuisine. It is a molten blend of Gruyère, Emmental, Appenzeller, Kirsch and white wine. It's served in a pot to share over a flame with bread, potatoes and pickles.
What restaurant features remind people of home:
The decor has been designed to emulate a Swiss chalet, coupled with warm friendly staff who embody Swiss hospitality; you will feel like you have stepped into a neighbourhood restaurant in Switzerland.
Roland the Chef brings traditional dishes from his homeland to help recreate an authentic Swiss experience and he also visits the tables as you would expect to find in most Swiss restaurants.
Friday nights we have a Swiss accordion player to play in the restaurant and entertain guests.
Why dining here helps guests feel like they have hopped on a plane back to Switzerland:
The feel of the dining room coupled with the authentic Swiss food makes you forget that you are still in Australia, instead of sitting in a chalet on the side of the mountain, or a small village in Switzerland.