Calendar Dates: July 15 & 16, 2017.

More than just butter chicken and rogan josh, Melbourne's first Indian Festival is set to showcase the country's culture, language and cuisine.
Queen Victoria Market will come alive with vibrant colours, spicy fragrances and food trucks on July 15-16, as it is transformed into Delhi's Chandni Chowk, one of India's oldest and busiest markets.
Attendees will experience food, flavour, arts, crafts and entertainment, as the street will be lined with vendors selling tasty fare, gifts and jewellery.
"Showcasing India to the Victorian community is our goal at this event. We know people associate India with hot food and Bollywood dancing, and this is true but there is so much more," says festival ambassador and organiser Himanshi Munshaw Luhar.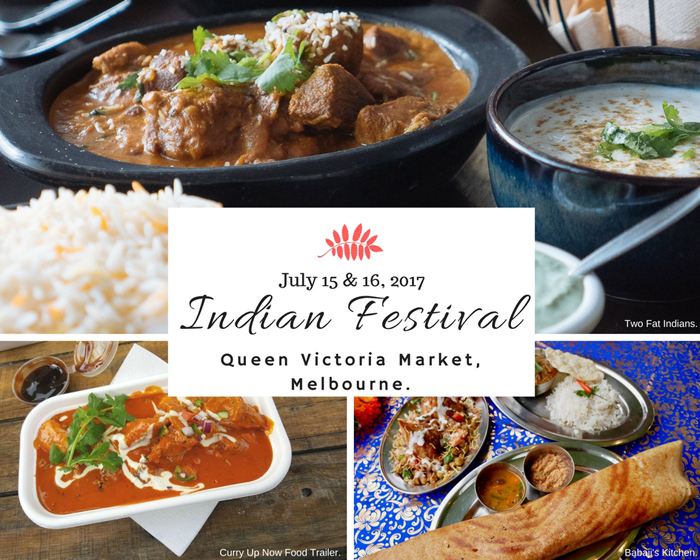 With more than a billion people, India's regional cuisine and culture is diverse and the food and language changes every 100 kms. The festival will highlight this diversity in street food such as vada pavs and chat as well as fusion dishes like butter chicken gnocchi and masala tacos.
Did you know that chillies are not native to India, and the heat in their food actually comes from pepper? Discover the secrets of turmeric and pepper, their origins and health benefits, at spice appreciation demonstrations with leading Indian food personalities and home cooks passing down their best kept family recipes with tips and tricks on how to make the best curry.
Stock up on gifts and jewellery or get something for the house with bright Indian colours from the merchandise vendors, or take in entertainment like classical dancing and Bollywood workshops, free yoga sessions, cooking demonstrations and henna art.
The festival is presented by Beacon Holidays and in association they are giving you the chance to WIN a 7-day trip to India for two, touring the Southern state of Kerala, head online to enter.
The Indian Festival Melbourne:
Date: Saturday 15 - Sunday 16 July 2017
Time: 9 AM - 3 PM Saturday / 9AM - 4PM Sunday
Venue: Queen Victoria Market (Queen Street)
Website: www.indianfestivalmel.com.au