By David Ellis.
It's $65 a bottle, but take heed of what those in the know have to say, and buy yourself not one, but two – the first to enjoy now with a special occasion lunch or dinner, and the second to tuck away in a cool, dark place to see just how wonderfully it will have developed anywhere up to twenty years down the track.
We're talking of Tim Adams Wines' just-released 2013 Aberfeldy Shiraz, made by Tim Adams and Brett Schulz from fruit off premium dry grown Clare Valley vineyards that were planted in 1904, and this one the label's 23rd annual release. Always much-anticipated, Aberfeldy Shiraz has long been synonymous with quality, one highly-respected wine writer even dubbing it "like the Clare Valley's Grange."
"Shiraz was once again one of the standout varieties of the 2013 vintage," Tim says.
"The growing season saw below average Autumn and Winter rainfalls, plus early February was relatively cool which provided ideal conditions for flavour and acid retention; and March had average temperatures and not much rainfall, which slowed ripening and enhanced flavours and tannins.
"All resulted in this wine continuing to deliver the best that Clare Valley Shiraz has to offer… highlighted with dark berry conserve flavours, balanced oak and firm tannins."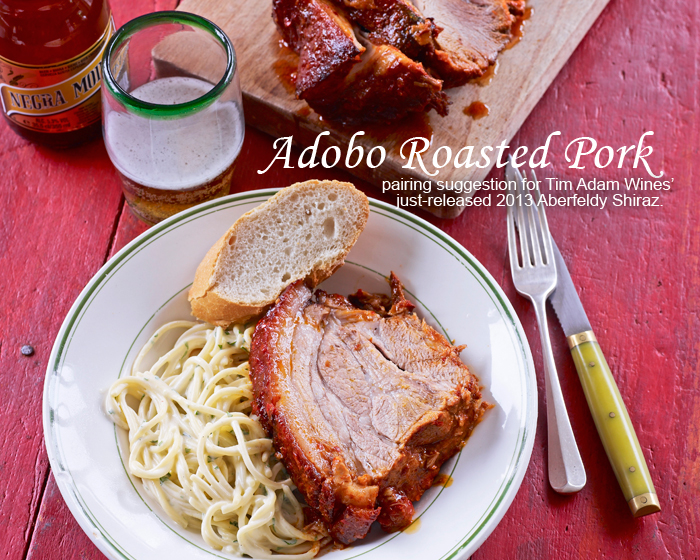 For that special occasion, match with something a little different like a slow roasted pork shoulder [AGFG has this Adobo Roasted Pork recipe on hand] sprinkled with pepper and cumin. And don't forget that second bottle, for another special occasion anywhere up to 20 years down the track.
One to note: from out of their vineyard in the cool climate Orange Region of central western NSW, comes a most moreish 2017 vintage Pinot Gris from Hunter Valley-based Gartelmann Wines.
Just the second release of this varietal by Jorg and Jan Gartelmann, it's been labelled Stephanie after Jorg's daughter.
"Our Orange vineyard is now 17-years-old and producing lovely fruit with intense varietal character," Jorg says.
"After our 2016 Stephanie was so well received, we aimed to follow its same style with classic Pinot Gris richness of flavour and mouth-feel with this 2017."
After a wet Winter that ensured good soil moisture, Jorg says the 2017 vintage was dry, with warm days and characteristic cool nights – in his words "an Orange vintage that was one of the best."
Pay $25 and pair perfectly with Thai fish cakes.