By Freya Ensbey.
For those in search of a cookbook which has it all, with a recipe for every occasion and stunning imagery to match, look no further than Ross Dobson's latest addition to his published stable of fifteen, Tuck In; Good Hearty Food Any Time.
Dobson has numerous, impressive published titles to his name, including Food Plus Beer, King of the Grill, Fired Up, More Fired Up, Fired Up Vegetarian and Grillhouse, all aligning with his philosophy of eating organically, locally and seasonally where possible.
Growing up on the Northern Rivers of New South Wales, Dobson unexpectedly met an Italian family in the very "Australian" small, country town of Tumbulgum. The La Rosa's kick started Dobson's obsession with food after watching them as a loud colourful bunch always cooking together as a family and introducing him to his first ever taste of Parmesan cheese.
Moving to Sydney years later, Dobson was introduced to a vast multicultural scene, with neighbours reigning from Hong Kong, Cairo and Athens, creating an exotic culinary trade over the fence of dolmades, moussaka, pilaf, won ton soup and fried rice.
Tuck In delivers page after page of recipes reflecting Dobson's taste journey of nations throughout his life, arriving in the form of a colourful and festive cookbook sure to create food which will be wolfed down, gobbled up and have everyone tucking in.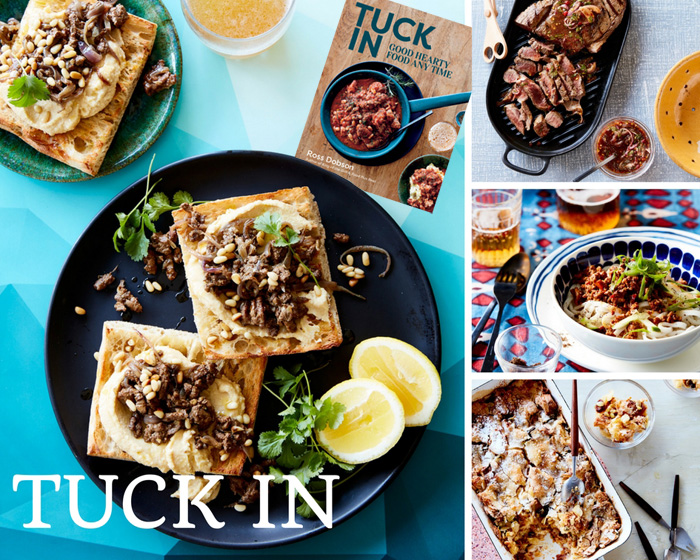 Try the utterly delicious spiced lamb and hummus on toast for breakfast, lunch or dinner. Starting with a crunchy Turkish bread base spread with creamy homemade hummus, the flavoursome herb and spiced cooked lamb is loaded atop and sprinkled with toasted pine nuts. Finished with a garnish of coriander and a squeeze of fresh lemon, this dish is simple enough to create at any time of day, any time of the week.
Gather your friends around the barbeque hot plate and create popular Thai dish, Crying Tiger. Not for the faint hearted, this recipe is served with a sauce so hot it is said to make even a tiger cry. Dobson believes the success of this dish depends entirely on the cut of meat you use, asking for the highest quality grilling steak you can find without breaking the bank, often opting himself for a rump steak over other cuts of beef. The punchy sauce can be made a day in advance, allowing the flavours to develop and leaving only the beef to be cooked the day of.
Many Chinese dishes can be complex to make for the home cook, asking for complicated methods and equipment, however Dobson has created a simple and easily to follow Beijing spicy pork noodle recipe using only one humble fry pan and making for a quick and easy mid-week meal.
For an indulgent Sunday brunch treat, turn to page 192 and discover the decadent Pharaoh's Pudding. Using croissants (genius) instead of a traditional cooked puff pastry base and topped with sweet dates, pistachio nuts and shredded coconut, before being drizzled in vanilla cream and baked to golden perfection, this dessert is sure to impress any king or queen of the house.
Tuck In will be a counter staple for years to come, offering no fuss recipes with playful takes on the authentic classics and bringing tastes from around the world into your very own kitchen.
Images and Recipes from Tuck In by Ross Dobson, Murdoch Books, RRP $39.99.