By Leigh O'Connor.
There's nothing like a steaming bowl of soup to warm the heart and soul on a cold Winter's night.
Did you know the earliest evidence of soup consumption dates back to 6000 BC and it was made from hippopotamus?
Americans eat more than 10 billion bowls of soup each year, with chicken noodle the most popular variety, followed by tomato and cream of mushroom.
You'll find the most expensive bowl of soup on the menu of Kai Mayfair restaurant in London, where diners pay nearly $200 for a dish of Buddha Jumps Over the Wall – shark's fin, abalone, Japanese flower mushroom, sea cucumber, dried scallops, chicken, huan ham, pork and ginseng – which needs to be pre-ordered five days in advance.
While there's no shark's fin in sight, try these five Winter warmers for a hearty weeknight family meal, or Sunday lunch: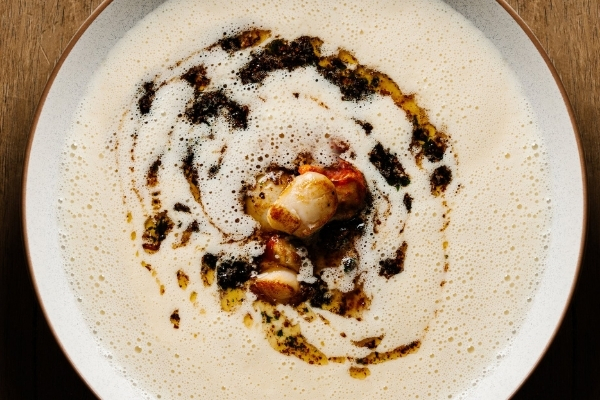 A bowl of Tasmanian goodness…Pearl + Co's cauliflower soup with seared scallops.
A bowl of goodness reflecting all Tasmania has to offer
cauliflower soup and seared Tasmanian scallops
is a sensational dish to pair with your favourite wine. From
Pearl + Co
restaurant on Victoria Dock in Hobart, this is the ideal starter to a memorable dinner party, with creamy cauliflower topped by scallops, brown butter, lemon and parsley.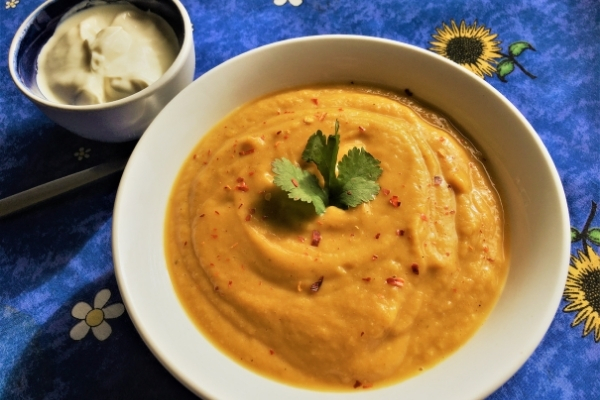 Alimentary's nourishing lentil, cumin and pumpkin soup.
Yellow and orange vegetables are high in nutrients, which help support our immune system - add in some protein-packed red lentils and you have the perfect nourishing Winter soup.
Alimentary's
lentil, cumin and pumpkin soup
packs a powerful punch, finished with a swirl of Greek yoghurt, chopped coriander and chilli flakes.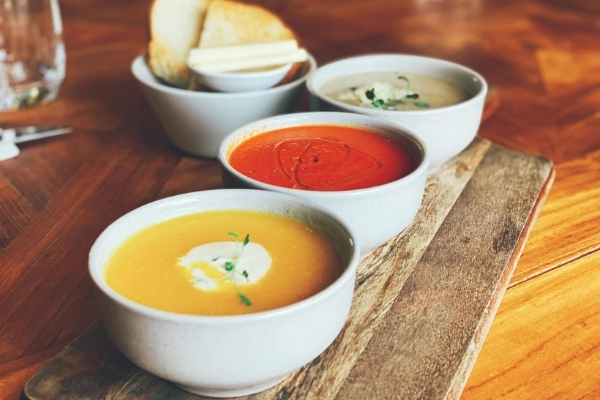 Choose your soup at Vines Restaurant at Hollydene Estate.
Seafood chowder
is always a dinner winner…especially when it's a bowl full of smoked haddock, barramundi, prawns and mussels, served with crusty bread. Dish up this recipe from
Vines Restaurant at Hollydene Estate
with a glass of classically-styled Hollydene Semillon, offering vibrant citrus character on the nose and a crisp acidity on the palate.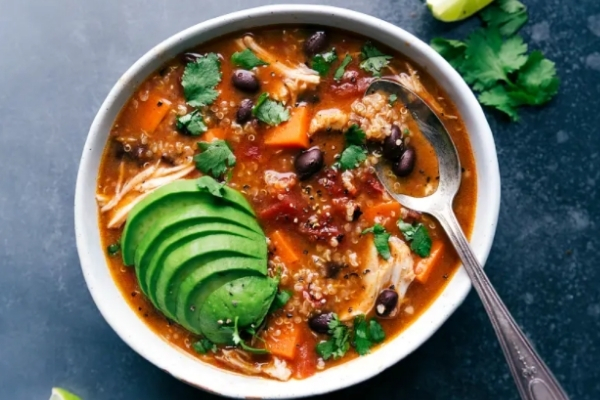 Sweet potato, chicken and quinoa soup in the slow-cooker.
You won't believe how easily this
sweet potato, chicken and quinoa soup
comes together! Throw everything into a slow cooker and be rewarded with a comforting and nutritious meal, loaded with good-for-you and tasty ingredients – shredded chicken, tomatoes, sweet potatoes, savoury black beans and chewy quinoa.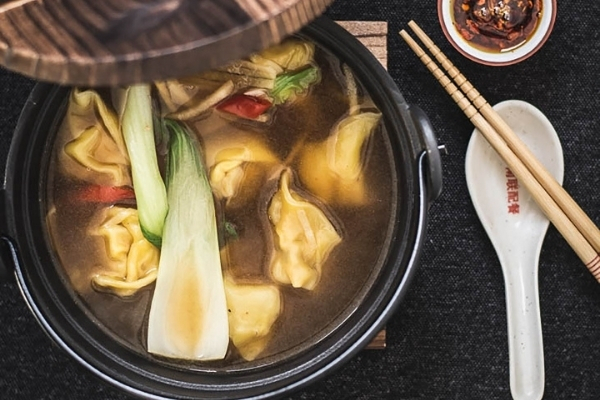 Like a hug in a bowl…chicken wonton soup by The Spice Adventuress.
This
chicken wonton soup
by The Spice Adventuress is like a hug in a bowl…it only takes minutes to prepare the broth, which the wontons are boiled in. Add some bok choy, mushrooms, radish, or any green vegetable of choice to flesh out the broth and add to the flavour of the wontons.
Not a complicated recipe, it can be a tad time consuming making your own wontons – be sure to make extra so you can freeze them for next time!
For more Winter soup recipes, click
here
.