By Leigh O'Connor.
Going out for tapas is something that happens on a daily basis in Spain – these small plates full of flavour and variety are always served with a drink and best enjoyed with family, or a group of friends.
On Wednesday, June 16 prepare to get your tapas on as we celebrate World Tapas Day! These mighty morsels can be anything from paella and croquettes to ham and cheese on toast; contrary to popular belief they are not starters, you start with tapas then you end with tapas.
No one is really sure where tapas originated from – the most well-known theory is that Spain's King Alphonso the Tenth had to have little bites of cheese, bread and ham with his wine to help keep up his strength.
Once he discovered his hangovers lessened in the morning with this practice, he ruled that alcohol must be served with something to eat to prevent the wine from going straight to his head.
The word 'tapa' literally means a 'lid' – Spanish locals found another use for their beloved tapas as well as a hangover cure, they would set their food on top of their wine glass to stop bugs from flying in.
Looking for somewhere to celebrate all things tapas on Wednesday? Here are four of our favourites: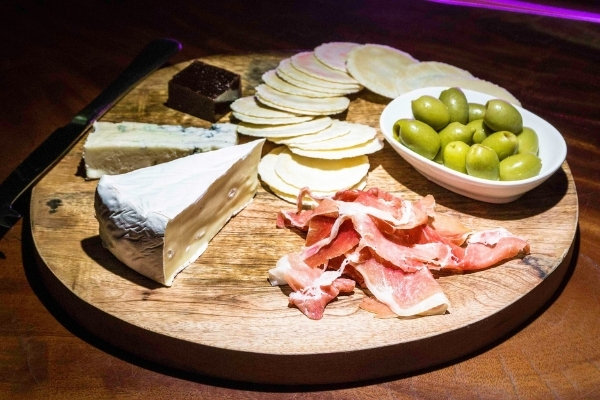 Share a ploughman's platter at Dom's Bar & Lounge in Darwin.
If you're looking to party hardy in the Top End, head to
Dom's Bar & Lounge
on Aralia Street in Nightcliff for cocktails, fine wine and share plates. This chilled-out bar oozes an intimate atmosphere, which spills out into the retro 70s arcade; relax with an award-winning Territori-Tini cocktail after a day spent exploring Darwin and listen to live tunes from a varying array of artists.
From a menu dishing up a taste of the Territory on a plate, graze on roast beef bruschetta with basil pesto and rocket, French paté, farm-style pickles, cornichons and toasted brioche; or share a ploughman's platter of cured and smoked meat, paprika cheddar and comté, tomato relish, cornichons, boiled eggs, radish, dried olives, onion chutney and crusty bread.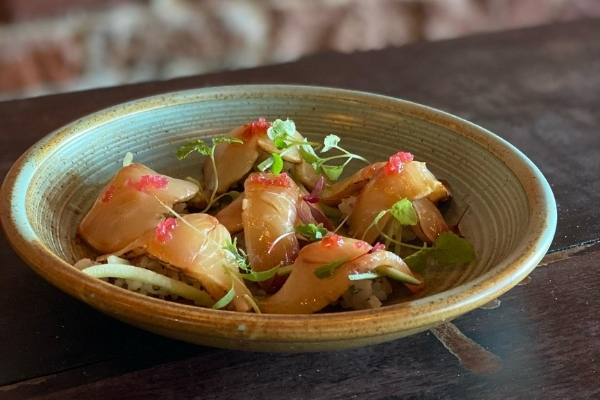 Samson's Paddock kingfish, rice, finger lime, tonburi and unagi sauce.
A long-loved watering hole in Mosman Park,
Samson's Paddock
on Glyde Street is a tapas haven for local foodies. With a history dating back to the 1830s when horses rested out front while riders quenched their thirst indoors, Samson's has evolved into a casually chic stop for a drink and graze, making it the ideal spot to celebrate World Tapas Day.
Think choices like grilled octopus, basil, olive powder, tomato and pine nuts, Wagyu rib fingers, housemade kimchi and chilli; or perhaps wild boar ragout, with fettuccine and Parmesan tempts, washed down with a glass of Argentinian Malbec.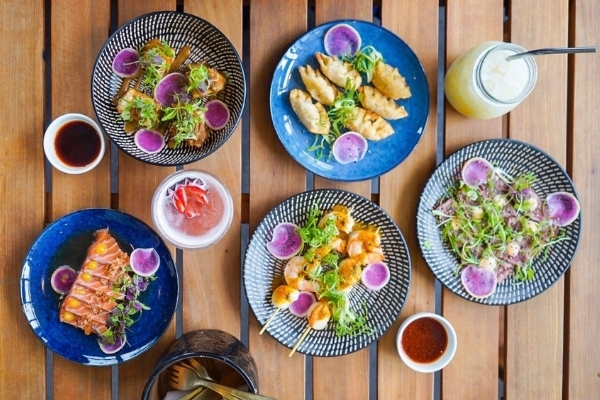 Drop by The Rusty Barrel for tasty tapas temptations.
Gold Coast foodies and visitors alike head to
The Rusty Barrel Whiskey & Tapas Bar
on Varsity Parade in Varsity Lakes to send their taste buds on a journey through a tapas menu bound to tempt. Take a seat alfresco in the garden area where rosemary overflows from planter boxes, or dine indoors among rum barrels, a graffiti-style mural and glowing neon signage stating 'we're all mad here'.
With a Bee's Knees Please gin cocktail in hand, snack on hand-crafted dumplings and soy chilli sauce, pork belly bites with miso glaze and enoki sauce; or the boss of spring rolls – triple cheeseburger, ketchup and American mustard. Seafood lovers will salivate over dishes like King prawn and scallop skewers with passionfruit Peruvian sauce.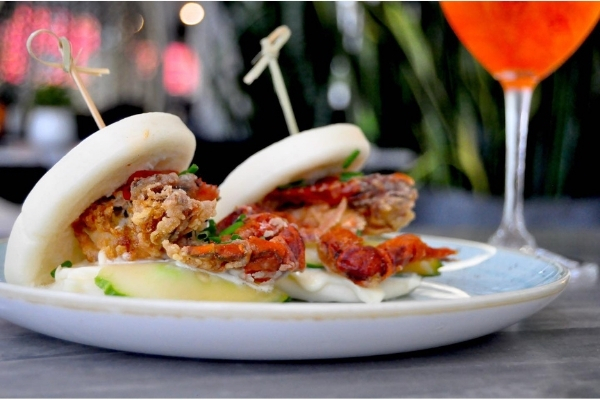 Wrap your hands around a soft shell crab bao at Backlane Bar & Street Food.
As long as the lights are on,
Backlane Bar & Street Food
on First Avenue in Mooloolaba will be serving delicious fare from an eclectic Mediterranean tapas menu. As unpretentious as the location – just one street away from the beach – swing by for a drink and share plates on bench tables indoors, or dine alfresco and watch the world pass by.
Grab a Seaside Spritzer gin cocktail to go with a black pepper soft shell crab bao, with pickles and lime mayo; share a plate of popcorn prawns, sweetcorn and black bean vinaigrette, or lamb kofta skewers, with yoghurt and almond dukkah. For a sweet finish, don't go past churros, chocolate, dulce de leche and vanilla bean ice cream.
Still searching for a spot to celebrate World Tapas Day, click
here
for more restaurants.