By John Rozentals.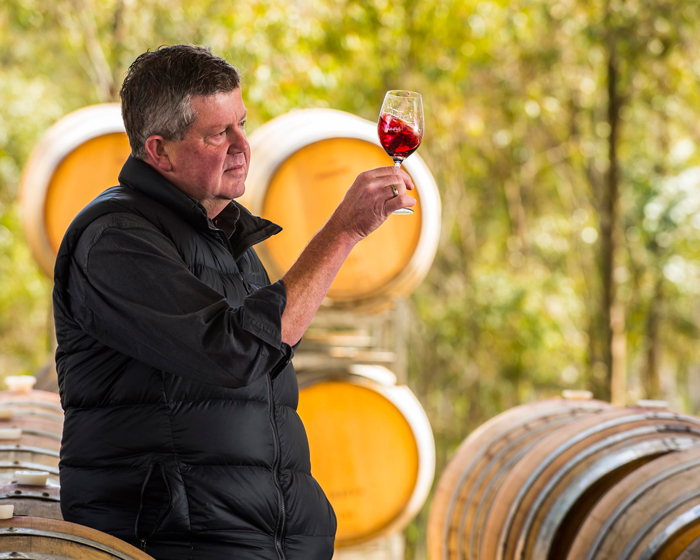 Tim Adams ... always treats his loyal customers with respect.
Any story on Tim Adams should carry a serious warning — beware of the handshake. To say it's firm is clearly an understatement, as many glassy-eyed recipients will testify.
The winemaking approach is straight from the shoulder also. For his eponymous label, Tim only makes styles that he enjoys drinking and that he knows his much beloved Clare Valley does well. That's why you won't find a chardonnay or a sauvignon blanc in the range.
He also treats his loyal customers with respect and realises that taste doesn't necessarily coincide with bottomless pockets. That's why his club members can still buy the ultra-premium, flagship Aberfeldy Shiraz, for a tad over $50. Would Tim prefer a single bottle of Penfolds Grange or a case of Aberfeldy for a smaller outlay?
"I think that's a no-brainer," he shrugs.
And what did Tim do with his mid-life crisis? Rather than buying a red sports car, he planted vineyards of pinot gris and tempranillo. And not small vineyards either. Tim figured he didn't have time to experiment so he trusted his judgment, something that has certainly paid off.
For all that Tim Adams has to offer, visit his website.
Wine Reviews:
Tim Adams 2017 Pinot Gris ($22): Tim likes to operate very much at the more complex Alsatian 'gris' end of the varietal spectrum rather than producing something simpler in Italian 'grigio' style. The wine retains some of the variety's natural pink-gold hues and there's certainly plenty of richness on the palate, together with a touch — just a touch — of sweetness to balance the naturally high acidity. Drink this white young, preferably with Thai or other spice-driven Asian cuisine.
Tim Adams 2017 Riesling ($22): The Clare Valley is a paradise for those who hanker after a top riesling and the Adams version is right up there with the best. It explodes with zesty citrus and floral aromatics, and its high level of natural acidity virtually guarantees a long cellaring life. As well as bringing more consistency to the product, screwcaps seem to have slowed the aging process. So, how long to cellar? I'd say at least a decade. If you can't wait that long, drink it now with freshly grilled whiting or bream served with some melted butter. Go easy on the lemon, though.
Wine of the Week:
Angus the Bull 2015 Cabernet Sauvignon ($22): Winemaker Hamish MacGowan is unashamedly appealing to red-meat lovers with this wine, which is made in a three-to-one ratio from cabernet grown in two Victorian regions — the Goulburn Valley and Heathcote. While this wine has an unmistakable cassis-like cabernet edge, what I really like is that it doesn't scream this at the drinker. And while it shows firm tannin, MacGowan has controlled that often-overwhelming character to produce a very food-friendly dry red. Bring on that prime slab of rare steak. Visit: angusthebull.com.