By Leigh O'Connor.
"In our household, Summer is a three-month-long celebration of life. The sky is bright, the sun is hot and the garden is alive. Long days at the beach roll into balmy nights spent in the garden, with good friends and good food." – Byron Smith and Tess Robinson.
Pocket a little slice of farm life in the city and open the doorway to the addictive world of urban growing, with 'Slow Down and Grow Something.'
Penned by horticulturalist Byron Smith and partner Tess Robinson, this do-it-yourself book is billed as 'the urban grower's recipe for the good life' – and it doesn't disappoint.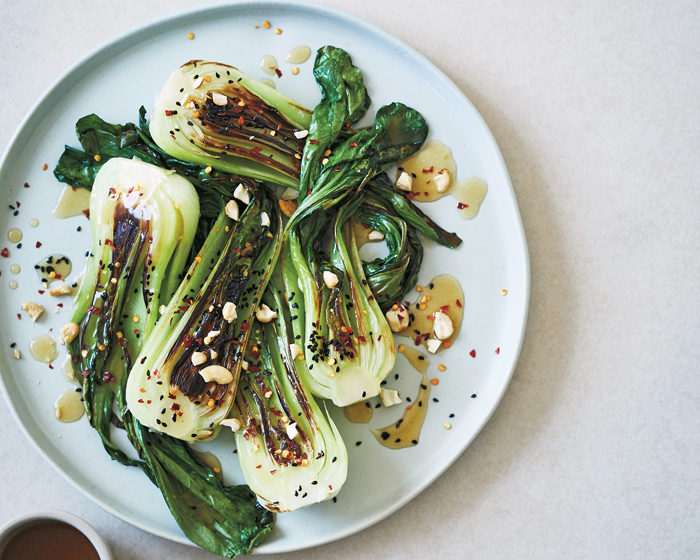 Japanese-style bok choy (recipe linked below.)
Growing your own herbs, fruit and vegetables, whether in backyards, on rooftops, courtyards or balconies, isn't just about producing food. It is an antidote to the relentless pursuit of a working life that is balanced; the garden is a place for anyone and everyone.
Byron has created urban food oases in the tiniest plots of land and with Tess imparts this knowledge, along with great recipes to make the most of your harvest.
The founder of Urban Growers, an edible garden company which designs, installs and maintains food gardens on Australia's east coast, Byron spent his childhood on the land – hiding in rows of corn and selling passionfruit on the side of the highway.
Tess is the founder of cult, branding agency 'Smack Bang Designs' and the chief cook for what is produced in their garden.
"The garden is a place I've come to spend a huge part of my life. So much so, it's become my job to spend hours nurturing and harvesting plants, day in, day out," Byron explains.
"I love my job because people, places and plants all offer something new and exciting each and every day.
"Working with enthusiastic people to grow the food they love in new landscapes, keeps the challenge fresh and the rewards fruitful."
He says people are slowly and surely embracing the joy of gardening and the more relaxed lifestyle it brings; it doesn't matter the size of your space or your skill.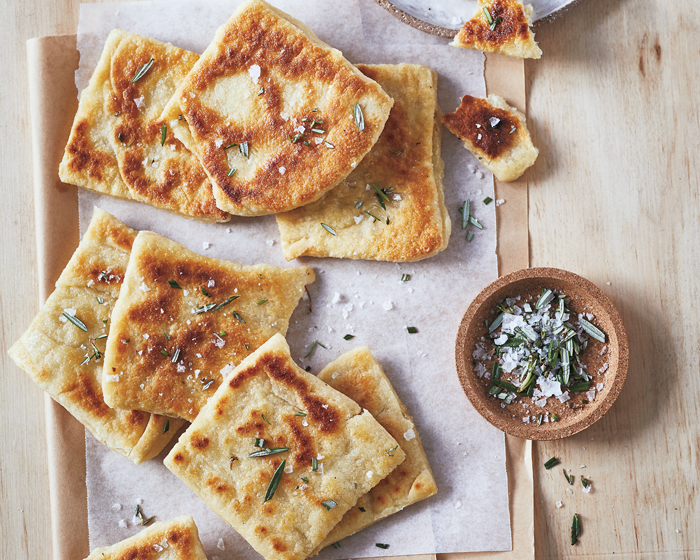 After a hard day in the garden, appetites need to be satiated, if you ask the couple what their favourite snack is, they will say cheese, dips and flatbread. It is a recipe from the book for rosemary and sea salt flatbread that caught our eye – great served with freshly made guacamole, or smoky baba ghanoush.
Beware! Tess warns this healthy recipe is insanely addictive and will become a staple for snacks and platters in no time at all.
Bok choy is one of the easiest Asian greens to grow and the couple says theirs often all spring up at once and they are left madly trying to find ways of cooking and devouring the lush and buttery leaves.
One of their favourite recipes is Japanese-style bok choy; the vegetable is cooked hot and fast with a nutty Japanese twist and is an ideal side to accompany a satisfying meal of soba noodles or brown rice.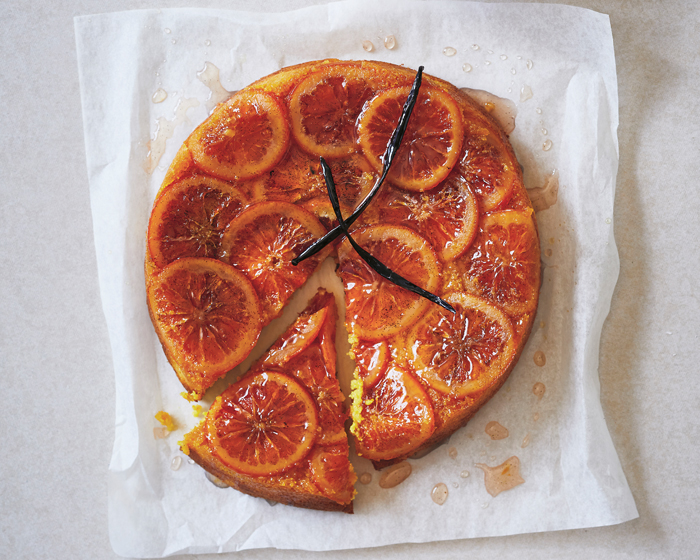 Cutting into a blood orange is like opening a present – the outside is unassuming, but the inside is boldly beautiful. Upside-down blood orange and turmeric cake was created to show off the beauty of the fruit, while super easy-to-grow turmeric adds a hit to both savoury and sweet dishes.
So tuck this book under your arm and grab a drink – the time to slow down and grow is now. The good life is waiting for you!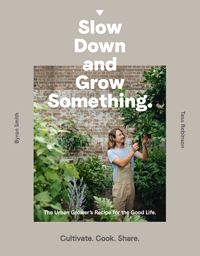 Images and text from Slow Down and Grow Something by Byron Smith with Tess Robinson, Murdoch Books, RRP $39.99. Photography by Alex Carlyle (location), Rob Palmer (food).