"I hope you will enjoy this exciting culinary journey through dusk-time dining all over the world. The evening belongs to us – as does the day!" – Stevan Paul.
At dusk, as afternoon becomes evening and the sun sinks towards the horizon, there is a magical moment.
The workday is finally done and it's time for food and drinks with friends – it is a golden hour around the globe from Samoa where the sun first sets to Europe, the USA and Mexico – the evening is celebrated with Italian cicchetti, Spanish tapas, Greek mezzes, tacos, yakitori, ceviche and more.
In his latest cookbook offering, Stevan Paul brings us Dining at Dusk, showcasing a range of contemporary cuisine from many cultures, perfect for this beautiful time of the day – relaxed, simple and comforting food that is an ideal accompaniment to a modern lifestyle.
Having trained as a Chef, Stevan now works as a freelance journalist, culinary critic and radio presenter in Germany, where he has lived for the past 20 years.
"Dining at dusk is magical. The day's work is done, we can let go and make time for a cool drink, accompanied by small, uncomplicated dishes," he says. "It's time to clock off, time for friends and family to gather and enjoy.
"It's the perfect time for stories, listening, talking, marvelling and laughing."
Many countries around the world have a distinctive bar food culture, which forms an important part of their culinary heritage. Everyone loves quick and easily prepared delicacies shared with guests in a casual environment, whether at home, at a bar or party.
This beautifully photographed book follows the course of the setting sun, introducing readers to snacks, nibbles, delicacies, bar and finger foods, along with aperitif drink pairings, to make dusk time even more magical.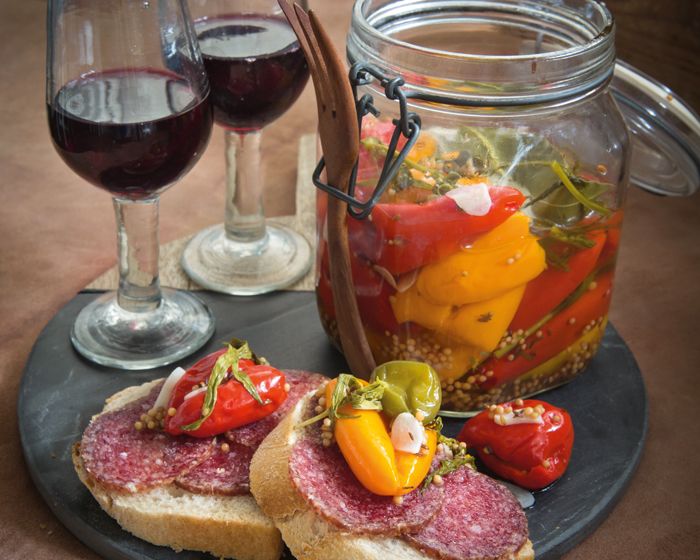 From Hungary, comes this recipe for pickled capsicum with salami baguette – ideally enjoyed with a glass of red, or a sweet well-chilled yellow Muscat wine, which harmonises well with the spiciness of the rich salami.
"Hungarian salami is famous all over the world and is particularly good served with sweet and sour pickled capsicums on white, crusty bread," Stevan explains. "A real treat at the end of the day."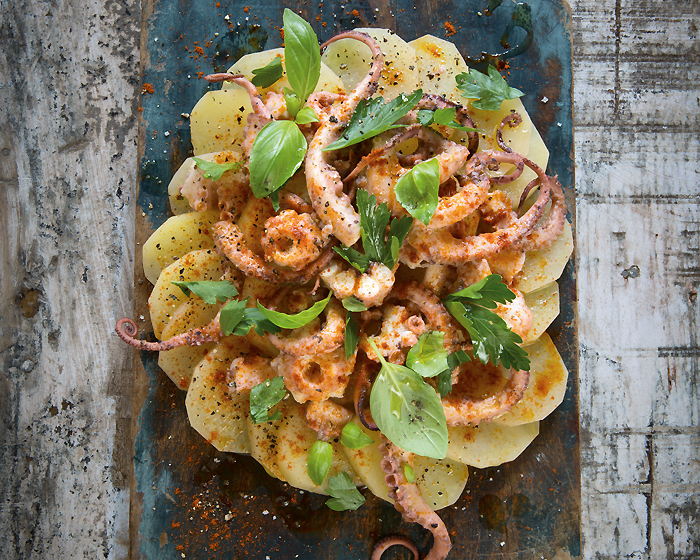 Soft-boiled squid with potatoes is a very popular Spanish tapas treat and this recipe for pulpo a la Gallega is no exception. Traditionally served on a wooden board, 'festive' squid is a must at any major event and this version is simmered in a red wine vinegar broth for about two hours, before being sliced into small pieces and dusted with paprika powder.
Using frozen squid is perfectly acceptable as freezing makes it tender – in the classic version, the freshly caught squid is pounded against the harbour wall to tenderise it.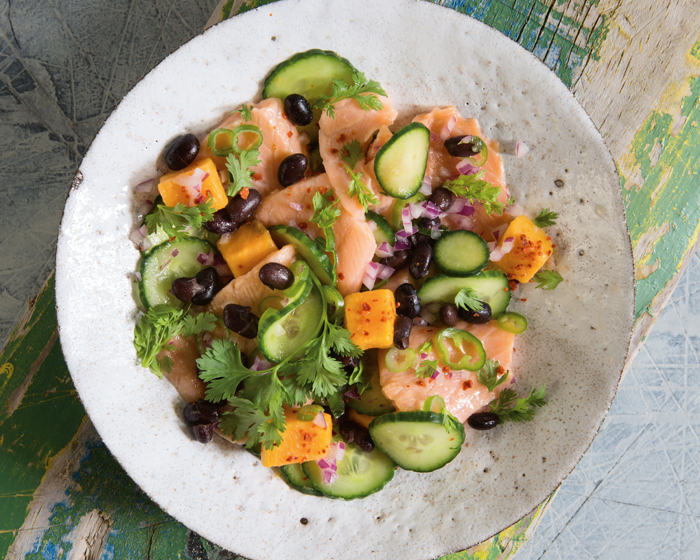 Ceviche has a long tradition in many coastal regions of Latin America and this Brazilian salmon dish with sweet potatoes and black beans, plays on the country's national colours and is as refreshing as it is fiery and energising.
Marinated with lime juice, coriander, green chilli and red onion, the ceviche is great enjoyed with a light lager or Indian pale ale – ice cold, with a wedge of lime.
This book offers stylish afternoon sundowner indulgences, which are also surprisingly light and healthy, with plenty of fresh herbs, salads and vegetables, along with high quality grilled fish and meat. It is sure to be a hit with those who like to entertain as the sun goes down and the night is still young.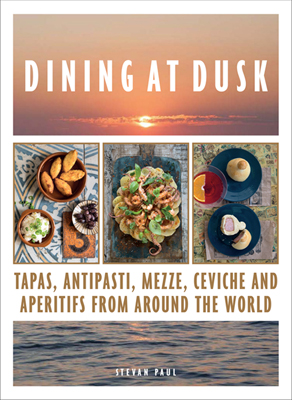 Images and recipes from Dining at Dusk by Stevan Paul, photography by Daniela Haug. Murdoch Books RRP $39.99. Out now.