By Annabel Rainsford.
"I want to take you with me on an adventure to some of my favourite Asian nooks and crannies – places where fantastic street food still reigns supreme." ~ Luke Nguyen.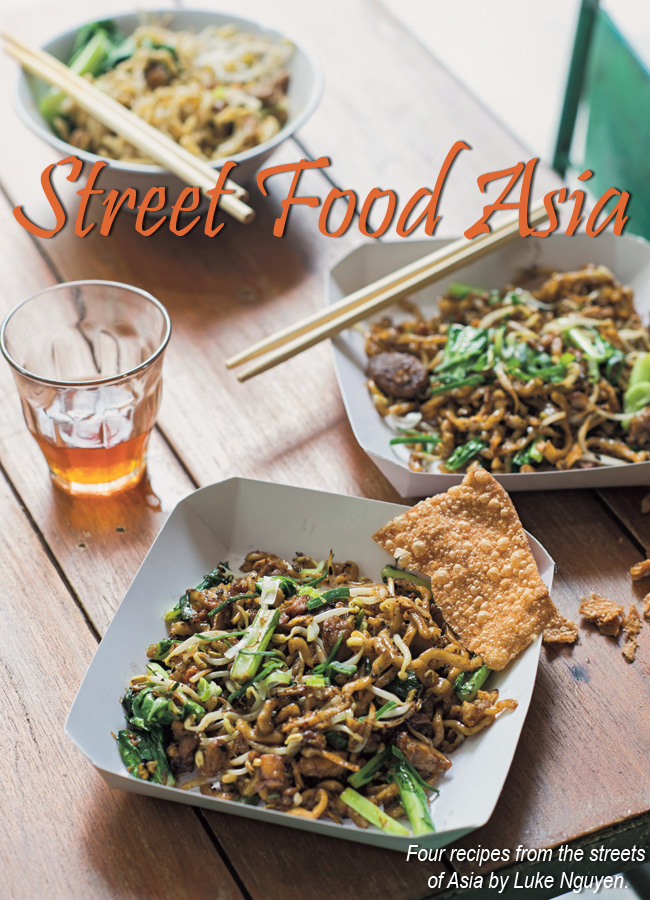 Wok Tossed Hakka Noodles with Chicken and Lap Cheong, p 148.
Always on a journey to discover more, the widely known and much-loved Luke Nguyen brings to loyal fans his latest cookbook, Street Food Asia, adding to his extraordinary empire of culinary ventures. For those yet to know, Luke Nguyen is in his mid-thirties, and though still young, harbours a dazzling resume. As of present, Nguyen is highly regarded as an Australian Restauranteur, Chef, Author, Television Host and Gastronomic Traveller, radiating an infectious passion for all things food and a personality to match.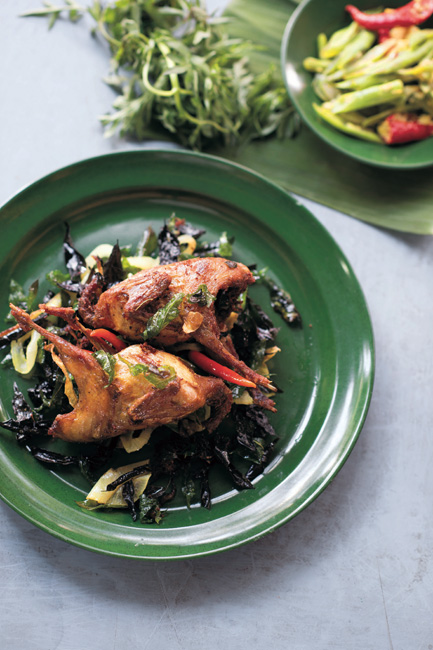 Roast Quail with Crisp Curry Leaves, p 185.
His cookbook Street Food Asia pairs with his SBS TV series of the same name, giving enthusiastic fans a chance to understand in depth and move at their own pace, acting on the dishes that Nguyen discovers throughout his travels. Unearth culinary secrets in Bangkok, Kuala Lumpur, Jakarta and Saigon, following Nguyen as he wanders down luring back alleys, mingles among locals, joins a line to reach street food vendors and absorbs the vibrant atmosphere in some of his most beloved destinations.
Through vivid descriptions and fast paced photography by acclaimed photographer Alan Benson, the pulsating vibe of each city can be felt, and for those unable to visit for themselves, there lies many an opportunity inside the pages to re-create the bustling city feeling at home. Those flipping each energetic page may feel a whispering appetite grow into a roaring growl that can be satiated only by a vivacious dish bursting with flavours and a story by Nguyen to match.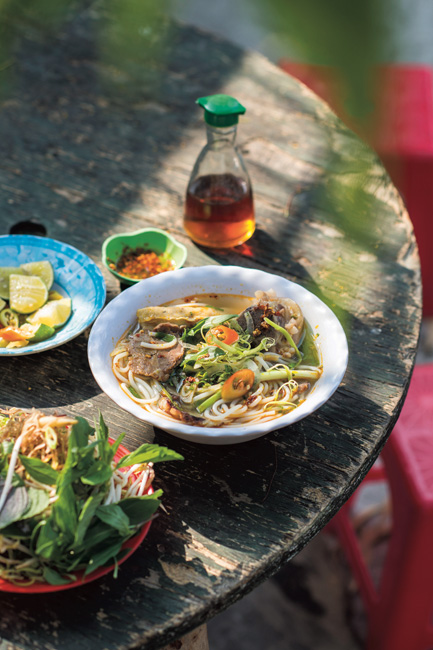 Hue Spicy Beef & Pork Noodle Soup, p 84.
In Saigon, come by Hue for spicy beef and pork noodle soup – it's a dish Nguyen thinks will be the next big pho craze with a meaty body to a fragrant stock. Swimming with spicy, sour, sweet and salty notes and addictive lemongrass aromas, try creating this aromatic dish for yourself and feel a little of the city's old imperial centre.
Inspired by a restaurant Nguyen loves to visit in Kuala Lumpur, spoil your next dinner guests to roast quail with crisp curry leaves. It's an addictive dish with quail sitting atop a fluffy bed of fried onion chillies and curry leaves, with tender meat packing a flavoursome punch from touches like curry leaves, five spice powder, fresh ginger and soy sauce seeping through the flesh.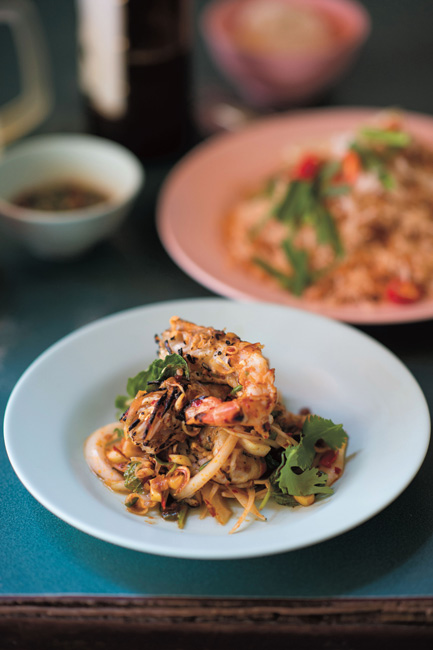 Char-grilled Spicy Prawn Salad, p 245.
With hot and sour salads at the heart of Thai cuisine, it's no wonder that when Nguyen hops to Bangkok, a recipe for char-grilled spicy prawn salad emerges. Balance the flavours of this dish yourself with a pinch of chilli and lime, and follow instructions on how to adjust your techniques slightly to achieve the same authentic effects.
Find exotic flavours and exciting ingredients hiding around the next street corner, found by the nose as aromas waft from nearby. Head to the next marketplace and find stall after stall, or even a waterway where slim boats squeeze past one another with their offerings of freshly cooked meat skewers, or a mountain of tropical fruits high enough to hide the hawker.
If you're hooked to the SBS series, addicted to exotic cuisine or a little bit of both, then sink your teeth into Luke Nguyen's Street Food Asia today.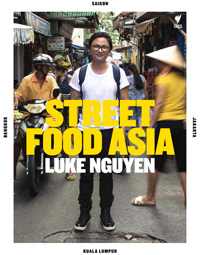 This is an edited extract from Street Food Asia by Luke Nguyen published by Hardie Grant Books RRP $60 and is available in stores nationally. Photographer: © Alan Benson.