Let's face it…what kind of person doesn't like pizza? They would have to be a weirdough!
Come Tuesday, February 9 it's time to celebrate all things Italian with National Pizza Day – get your pizza eating game on for a full 24 happy hours and eat as much of this carb-loaded indulgence as your heart desires.
From humble beginnings to today's gourmet offerings, this cheesy disc of goodness has captured the stomachs of people all around the globe.
There are many disputes about the best pizza, with the main argument usually whether pineapple belongs on the toppings list or not.
Here are some fun facts we bet you didn't know about our favourite fast food and seven restaurants to appease hunger come Tuesday:
•The second most popular fast food, 350 slices of pizza are eaten every second in the US.
•It will cost you $12,000 to eat the most expensive pizza in the world – made in Italy, it features some of the most lavish ingredients, including lobster from Norway, three different types of caviar and pink sea salt from Australia's Murray River.
•Pizza made its mark on America in 1905 when Lombardi's in New York created the spark that would light appetites all around the world.
•More than 2 million Pizza Hut pizzas are sold during the Super Bowl.
•The first pizza is thought to have been invented in Naples in the early 1500s.
For pizza and pasta worthy of Sydney royalty, head to
Queen Margherita of Savoy Neapolitan Pizzeria
on Surf Road in Cronulla. Beachgoers stroll up from the sand and follow the tantalising aroma of pizza cooking in the wood-fired oven to find this rustic restaurant, where wooden ceiling beams and glowing pendents set the scene for authentic Italian dining.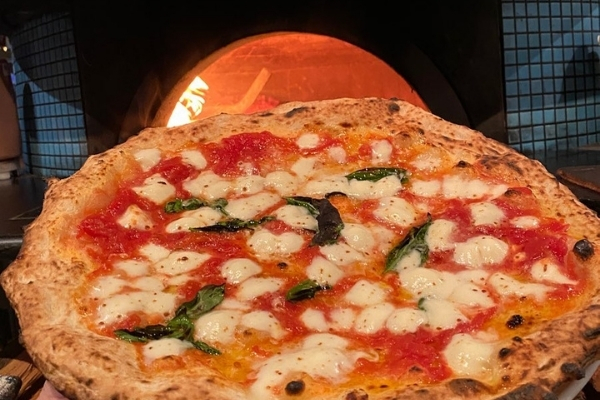 Pizza worthy of royalty at Queen Margherita of Savoy Neapolitan Pizzeria.
Say slice to meet you to pizzas like Carne – spicy salami, leg ham, pork and fennel sausage – or perhaps Prosciutto Crudo, with cherry tomatoes, rocket, grana Padano and olive oil; while pasta lovers are satisfied with rigatoni, slow-cooked beef, pork and tomato Bolognese, finishing with a divine dolci of warm Nutella calzone, dusted with icing sugar.
Relax on the balcony to take in stunning views of Port Phillip Bay and Melbourne's cityscape, at
Monzarella Italian Restaurant
on Nelson Place in Williamstown. In cooler months, cosy up indoors by the open fireplace at white-clothed tables and graze on a mouth-watering antipasto platter, traditional-style pizza, or perfect plate of pasta.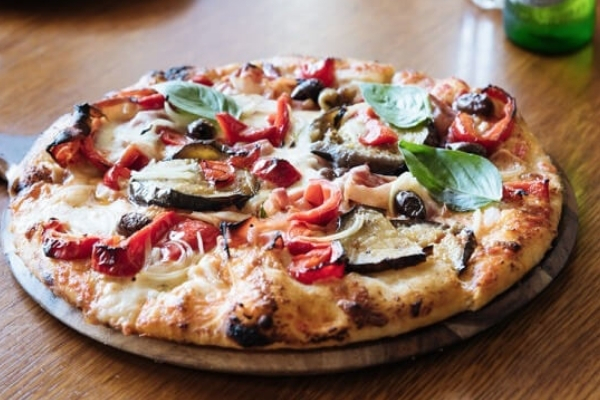 Traditional-style pizza at Monzarella Italian Restaurant.
To celebrate on Tuesday, grab a piece of Tuscan-style pie, topped with Napoli cheese, fresh tomato, bocconcini and prosciutto; or BBQ chicken, with onions, peppers, pineapple and cheese. Steak lovers can cut into a perfectly cooked rib eye, served on the bone with seasonal vegetables, jacket potato, mushroom and white wine sauce.
A seaside trattoria on the Kingston foreshore,
Molto Italian
brings a taste of authenticity to Canberra foodies. Run by restaurant stalwart Carlo Tosolini, settle into a modern interior of high ceilings, dark wooden table settings, an open kitchen and bar, alongside a wood-fired pizza oven, from which tantalising aromas waft in the air.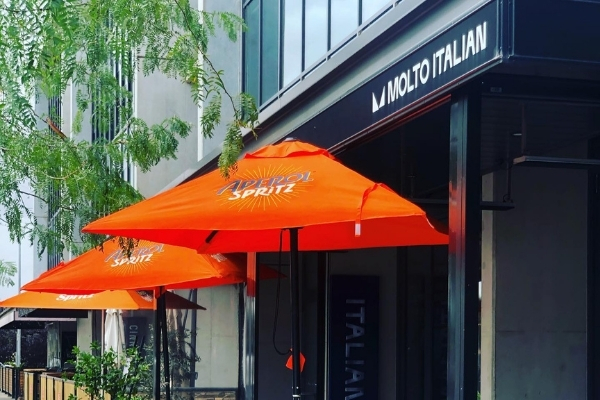 Seaside trattoria Molto Italian on Kingston foreshore.
Say buon appetito to starters of wood-fired King prawns, butterflied with garlic and chilli butter; before sharing a Salsicce pizza, with Italian sausage, green spinach, black olives and mozzarella, or Diavola – tomato, fior di latte, spicy salami, onion and chilli. Love pasta? Perhaps twirl a fork around housemade pappardelle, with lamb ragu and Parmigiano Reggiano.
Nestled in the Cat and Fiddle Hotel,
Rita's Bar and Kitchen
on Darling Street is the ideal place in Balmain to celebrate the people you love with great food, wine and cocktails. Rita's has street appeal from a carriage lamp lighting the entrance, through to an elegant interior vibe of trailing greenery in pots and a wall mural, a palette of cool tones and mosaic blue and white tiled tables.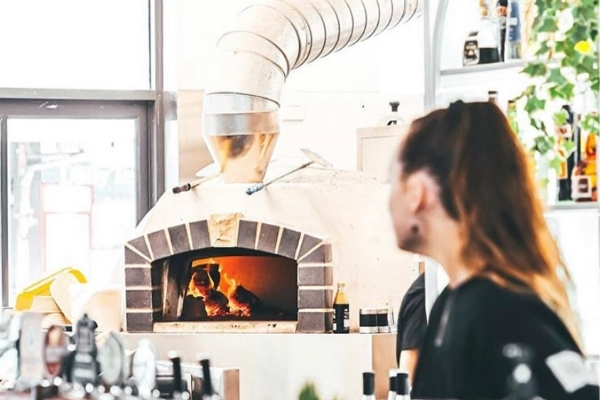 Follow the aroma of the pizza oven to Rita's Bar and Kitchen.
Kickstart your culinary adventure with wood-fired flatbread, black olive tapenade and labneh; then delve into the likes of Gamberi pizza, topped with garlic and chilli prawns, feta, crispy prosciutto and cherry tomatoes, on a basil and garlic base. For an indulgent finish, order the San Sebastian cheesecake!
Taste pizza and pasta just like Nonna makes at new bambino on the Fitzroy block,
Cugini's
on Nicholson Street. Exposed brick archways, dark wood furniture and copper pendents add a rustic touch to this restaurant, which was formerly two homes converted into a warm and welcoming dining space, ideal for family catchups or a romantic dinner.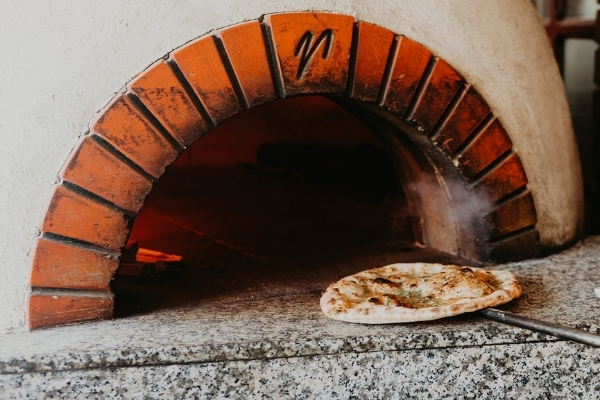 Pizza and pasta just like Nonna makes at Cugini's.
Cugini's pizza is made with a 48-hour dough recipe and cooked in the wood-fired oven to create a Neapolitan-style light and puffy crust; grab a slice of Meat Lovers – San Marzano, mozzarella, ham, pepperoni, chicken, mushrooms, onion and BBQ sauce – or chow down on traditional mains like Sicilian pork sausages, with braised cabbage and pancetta.
Generations of pizza making are on the menu at
Dani and Fiori's Gourmet Pizzeria
on Homer Street in Earlwood. Proudly displaying black and white photographs celebrating family history, third-generation pizza maker Fiori is behind the restaurant's counter, using fresh local produce to tempt all who enter with mesmerising aromas from the oven.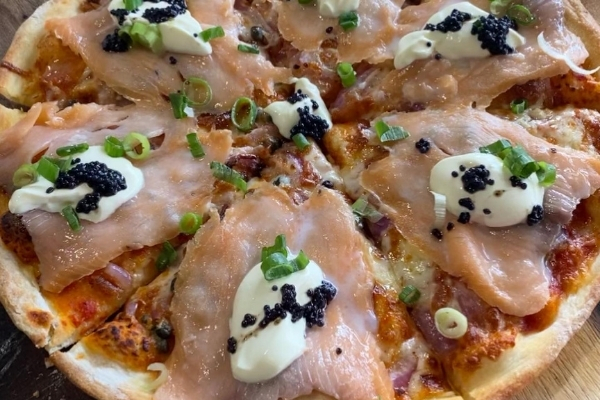 Dani and Fiori's smoked salmon gourmet pizza.
On sunny days, sit alfresco and watch the world pass by while devouring a starter of pesto pizza, with crumbled feta, or garlic King prawns, in Neapolitan sauce and chilli, served with garlic bread; then delve into a gourmet pizza such as Nicastro – Italian sausage, fire-roasted capsicum, anchovies, ricotta cheese and fresh parsley.
Sip a cocktail as you watch the sun set over the Melbourne Star observation wheel and city skyline at
Sassy X
on Dryburg Street. This hot West Melbourne venue boasts a stunning marble and timber fit-out, with one wall dominated by the sassy mural of a woman wearing sunglasses, while the glass frontage makes for light, bright all-day and evening dining.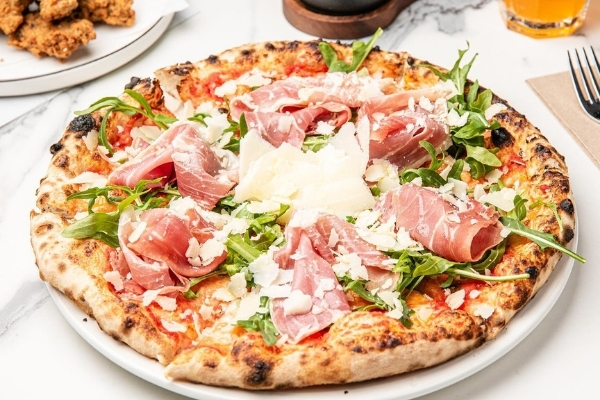 Pizza and sunset cocktails are encouraged at Sassy X.
Perhaps share a salumi selection to start, with San Daniele prosciutto, housemade salami, mortadella, chorizo and condiments; then choose from pizza options like potato and rosemary, with confit garlic puree, roasted leek, fior di latte and grated Parmesan. For a sweet finish, try chocolate delice, salted caramel, peanut brittle and vanilla ice cream.
Remember…there are two types of people in this world. People who love pizza and liars!