By Leigh O'Connor.
Happiness is the taste of hazelnut spread on a warm, flaky pastry! What better way to celebrate World Nutella Day on Friday, February 5 than with a coffee and sweet treat from your favourite café?
Nutella can be spread on toast, used to fill the centre of pastries or just be eaten straight out of the jar with your finger or spoon – in fact, some nutaholics even use pretzel sticks, or potato chips to get their fix into their mouths.
The world first celebrated Nutella Day in 2007 when American blogger Sara Rosso decided the spread was worthy of its own special occasion; it has since been transferred to Ferrero (the maker of Nutella) to help it live on and grow for years to come.
Here are five places to mark this special day with a Nutella creation sure to tempt taste buds:
Tuck into freshly baked Nutella and banana croissants at
Park Lane Cafe
on Clarendon Street in South Melbourne. Providing a delicious pit stop bursting with tasty brunch and light lunch options for hungry locals, this humble brick shopfront opens up to a cosy setting of wooden tables filled with happy patrons sipping warm cups of Five Senses coffee.
As vinyl tunes provide an upbeat soundtrack, wrap your hands around a breaky croissant of curried scrambled egg and bacon, or a New York Reuben-style sandwich with corned beef, Swiss cheese, sauerkraut and pickles. Don't forget to grab a vegan, dairy-free sweet treat to take home for later.
Relax on the balcony with a glass of red and take in stunning views of Port Phillip Bay and Melbourne's cityscape at
Monzarella Italian Restaurant,
on Nelson Place in Williamstown. Indoors an open fireplace and white-clothed tables make this an ideal romantic venue for a meal with your special someone, from an authentic menu of pizza and pasta.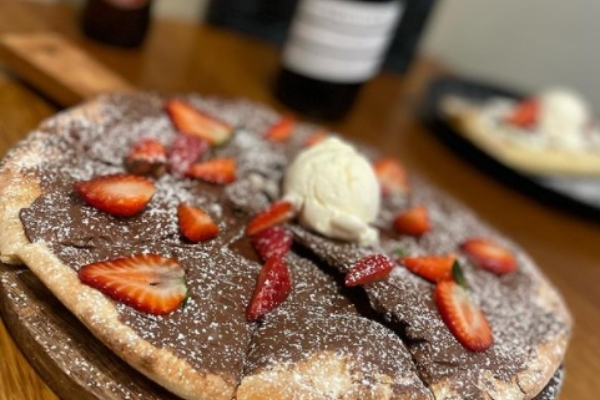 Monzarella's decadent Nutella pizza.
After twirling your fork around pasta temptations such as chicken carbonara with garlic, bacon, spring onion and cream; opt for a decadent dessert to celebrate this hazelnut hero, such as Nutella pizza, or Nutella, banana and strawberry crepes.
Stirring up the Adelaide pastry scene,
Mascavado
on Hutt Street brings all things patisserie to the heart of the city, including indulgent Nutella croissants. Located in an old bank building, this cafe rocks a modern fit-out of pastel hues, eye-catching artwork and marble countertops; ideal for lingering over a leisurely coffee and pear and ginger Danish.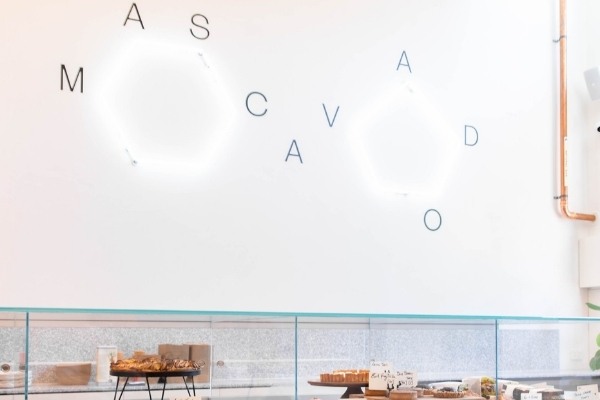 Mascavado brings all things patisserie to the Adelaide CBD.
On balmy days, sit street-side on high stools and watch the world pass by, while appeasing hunger with a triple cheese toastie, or goats' cheese and leek quiche; before finishing with a slice of chamomile, ricotta and honey cake.
If Nutella pancakes with vanilla gelato, garnished with fresh strawberries and mint sounds like the perfect way to start your day, head to
Cucina Espresso
on Majors Bay Road in Concord. Bringing a slice of Italy to Sydney, take a seat by the bifold front windows and people watch while sipping an aromatic brew and perusing an authentic menu using the freshest ingredients.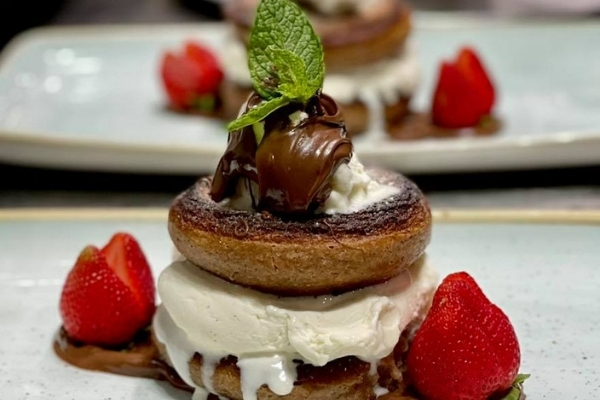 Cucina Espresso's Nutella pancakes…yummy
Perhaps halt hunger pangs with croquette salmon Benedict – Chef's housemade rice potato croquette, topped with smoked salmon, poached eggs and housemade lime-infused Hollandaise sauce, or beef lasagne with Parmesan, buffalo mozzarella and bechamel.
The Butcher's Block Restaurant Barangaroo
has a week-long celebration to mark World Nutella Day with French toast, espresso martinis and hot chocolate, all embracing the hazelnut spread. Located in Tower One on Barangaroo Avenue, everyone is welcome at this Modern Australian restaurant, where a full glass frontage allows an abundance of natural light, great for all-day dining.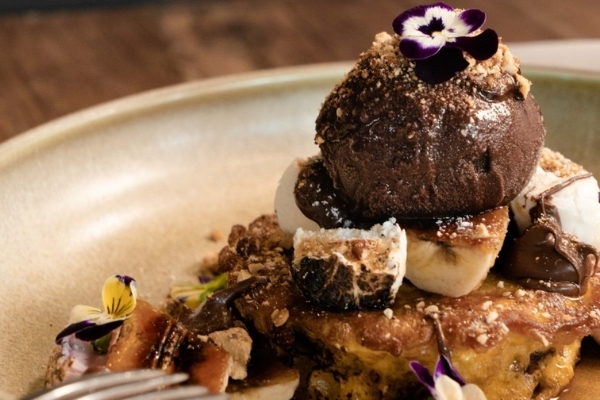 The Butcher's Block celebrates with Nutella week.
Seasonal menus with a focus on organic, locally sourced produce see breakfast choices such as corn fritters, feta, avocado, dukkah, soft boiled egg and a green herb salad; while the lunch crowd tucks into crab and pipi spaghettini, with XO and beurre noisette.
Don't forget, in life you can't make everyone happy…you're not a jar of Nutella!