By Leigh O'Connor.
"If you are happy and healthy, then do what works best for you. For me, that's shopping for butter while Gaga is screaming in my ears about how she kisses the bartender twice." – Nick Makrides.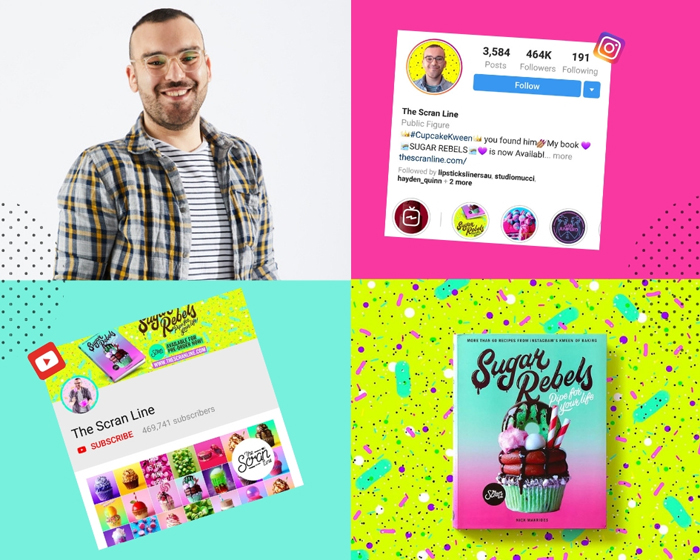 Coming out at age 25 was the hardest thing Nick Makrides has done…it was a long, exhausting journey filled with constant fear and anxiety.
Now the self-confessed CupcakeKween of Instagram and author of cupcake cookbook 'Sugar Rebels: Pipe for Your Life' is totally comfortable in his own skin and not only bakes up a storm on his YouTube channel 'The Scran Line' but dishes out helpful advice to all those struggling with LGBTQI+ issues.
When Christina Aguilera's anthem 'Fighter' was released, Nick was in high school and even though the song and whole album spoke to his soul, he was scared of openly listening to it.
"I was raised in a very conservative, religious household and there were certain expectations about how to think and behave. In comes Christina with her songs about sex, love, making mistakes, the lessons you learn from them and about living with your truth," says this Australian YouTube star, whose cooking channel has more than 460,000 followers.
Struggling with depression on and off from age 16 to 25, Nick was terrified someone would hear him listening to Christina, so he made sure the volume was low enough nobody at home or school would know.
"Boys didn't listen to Christina Aguilera. Only girls did. And the last thing I wanted was to be made fun of, or for people to know that I was different," he explains. "When I came out, that fear slowly went away because I didn't feel the need to hide what made me happy anymore.
"Now I listen to Gaga full blast at the gym, or while I'm shopping. Seriously, I go food shopping with my headphones in and I'll have the volume up loud. Music makes me happy. People's opinions on what makes me happy matter very little to me."
Fans often ask where the name for his show came from, scran means food – a term used by the Royal Australian Navy (Nick was in the navy), where to stand in the scran line meant lining up for a meal.
"The Scran Line is about me. It is a personal food project that stems from my love of design, baking and pop culture. I create video tutorials and post them in an effort to inspire you guys to get in your kitchens and recreate them with your family and friends."
His cookbook is choc full of unbelievable cupcake, cake and macaron recipes that have to be seen to be believed…along with insights into his life, his alter-ego Nicki Star Tip and why he does what he does.
"Before the health nuts start jumping up and down, Sugar Rebels is not my idea of rebelling against eating less sugar. We should definitely eat less sugar than we do now. Too much of anything is not good for you, especially sugar. Just ask the people who have to tan Donald Trump," Nick quips.
From baking and piping tips and tricks to recipes like Good Witch, Bad Bish cupcakes and everything in between, this book is stunningly presented with beautiful photography of amazing creations and step-by-step instructions.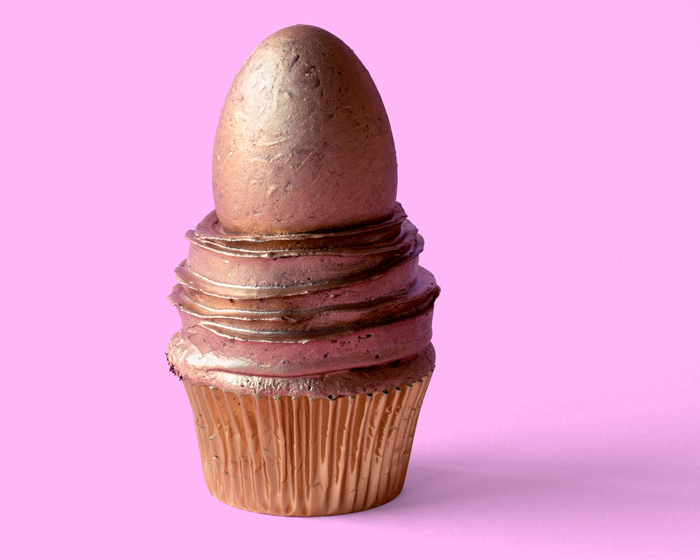 It's Nick's recipe for golden goose-egg cupcakes that we just couldn't flick past, especially at this time of the year!
"For these cupcakes, you'll need to find golden goose-eggs. They're quite rare. The last time anyone saw one was in Willie Wonka's factory," Nick warns.
The gold paint for these magical cupcakes is made by mixing gold lustre dust and vodka together, while the cake base is chocolate, making them an ideal Easter treat for family and friends.
This book took my breath away with the imagination, concept and design that has gone into every recipe, plus the in-depth look at Nick's life and how he came to be the cooking sensation he is today.
Let's leave the last word to Nicki Star Tip:
'Hey guys. I'm beautiful, thank you. Nick asked me to write a short thing in his stupid book. 'Cos like, I'm super famous and he's got no talent, so this will obvs help him sell books.'