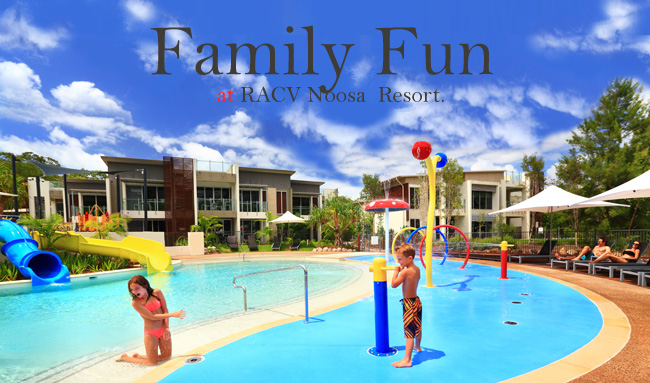 Whether a Melbournian in need of sunshine or a Brisbanite begging for a break, be sure to addRACV Noosa Resortto your itinerary, located on Noosa Drive near the point of Noosa Heads. Thanks to the passionate and dedicated team behind RACV Noosa Resort, the AGFG foodies were given the opportunity to lay back and enjoy some well-earned relaxation at the resort along with spending time exploring in and around Noosa and the iconic Sunshine Coast region.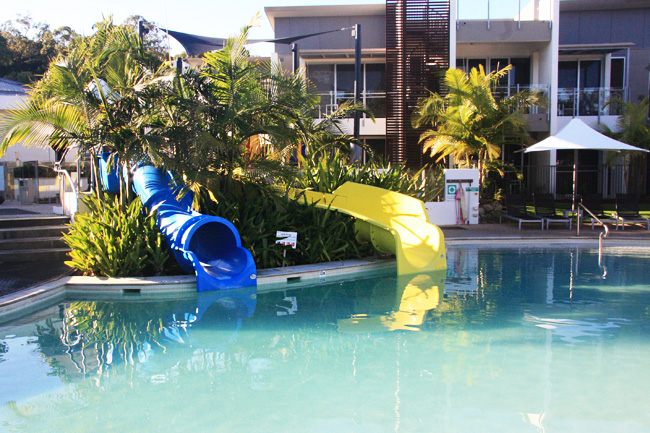 Slip and slide all holiday!
Cocktails in hand and encircled by gently swaying palm trees, we eased into holiday mode just minutes after arriving. Meeting with Resort Manager Darren McClenagham and his family by the pool, Darren gave us an introduction to the resort and shared with us a touch of its history. Initially built for permanent residential living, RACV has since transformed its original design into a tropical haven for holiday-makers seeking to enjoy time together. Guests are now spoiled for choice in how to best indulge themselves, dipping toes into a series of turquoise lagoons with a colourful water park and water slides for children set to a balmy temperature all year round.
This luring oasis is complemented by a laidback bar serving icy beverages as well as a wood fire pizza station emitting tantalising aromas that tempt guests to linger around the pool just a little longer. A plush indoor lounge area, corporate function facilities, a grassed tennis court and gym, luxury day spa and in-house establishment, Arcuri Restaurant, complete the picture for an all-encompassing getaway.
Our home away from home.
Upon checking in to one of 166 apartments, we were met with a generously spacious abode filled with lavish creature comforts in a sleek and modern setting. Easily suited to a range of accommodation needs, these self-contained apartments allow enough space for children to take naps, parents to unwind, and couples to enjoy privacy, even if opting to co-habit a luxe dwelling. As we saw firsthand, this is a particularly convenient option for large wedding parties, with guests able to stay on site and cars rolling in to chauffeur attendees to glistening beaches nearby for the ceremony and back again to party at the reception.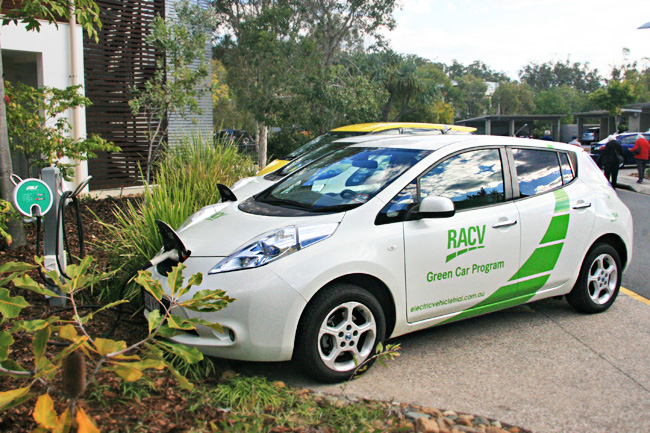 RACV's Green Car Campaign, $30-a-day hire.
While spending time unwinding in the resort is a must, and quite easily done, the accessibility of RACV Noosa Resort's transportation services sees resort guests coming and going without hindrance. Two electric cars are on hand available for hire, sitting at a reasonable price of just $30 a day. Two charging stations can be found at Australia Zoo, should your wanderings take you there, or to the nearby Big Kart Track for a fun filled excursion. A courtesy bus also leaves on the hour every hour to deliver guests to the renowned Hasting Street strip. Not only does this provide a handy way for one to splurge with a little boutique store shopping and eating out at charming cafes, but it saves guests from arranging a designated driver among the group before going out for a meal and a few holiday-indulgent drinks.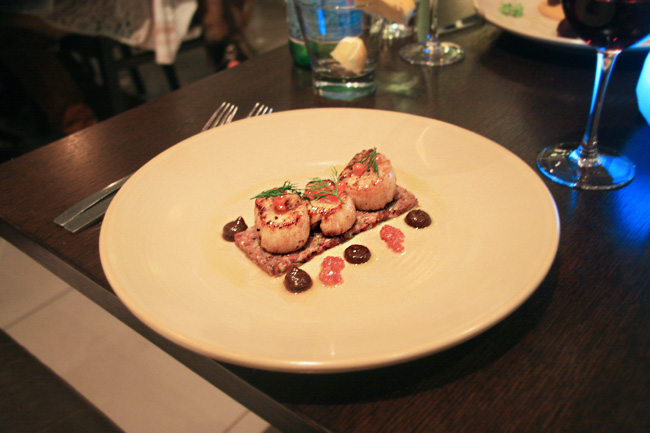 Entree: pan seared scallops with ham hock, raisin puree and finger lime.
While the local venues were a tempting sight, we chose to dine in-house at Arcuri Restaurant, giving in to a steam of tempting aromas wafting our way and opting for the ease of dining without having to travel. Large community groups and families with young children all had the same idea, filling Arcuri with a lively ambiance that would surely suit any occasion, with plenty of tasty dishes for children to devour with enthusiasm.
We kicked back for a night of delight, trying and testing the many sumptuous options crafted by award-winning Executive Chef, Lee Jeynes. Mouth-watering meals encompassed local seafood from Mooloolah River Fisheries and vegetables from local Sunshine Coast suppliers on both a main menu and a seasonal three course degustation of regionally inspired creations. We dove into entrees such as pan seared scallops with ham hock, raisin puree and finger lime and hickory smoked beef tenderloin with roast pumpkin puree, baby beets and horseradish buttermilk.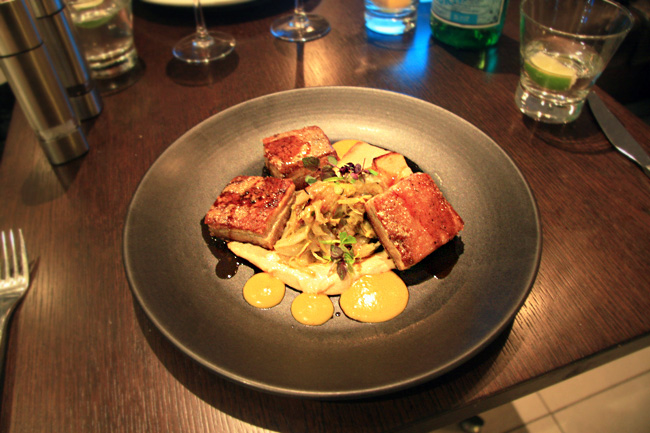 Slow roasted pork belly with fennel, duck fat potato, apple labne and orange emulsion.
A smooth transition into the main affair had us devouring plates of slow roasted pork belly with fennel, duck fat potato, apple labne and orange emulsion as well as crispy skin duck breast with chestnut puree, rosemary potatoes, Dutch carrots and tangy rhubarb compote. Rounding off a flavoursome feast with desserts of berry macaron, compote of fresh raspberry, blueberry and strawberry with a mascarpone cream and a chocolate and peanut semifreddo with caramel popcorn, chocolate soil and Chantilly cream, we simply had no option but to roll away to enjoy a food coma back in the apartment.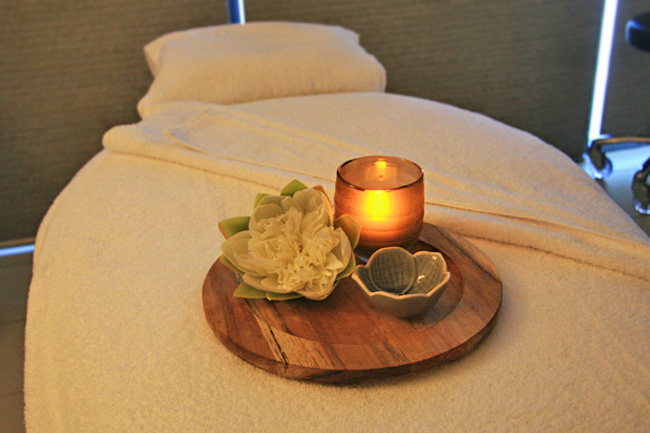 Relaxation and indulgence.
The following day we devoted our morning to gorging on a buffet breakfast, where an impressive selection of tropical fruits and a wide range of popular cereals had us content, however, we made sure to taste test a luring selection bakery treats as well as satisfying our childlike curiosity and trying out a pancake making machine. After stuffing ourselves silly, we were whisked away to a luxurious treatment at One Spa, where an hour's relaxation massage was on the cards; though for next-level relaxation be sure to consider spa treatments exclusive to RACV Noosa Resort, like the glowing Vichy Shower. Lying face down, a row of shower heads are adjusted to varying strengths in a configuration designed to wash away tension using pressure point massage to leave you feeling invigorated.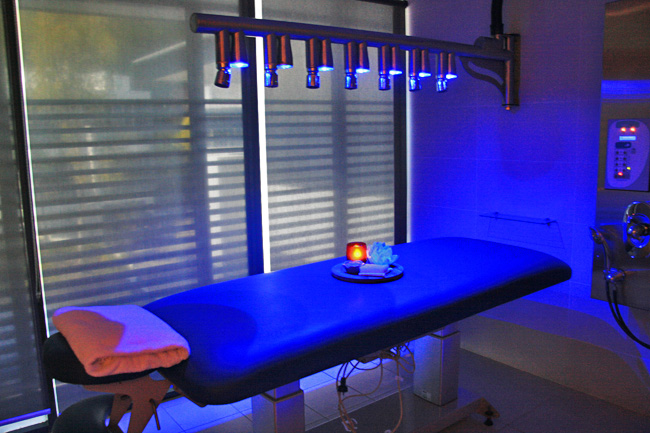 Vichy Shower Treatment.
For the rest of the afternoon, we explored the sights of Noosa, hiring bikes from reception with a choice of trendy beach cruisers or valiant looking mountain bikes, complete with baby seats, locks and helmets. Parking the bikes at the bottom of the headland walking track (as suggested by the reception staff) we set out on foot to see what lay ahead. Before reaching the peninsular peak, we already had the delight of spotting dolphins dancing in the shallows, admiring majestic whales spouting on the horizon, and nearly tripping over an echidna snuffling around for ants in the scrub beside the track. Taking a moment to stop and admire the stunning coves and vibrantly aqua inlets, shallow bays and rocky outcrops, the region was dazzling and made a perfect end to what was for most that day, an outing the whole family enjoyed.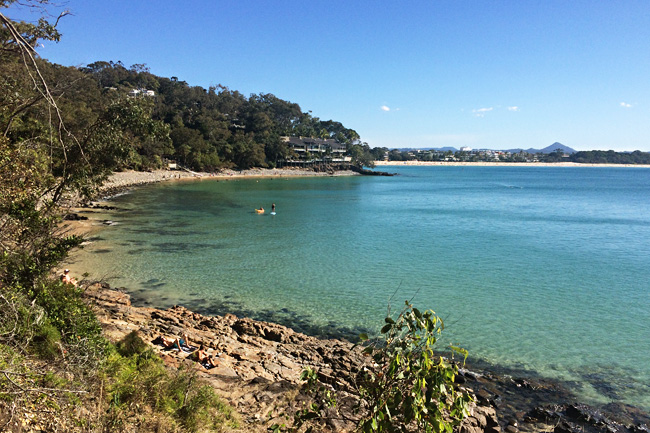 Headland adventures.
While a tight time schedule halted us from jumping in for a swim, any other day would have seen us spending glorious time on the main beach or finding a sheltered stretch of white sand around the corner and perhaps discovering more charming creatures of the sea and land too. The most adventurous visitors may take pleasure in exploring winding goat's tracks leading up and down off the path before reaching the impressive peninsula end – a collection of sheer cliff faces and crashing swell. For those who prefer time spent in calm waters, many ocean activities are available from the shore, including stand up paddleboard hire, kayaking, snorkelling and sailing trips.
Heading back to the resort at sundown, we joined other happy families kicking back around the pool, sharing in mouth-watering wood fired pizzas, snacks from the bar, a beer or glass of wine and fruit mocktails for the younger ones. There were smiles on every face and it was easy to see why families continue returning time and time again to RACV Noosa Resort.
Experiences by the AGFG Foodies. AGFG was a guest of RACV Noosa Resort.