By Freya Ensbey.
We have taken on many of America's traditions as our own here in Australia, one of which is the celebration of Halloween. It is a celebration dedicated to remembering the dead, including saints, martyrs and all who have departed.
It is believed that many Halloween traditions originated from Celtic harvest festivals, in particular the Gaelic festival of Samhain, which marks the beginning of the second darker half of the year following harvest.
As the remaining ghosts of this traditional holiday brushes over us with a raise of goose bumps, for a scream we undertake the spookiest places to visit around our country, revealing the skeletons of our country's closet.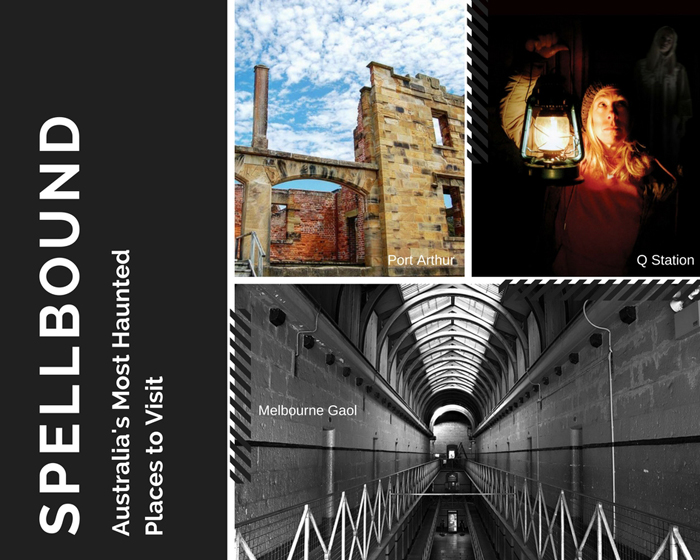 Monte Cristo Homestead | NSW
Set in Junee, a scenic half an hour drive from Wagga Wagga, resides Monte Cristo Homestead. Built by Christopher William Crawley in 1884 as an accommodation option for passengers to lay their weary heads when leaving the nearby railway station. With regular grand balls scheduled inside the house, still to this day an annual event, it was an era of opulence and excess with the homestead renowned as one of the regions social centres.
For those who dare stir the spirits of the late Crawleys, book in for a night's stay and hear stories of the past and present while experiencing the energy of the house and its spirits. Legends of maids being pushed from the balcony, a stable boy burned alive, a caretaker murdered and a mentally disabled man tied up for 30 years, are just some of the horrors believed to have occurred in the double storey, late Victorian manor, with their spirits still haunting the halls. For the avid ghost busters out there, visit here to book yourself a night to remember.
Old Melbourne Gaol | VIC
With a long history spanning its construction in the mid-1800s, Old Melbourne Gaol dominated Melbourne's skyline as a symbol of authority, housing dangerous criminals, petty offenders, the homeless and the mentally ill, also making for the scene of 133 hangings, during 1842 and 1929, including Australia's most infamous bushranger, Ned Kelly. With a grim and dark history, stories abound of an unexplained presence of spirits from visitors and staff alike, making the night time ghost tours spine tingling for anyone who dares to partake, candle in hand.
Once used as a lunatic asylum during the 1870s, Fremantle Arts Centre is rumoured to be one of the most haunted buildings in the country. According to Cal Greatbatch, founder of the paranormal research and investigation organisation of Perth Ghost Hunters, the gothic structure of the arts centre houses at least 10 spirits. With little empathy or care given to those suffering from mental health during this period, many patients were reportedly beaten, assaulted and starved whilst in the care of brutal wardens and nursing staff, leaving behind their macabre stories for you to discover. Psychic, Anthony Grzelka, also known as the "Australia's Ghost Whisperer," joined a television program staying overnight in the building, with the early hours of the morning revealing a toughened and hardened spirit of a man who he believed was an evil wards man. Many visitors also report an overwhelming smell of burning in the room where the administration of electric shock treatment was given to patients.
Port Arthur Tasmania| TAS
Named after George Arthur, the lieutenant Governor of Van Diemen's Land, Port Arthur was originally settled as a timber station in 1830, however, later turning into a penal colony for British criminals, who had reoffended after their arrival in Australia. Due to its location in a shark infested cove, with many inmates never learning how to swim, Port Arthur was sold as an inescapable prison for these skilled prisoners.
It was also a place of correction for juvenile convicts, some as young as nine-years-old, used for the harsh labour of stone cutting and construction. With no hope of ever escaping, some tales suggest that prisoners committed murder, an offence punishable by death, just to escape the desolation of life at the camp. The prison was closed in the 1870s and was later remodelled and turned into a bustling tourist attraction, attracting the curious from all corners of the world to experience the incomprehensible reality which so many lived on the grounds.
Manly Quarantine Station | NSW
Q Station is located on 30 hectares of Sydney Harbour National Park in Manly, surrounded by bushland with picturesque water views. However, the picturesque location does not make for a picturesque past. Once used as a quarantine station for migrants coming into Sydney via boat, many patients staying at the station were infected with highly contagious diseases with the likes of Spanish influenza, smallpox and the plague, causing over 600 deaths inside the walls.
Many tourists who visit the particular building which housed the hospital and morgue, say there was an undeniable ghost existence which causes a chilling and strange experience, however, it is the shower blocks where passengers would be forced to take carbolic acid showers to kill any germs, fleas and lice, where the highest amount of paranormal activity has taken place; some visitors even experiencing the feeling of being pushed around while exploring inside.
We applaud the adventurous out there reading this, who are brave enough to tempt the ghosts of the past and awaken the spirits fallen by visiting these historic ruins our country has to offer; however, you can't say we haven't warned you. The chill factor is a sure promise.