Words by Kirsten Kruck.
"The decadent shakes that you find in this book are the end result of beloved childhood memories, things that we as kids loved to indulge in (sometimes too much)." ~Matthew, Sarah and Brendan Aouad, authors & creators.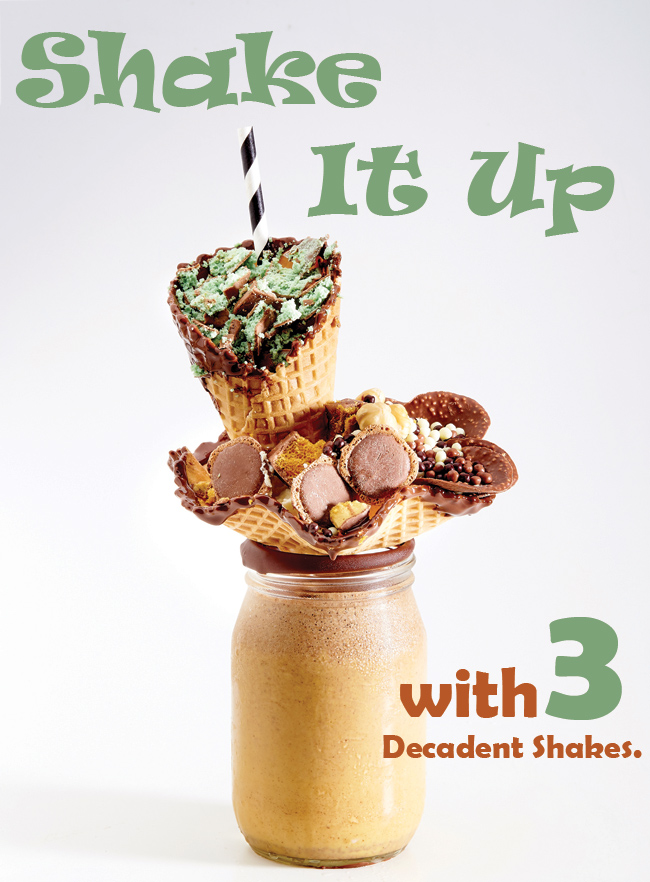 Double Decker, p 45.
Whether it's a decadent dessert, a show piece for your party (little kids, big kids or grown up kids, yes that means you) or 'just because,' Decadent Shakes will inspire you to create your very own masterpiece worth savouring, then devouring. Sibling authors and restaurant entrepreneurs Matthew, Sarah and Brendan Aouad have brought this adorably presented book of their 'childhood memories in a glass.' Peruse through pages of elaborate adornments like salty pretzels, Persian fairy floss, Tim Tams, waffles, doughnuts, sour worms, noodles, caramel popcorn and a whole lot more with beautiful photography and easy-to-read decorating tips, so all you need now is an arsenal of incredible ingredients.
"Have fun at home, go on a shopping frenzy and bring back an array of treats - sweet and savoury - snacks, cake mix, candies, ice creams; you name it and just have a go!" ~ Matthew, Sarah and Brendan Aouad.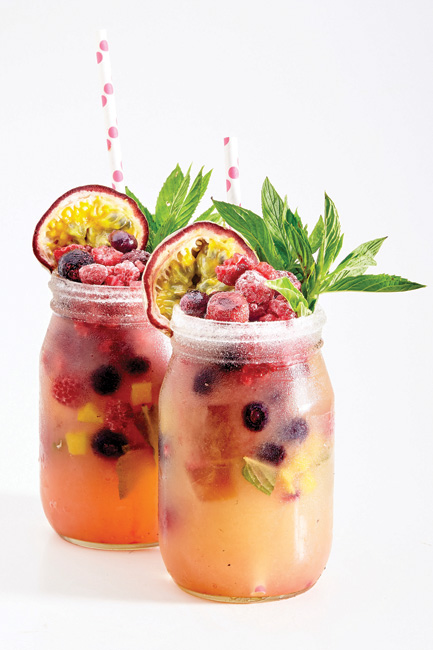 Pash Me, p 18.
For a refreshing treat on a hot summer's day try Pash Me in the Fruity Fun section, loaded with tropical fruits and edible decorations like passionfruit, fresh berries and mint sprigs and to make this quencher into a frappe just add ice and blend.
Or perhaps load up on the Double Decker, another delectable offering from the Chocolate Mania section with a mint Golden Gaytime, crunchie chocolate bars, Nutella and a waffle basket with an ingredients and presentation list as long as your arm, but certainly worth the effort.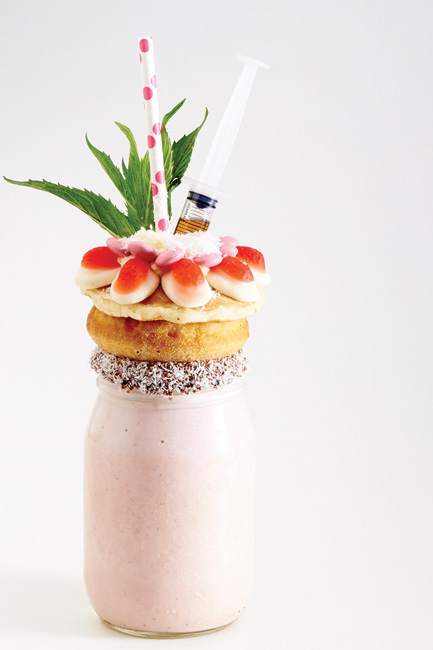 Pink Lady, p 69.
Turn to the Super Sweets and it's the Pink Lady that oozes strawberry charm and wins the heart with fresh strawberries, strawberry syrup, strawberry and cream candies, loaded with pink whipped cream among other delicious sugary ingredients.
"We hope these shakes also serve as a source of inspiration for your own foodie creativity. They're a shining symbol of the importance of fun and not taking life too seriously." ~ Matthew, Sarah and Brendan Aouad.
Whatever your tastes may be, try your hand at building a super, mega-tower of chocolatey, minty, fruity, creamy treat-laden goodness and create your own memories with family and friends, but be warned, for once opened and taste tested, you may not be able to put this precious little book back in the cupboard.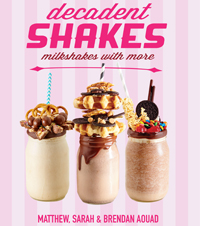 Recipes and images provided by Decadent Shakes, published by New Holland Publishers. RRP $26.99, available from all good bookstores or online.