By Leigh O'Connor.
Get your cheat pants ready! It's National Eat What You Want Day on Tuesday - time to indulge yourself without guilt and forget that diet for 24 hours.
This day was created to help people break away from the frustrating health and diet trends of our times, if only for one day, just let go and enjoy life a little.
Most nutritionists agree that having a break every now and again can actually be good for us. Forcing ourselves to eat only low-calorie, tasteless food for prolonged periods is likely to cause sudden gorging on everything in sight when our determination wears off.
Whether you love burgers, doughnuts, French fries, potato chips or chocolate brownies…throw caution to the wind tomorrow and bend to your kryptonite for this special occurrence.
Here are two restaurants to gorge yourself on all things decadent: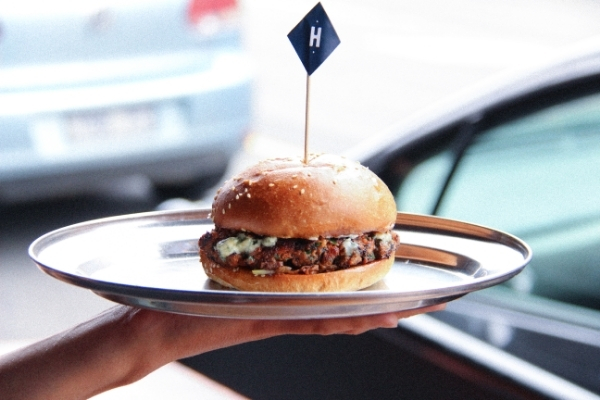 Is this Huxtaburger Collingwood creation the umami-est umami burger you have ever seen?
Wrap your hands around the Umami Bomb burger at
Huxtaburger
on Smith Street in Collingwood, created in honour of Eat What You Want Day. This just might be the umami-est umami burger ever…it may look cute but it sure has got bite, with truffle oil, nori roll, XO mushroom sauce, a thick beef patty and cheesy goodness inside and out.
Inspiring burgerholics through a passion for flavour, this burger joint is untameable, cheeky and a touch twisted; bringing all things between buns, fries and booze to Melburnian foodies in seek of a cheat eat. Grab an icy cold beer to go with some finger-lickin' good chicken tenders, with sides of ranch slaw and crispy Panko crumbed onion rings, before a vanilla ice cream burger for dessert.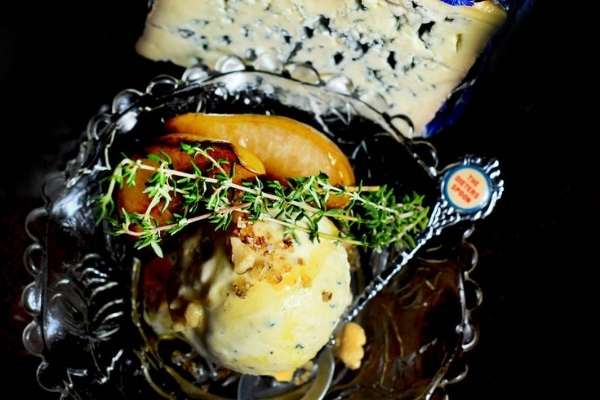 Housemade blue cheese ice cream from Humble on Duke in Sunshine Beach.
Humble on Duke's
housemade blue cheese ice cream is the ideal way to mark Eat What You Want Day, served with honey pears, walnut praline and thyme. This Sunshine Beach restaurant has a fun and funky vibe, oozing with vibrancy from colourful abstract wall art to bright yellow table napkins and comfy cushions, as you settle in to ponder a menu both familiar and nostalgic at the same time.
Pasta lovers can carb overload on Tuesday without remorse, perhaps twirling a fork around housemade saffron tagliatelle, burrata, Noosa reds and chilli basil; or smoked potato gnocchi, mushrooms, cashew cheese, sweet and sour onions. Those not blue cheese fans may opt for 'The Malt Biscuit' chocolate mousse, malt ice cream, salted caramel and cherry to finish.
For more places to indulge on Tuesday, click
here.