By Leigh O'Connor.
With a Gaelic name meaning 'water of life', for countless people around the world a good glass of Scotch whisky is the ideal way to unwind at the end of a hard day.
As we prepare to say cheers to National Scotch Whisky Day on Tuesday, July 27 – here are five fun facts about this tipple, along with an exotic cocktail to make at home:
•Scotland is home to more than 20 million casks of maturing whisky – that's almost four casks for every person living there.
•In 2018, a bottle of Macallan Valerio Adami 1926 whisky sold for a whopping $A1.58 million at auction in Edinburgh.
•Scotch whisky can only be called by that name when it has been left for a minimum of three years to age in casks in Scotland. Some casks hold whisky for considerably more time than this though.
•The export of whisky generates a healthy $A233 a second for the Scottish Government, with just under 38 bottles exported in that same time frame. Laid end-to-end, the 99 million cases exported each year would cover the distance between Edinburgh and New York – six times.
•The manufacture of whisky is great for local employment as many distilleries rely on generations of families to produce crucially consistent styles of the drop.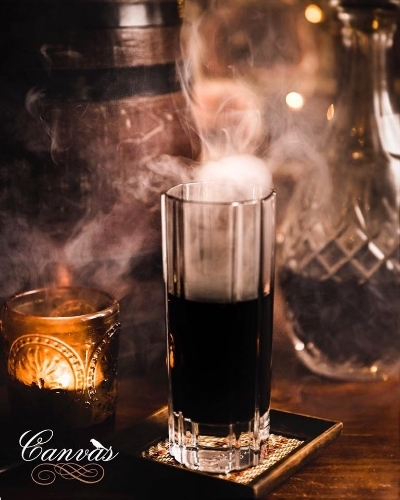 Brisbane hot spot
Canvas Cocktail & Wine Bar
is a vintage-inspired treasure in the heart of the Gabba where delectable cocktails, boutique wines, beer and rustic food await – step in and become part of the living canvas.
Created with Ledaig whisky, try this innovative
Black Night Cocktail
from Canvas's mixologists to celebrate on Tuesday. Ledaig is produced by the Tobermory Distillery on the picturesque Hebridean Isle of Mull and its name means 'safe haven' in Gaelic.
Whether you enjoy it in a cocktail or neat, remember money can't buy happiness but it can buy a great bottle of whisky!