The moment Jade Gosling stepped foot on the plane to Quindio and heard the slogan from the ProColombia tourism board, she was hooked.
'The only risk is you'll want to stay,' resonated so loudly with this former Australian student, that now seven years later, she and business partner Alejandro Fajardo are proud owners of hip Colombian restaurant Helena Adentro in Filandia.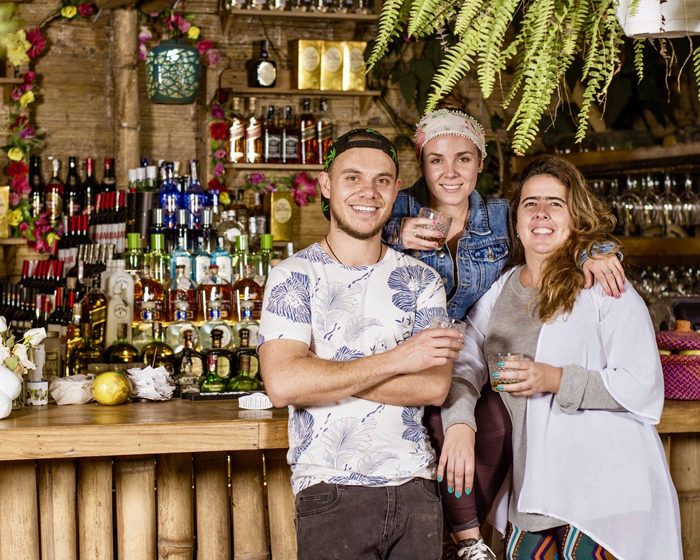 Left to right: Alejandro Fajardo, Jade Gosling and Helena Sarria.
With innovative takes on traditional Colombian cuisine made with fresh ingredients from local farms, Helena Adentro was recently named Best Restaurant in the Eje Cafetero (coffee region) at the National Restaurant Awards. A proud moment, considering only a few years earlier, the business barely survived and was only making enough profit to pay wages and buy produce for the next day.
But let's back up a bit and find out what led a young Kiwi girl on a journey of discovery in both Australia and South America…
Jade (29) and Alejandro (33) met in Adelaide - he had just completed a one-year course at Le Cordon Bleu and decided to enter into a Hotel Management degree, when they first laid eyes on each other and fell in love.
"Romance took us to Colombia after working in the Melbourne hospitality scene for three years. We left as a couple and set out to start something of our own," Jade explains.
"Initially we dreamed of opening a hotel, but our savings grew pretty tight, pretty quickly and we had no other choice than to start a small restaurant before we ran completely out of money.
"Alej has always been passionate about the kitchen, his mum is a fantastic and well renowned Colombian Chef, who was lead cooking instructor for 10 years at the local polytechnic. Alej and I had eaten our way around the best restaurants in Melbourne, Adelaide and Sydney for nearly a decade, so we had a fair idea of what we could do and a lot of inspiration to open a restaurant."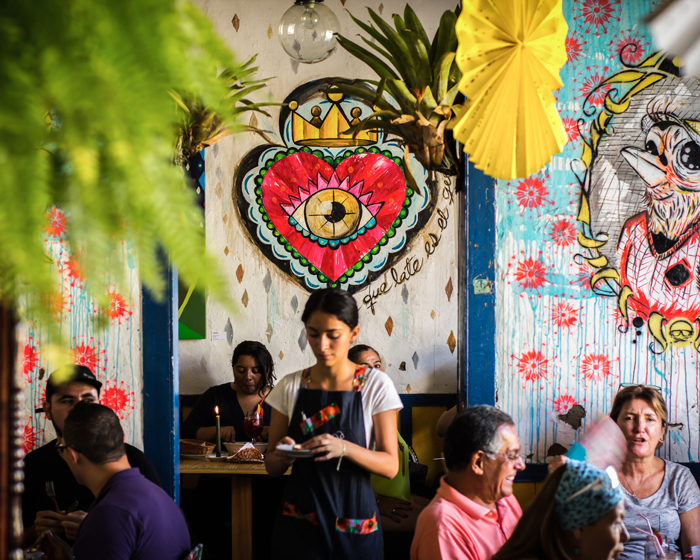 Inside Helena Adentro.
While their romantic relationship ended a couple of years ago, the pair remain great friends and solid business partners, building Helena into a sought after culinary destination, nestled in the foothills of the Quindio region, famous for coffee plantations and colourful architecture.
The original long-term goal they had in mind was a commodity producing coffee project, based at the farm Santa Helena. But in the meantime as a form of income, Helena Adentro was born – the name taken from the farm and meaning 'Helena is inside' or 'the Eden inside.'
"We had an abundant veggie garden at the farm, which grew red chillies, capsicum, onions, lettuce, parsley, coriander, oranges, limes, yucca, plantain…the list goes on. We would harvest on a Friday, head back to the restaurant, 90 minutes away, and get cooking.
"Years later, it still remains the pillar of our concept to source locally grown vegetables, fruits, meats and other great quality ingredients, from within our town and region," says Jade.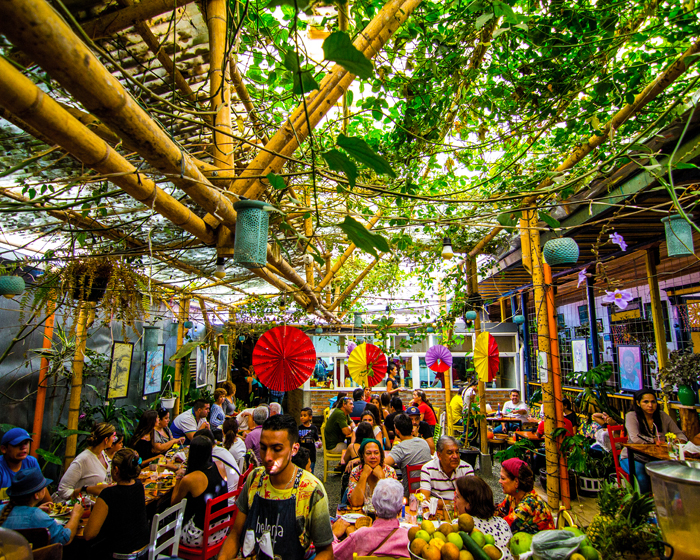 Helena Adentro's Patio.
The early days at Helena were tough, the restaurant opened its doors with very little. Alej's mum was a great support, lending her stove, fridge and kitchen equipment, while the tables and chairs were made from wood from the farm and put together by a helpful neighbouring carpenter.
"With our leftover savings, we were able to rustle up cash to buy the ingredients for our first day. What we earnt was enough to pay the wages of our two employees and buy ingredients for the following morning, to start cooking again," Jade says.
"This went on for almost a year, we really held on by just a thread. Then in 2015, we successfully won a start-up grant from the government-run polytechnic, allowing us to fit out our kitchen with industrial equipment. With the infrastructure and tools to produce food that was much more consistent and of better quality, we really started to grow."
Jade says the aim from day one was to capture the Colombian market, to create an ambiance where people could relax and enjoy good food – somewhere they would want to bring their family and friends, or to show off in front of a new date.
"We purposefully made Helena Adentro vibrant, colourful and full of Colombian energy. This has resulted in a strong clientele who visit us once a week, or at least once a month. It's a comfortable space, nothing pretentious, good food, drinks, desserts, coffee and an authentic experience.
"We think Colombia was waiting for something like this, in the mix of flavours and ingredients that we offer. We are a little off the beaten track and that's what makes our restaurant and the town of Filandia authentic."
These days, Jade dedicates herself to the front of house, the bar, creating cocktails and wine lists, training and motivation of staff. Former client Helena Sarria, who has joined the business partnership, looks after inventories, strengthening relationships with local farmers and suppliers, as well as day-to-day operations.
Alej remains in the kitchen, creating and captivating restaurant-goers with his cooking skills.
"He's a fantastic cook and creativity is his real strength. His ability to mix flavours and present food with simplicity and fun is very inspiring. Alej was always top of the class while at Le Cordon Bleu in Australia," Jade says.
"We shared two semesters of classes during our Hotel Management degrees and I would try to buddy up with him every class. To make sure I would pass the exams, he would ration out his portions when plating up so there was enough for two. The teachers never got to taste my burnt sauces or barely thickened hollandaise!"
So, what could we expect on the menu?
"We wanted to show a side to Colombian gastronomy that hadn't been presented before. We use traditional ingredients with our own added spin, a new flavour or combination that is different. You could call it fusion, which comes from our experience living in Australia and visiting other parts of the world."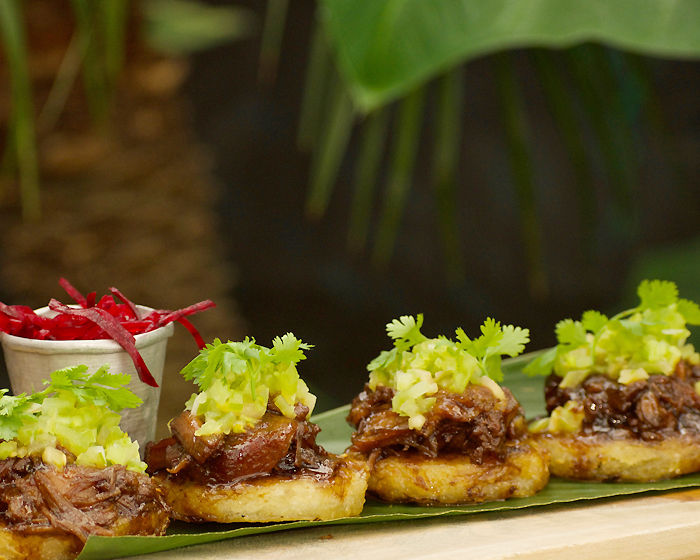 Alejandro's signature Pork Ribs from Helena Adentro.
The menu is designed for sharing, which is a very non-Colombian way to eat, making Helena a fun and new experience for locals. Since day one, pork ribs (recipe straight from the restaurant to you) have been on the menu and remain a customer favourite - using the meat straight off the bone, glazed in raw organic sugar cane, local rum and a touch of soy.
Served on four crunchy arepas (tortillas), with picadillo green tomato, Spring onion, lime and a spicy beetroot and red onion marinade on the side, the dish is topped with organic coriander from the garden.
"These ribs are most certainly made for finger-licking. We encourage people to eat them with their hands so they get all the flavours at once."
Helena's signature cocktail – Frida – has a Down Under influence, created by a friend visiting from Australia when the restaurant first opened, who helped out behind the bar. This refreshingly good drop is made with freshly squeezed mandarin juice, lime, passionfruit pulp, Absolut vodka, Triple Sec and topped with pressed blackberry juice, all sourced locally.
"That's the advantage of this area, we aren't far from the fruit which falls from the trees. Limes are not expensive and all our cocktails are natural, taking full advantage of the tropical fruit available. Frida is super refreshing, super strong – we have had many a night of flowing cocktail jugs with our clients."
So where is all this headed? Helena Adentro is still growing at a fast pace and other business opportunities have been put on hold for now as the three partners catch up with demand.
"This year we have focussed on processes, roles and responsibilities within the team, as well as innovation around new drinks and dishes. Recently we started work on a new internal programme, called 'El Novio de Helena' (Helena's boyfriend) – which is separated into three areas, Our People, Our Community and The Environment," Jade explains.
"These are the pillars which are vital to us as a business and family. We have just implemented the first phase, Our People, representing our 32 employees. For us, Helena Adentro is about investing back into our family, understanding our strengths, weaknesses and dreams, so we feel more comfortable with who we are, accepting our past and heading for a bright future."
And next year, they will start to look at new opportunities to chase those dreams.
"We've always wanted to have a hotel and I think that will be our next step. We want to offer something truly local, this region is full of culture, crafts, colour, coffee, incredible landscapes and most importantly great people."
The last word on Colombia belongs to this feisty, young restaurateur who has chased her dreams halfway around the world.
"Colombia is passion, it is colour and home to some of the most incredible people I have ever met. Every day you experience something that makes you fall in love with it even more."