By John Rozentals.
It's with deep sadness and a genuine sense of personal loss that I write of the sudden death last Sunday of Wayne Stehbens, aged just 62, yet winemaker at Coonawarra's Katnook Estate for 38 years.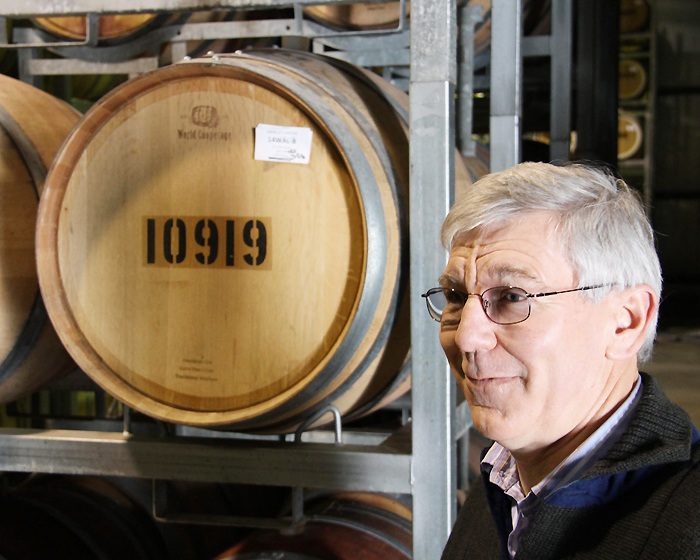 Wayne Stehbens in the old Katnook woodshed where the Coonawarra wine story started.
I studied winemaking at college with Wayne and just a couple of years ago visited him in Coonawarra, a place he loved nearly as much as he did his family. He greeted me with open arms and was indeed a generous host who introduced me to many local winemakers and set up reintroductions to a few I had previously met.
He also plied me with much good red wine he had produced and showed great pride in having reinvigorated the Katnook cellars, where the Coonawarra wine story had been started by John Riddoch well over a hundred years ago.
Wayne saw himself as one of the custodians of the area's history, though he certainly didn't take much due credit for its preservation.
He also added considerable lustre to Coonawarra's reputation, including a couple of revered Jimmy Watson Trophies from the Melbourne Wine Show.
To me — and I'm sure to many others — Wayne seemed indestructible. Like the many fine reds he produced he was going to keep going for many more years. My thoughts right now are with his wife Michelle and family.
Vale Wayne Stehbens. You were a good one and the wines you made will always stand you in good stead. I just wish I could have beaten you at table tennis.
Wine Reviews:
Blue Pyrenees 2013 Midnight Cuvée ($36): this ultra-premium sparkling wine from central-western Victoria takes its name from the chardonnay grapes being hand-harvested in the wee small hours of the morning to ensure freshness of fruit flavour. The bouquet shows a mix of nuttiness and yeasty fresh bread, with complex flavours derived from prolonged maturation in contact with yeast lees.
Shaw Vineyard Estate 2017 Riesling ($30): winemaker Graeme Shaw describes the 2017 vintage as a very normal one, but he's turned out a decidedly above-average riesling. It's a fresh dry white laden with floral and citrus aromas, and blessed with a zesty palate — a fine accompaniment to oysters or white-fleshed fish simply grilled and served with a buttery sauce.
Wine of the Week:
Katnook Estate 2012 Odyssey Cabernet Sauvignon ($100): an intensely flavoured, concentrated dry red that shows the Coonawarra region's great strength with this variety. Anyone who has a bottle should reserve it for the best lamb and the best company and raise a glass to its creator, Wayne Stehbens. Wine lovers who don't already have a bottle should do their utmost to procure one.