Whether you like it hot or not, try to keep the stress low by preparing ahead of time, freeing yourself up to cook with a lighthearted spirit. Know what you love and spread it around with sweet and savoury dishes; it's as easy as icing a cake with smooth butter cream.
We have put together the perfect summer menu to share with those you cherish most. Opt for family classics with a delicious lineage, pick new and funky dishes, or strike a balance between old and new.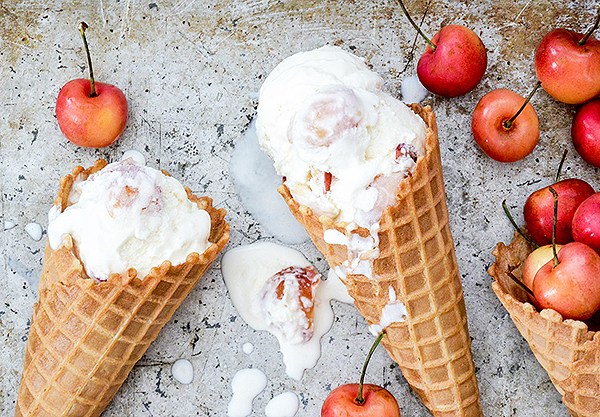 Photo: Liz - Floating Kitchen.
The Day Before Christmas:
Time to prepare your sweets, if not more (or all) of your meal, aside from the fresh picked berries and greens.
Some of our suggestions are:
Strawberries in Jelly - Unflavoured gelatine powder will help with consistency in what will be the next recipe you put on repeat.
Rhubarb Crumble - Slightly bitter with a quiet intensity, this common dessert is one we crave for its nourishment, a reliable favourite in good company or sneaky solo snack afterwards.
Maple Nut 'Cheese' Cake - Fresh cashew nuts are the key to this vegan cheesecake. Topped with mango coulis, there's nothing traditional about this recipe but once your guests try it they'll never tire of requesting it year after year.
'Tis the season for cherries and three unforgettable, elegant recipe concoctions for you to ease into: cherry pie ice cream, very cherry trifle, and chocolate cherries. For those who love chocolate but can do without the cherries, conclude your festive food spread with deep, dark chocolate and almond praline mousse.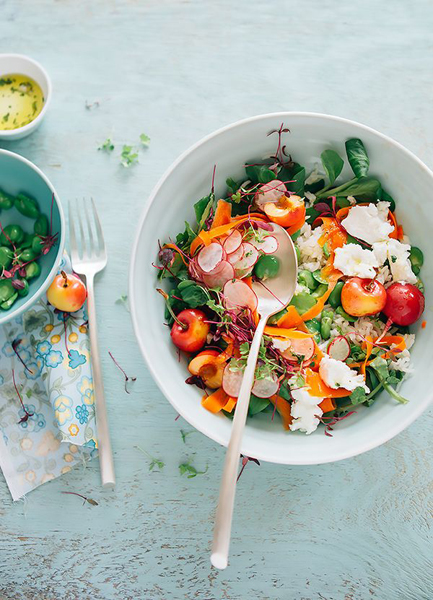 Photo: Bea - La Tartine Gourmande.
Simple Celebrations and Christmas Starters:
Good food and the Christmas colour theme can really go together and complete the picture. If red and green didn't scream Christmas once before, marketers have made it their mantra to ensure your mind goes straight to requisite seasonal shopping at first sighting of ruby and emerald reflections in coincidence. Brightening up your holiday spread with these two Christmas colours will add to the festival feel.
Mexican Dip - With tomato, shallots and capsicum to boot. 'Ole' as the old Spanish say amongst cheers and applause. Kidney beans are king in this one so it's low fat, high fibre and low GI.
Cherry Quinoa Salad with Lamb- Tri-coloured quinoa offsets the cherries and parsley, and it's as if this dish was created just to impress those guests you've welcomed in your home.
Beef Chorizo and Potato Tortilla - A legendary and flavourful combination that will win over everyone. Be innovative with your garnish to embellish the red and green theme and allow the flavours to work their magic.
Christmas Snacks and In Between Nibbles:
Besides unwrapping gifts, catching up on family goss, impromptu photo sessions with the in-laws and dusting off the backyard cricket set, a huge part of the holiday fun is eating all day long. Depending on what part of the special day you're in, a soup may hit the hot (or cold) spot. Perhaps opt to follow the raving Mexican food trend.
Gazpacho - Straight from the refrigerator to the peckish mugs of your relatives. Use Grandma and Grandpa farm tomatoes from your local market (or the true blue source) and opt for top quality sherry vinegar to ensure that country tang is just so.
Pumpkin Soup - This is a warm one and works as a starter, side or small bite. Cooking the pumpkin or squash quickly releases its natural sweetness. As you remain chatting and laughing well into the evening's cool, this is the dish that will sustain you into nightlong fun.
Duck Tacos - Cherries are ripe for the picking and when combined with lime salsa bring sweet zinginess to this popular dish that's perfect as a hot tropical aperitif. Smooth avocado soothes the spiciness of smoked paprika, ground cumin, and chopped coriander.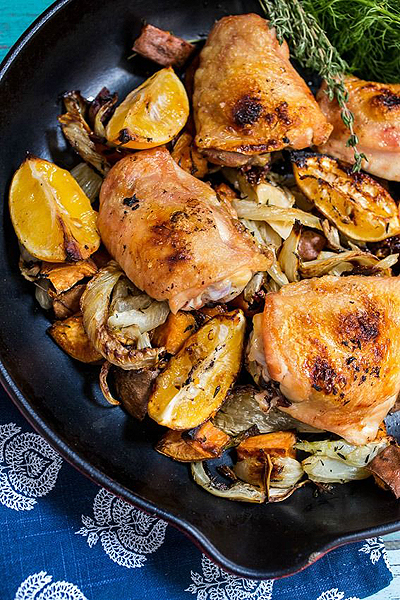 Photo: Susan - Girl in The Little Red Kitchen.
We're not just talking Turkey:
Chances are you have a model turkey or tender ham recipe that's been passed down through the generations. If you alter any of the ingredients someone's in an uproar. Why not keep it simple and go a different route altogether? We can't guarantee this will keep the peace because someone's sure to question the missing gobbler or general porklessness, but you can't go wrong with this herb, garlic and lemon roasted chicken.
Rather than hamming it up on the roast side of things, consider picking pork spare ribs with an Asian style spin featuring barley malt, tamari, dry-roasted Sichuan peppercorns and dry sherry. If serving roast is imperative, another alternative is lamb with preserved lemon and chargrilled vegetables. If potatoes and gravy must be part of your annual meal extraordinaire, here's a lamb back strap recipe with red wine jus and spicy garlic mustard mash.