Traditionally, British pubs were primarily drinking establishments with little emphasis placed on the serving of food. Dishes were smaller in size and the simple ploughman's lunch reigned supreme.
As customers began requesting meals with a little more substance to line their stomach, the bistro was born, as did the term "pub grub,' with humble, comfort food dishes being served in the form of slow cooked stews, hearty pies, bangers and mash, and fried chips. As the 1990s rolled around, Gastropubs came to fruition serving wine and cocktails, along with a higher end menu.
Fast forward to the present day and the traditional pub with minimal menus are fewer and far between, whilst the rise in the higher end gastropub makes for the majority of the new age scene. Winter is the ideal time to take respite from the chilly days and visit your nearest gastropub, with our top picks around the country.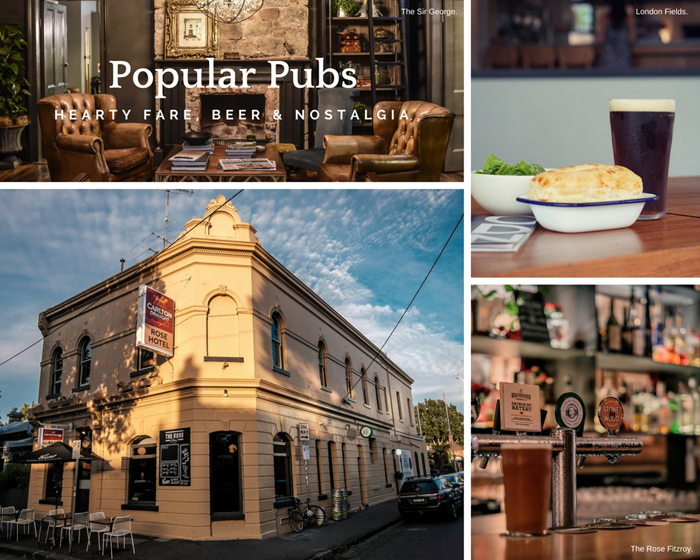 London Fields | QLD
Set just a block back from the Brisbane River in West End and providing a link back to the classy, classic British pubs of the 19th century gentleman's era, is trendy restaurant and bar London Fields. Foodies looking windswept from the City Cat are mixed with West Enders busily enjoying pub fare with a gourmet spin. The modern, light filled dining area is ideal for a leisurely breakfast among the hanging greenery, whilst the bar area comes to life of an evening serving a Mod Oz menu with options like ale braised beef brisket with polenta English spinach and confit pearl onions.
The Greenwood Bar | TAS
Tasmania is known for their authentic pub scene, with Launceston home to the 130-year-old pub, Greenwood Bar, not too far from the charming North Esk River and quaint City Park. Recently renovated back to its original design, the décor is everything an old English pub should be. Sip on a foaming pot of Boag's Draught with a succulent beef burger, topped with cheese, salad, onion and sauce from a concise menu that focusses on sharing with friends.
The Rose | VIC
Perched on a corner of Napier Street in Melbourne's sought-after foodie hotspot of Fitzroy, The Rose Fitzroy, an iconic original pub, was taken over by Tom Hogan and John Tennent in 2015. Their mission was to stay true to the sport loving, country pub roots that had always defined The Rose, but give the aesthetics a face lift, whilst offering a traditional pub menu, utilising quality produce and applying professional techniques. Peruse menu items of smoky BBQ pork ribs, coleslaw and fries or pork and fennel sausage rolls with tomato relish.
Caledonian Inn | SA
Those who have spent the morning working up an appetite on the seaside of Robe can take a short stroll across the road to satisfy their hunger and quench their thirst at the charming Caledonian Inn. The Cally, as locals know it, is an old English style stone pub, whilst their exterior boasts a spacious beer garden. A quality menu of authentic pub fare with a touch of modern refinement is seen in entrees of seared duck breast with eggplant crisps and hearty mains like lamb shanks infused with rosemary and chilli and served with mashed potato and broccolini.
The Sir George | NSW
For those who enjoy the atmosphere of an old fashioned country pub, stop by The Sir George on Riverside Drive in Jugiong. This recently renovated gastro pub invites guests to dine in the beer garden whilst enjoying an icy beer and sampling dishes from the stellar menu with starters of zucchini fritters or an anchovy board to share before tucking into classic mains like the pork cutlet with crushed potatoes, German slaw and horseradish.
For more amazing gastro pubs near you, check out our national guide here.