Widely considered one of the finest things to eat, caviar has a long and luxurious history dating back to the 4th Century BC.
AGFG is giving you the chance to pimp up your next party with
Caviar Giaveri
from
Friend & Burrell
, along with some other indulgent ingredients from gold flakes to pink truffle salt.
As NRL fans prepare for this weekend's Big Dance between the Rabbitohs and Panthers, we have goodies that will elevate any celebration to the next level and you can win these for yourself by clicking
here
.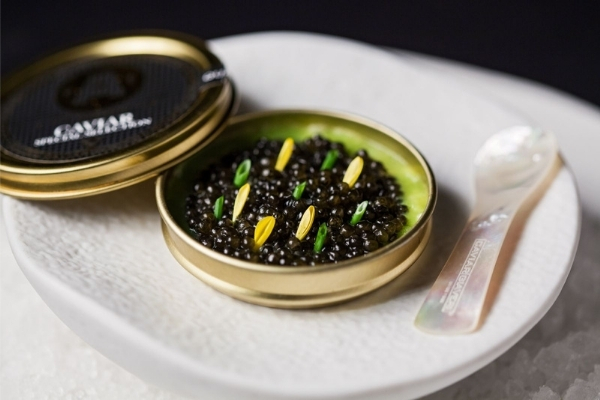 Greek scholar Aristotle described caviar as the eggs of the sturgeon and it was heralded into banquets amongst trumpets and flowers; but it was the Russian Tsars who catapulted the delicacy into the world of utter luxury – given its high price and unique provenance, caviar is synonymous with luxury and wealth.
Giaveri's caviar is a reflection of their 40-year passion for excellence in fish farming – its artisanal production is an import part of Italian gastronomic culture, informed by Russian traditions, knowledge and a folklore rich in history.
The real secret is simple: just as the quality of the champagne begins in the vineyard, the wellbeing of the fish determines the quality of caviar.
All sturgeons bred by Giaveri are from Russian origin – producing Beluga, Osietra, Sevruiga and Siberian caviar with a delicate flavour, a mild scent and rounded on the palate.
What is the best drink pairing for caviar?
The eternal match for caviar is of course Champagne, while Vodka is also popular; pair the two to celebrate prestigious events, life's important milestones and intimate gatherings.
How do some of the key caviar varieties differ?
Beluga is known for its soft, larger eggs, usually black in colour and buttery and creamy in flavour.
Osietra caviar has a stronger, elegant nutty flavour and intense golden-brown colour.
Caviar is ideally tasted on its own, preferably by using Mother-of-Pearl spoons (which you can also win from AGFG) – avoid steel as it can alter the flavour – and served on a bed of ice.
Another popular presentation is on top of blinis, lightly buttered toast, or even scrambled eggs. These straight forward options keep the subtle flavour of the caviar and enhance and refine your meal.
With the new pandemic world special milestones and occasions are being celebrated more and more at home, yet people still crave that little piece of luxury – whether caviar, truffle, a fine wine or Champagne.
Websites like Friend & Burrell are designed for ease of choice and offer the opportunity for you to experience some of the world's finest ingredients from the comfort of your own home.