By Leigh O'Connor.
Most of us define vegetarians as those who don't eat meat…actually this isn't true as there are many forms of vegetarianism and even the hard core might not hesitate to eat meat when drunk.
As we celebrate World Vegetarian Day on Friday, October 1, here are five surprising facts you probably don't know and a delicious recipe to try at home for the NRL Grand Final on Sunday:
•Vegetarian is actually a new word – it was only coined in the 19th Century and before that was called 'Pythagorean' after Greek mathematician Pythagoras; who believed dead humans were reincarnated as animals. He was afraid of eating a dead relative!
•84% of vegetarians return to eating meat within 12 months.
•A new group of vegetarians has popped up Down Under – called kangatarians – who only eat kangaroo meat.
•A third of vegetarians have no qualms of consuming meat when drunk and it's not a one-off incident.
•Cheese is not always vegetarian and it's never vegan!
From
Locale Pizzeria Deakin
on Hopetoun Circuit in Canberra comes this recipe for
crispy zucchini flowers with goats' cheese
, a signature for Chef Kevin Rhind. Pesto adds a great tang to these battered flowers, while the smooth and creamy goats' cheese is an ideal filling to complement the delicate squash flavour and soft, velvety texture of the blooms.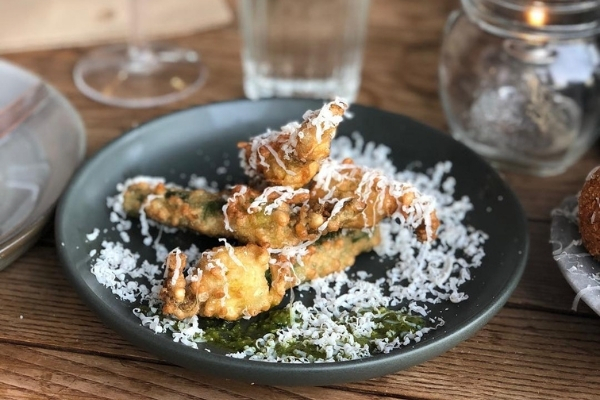 Try these crispy stuffed zucchini flowers from Locale Pizzeria Deakin.
For more tempting vegetarian recipes, click
here
.