By Leigh O'Connor.
Cut the carp – head to
Angler Stirling
on Mount Barker Road for the real seafood deal, where Chef Sam Prance-Smith delivers sustainable fish and chips on the plate.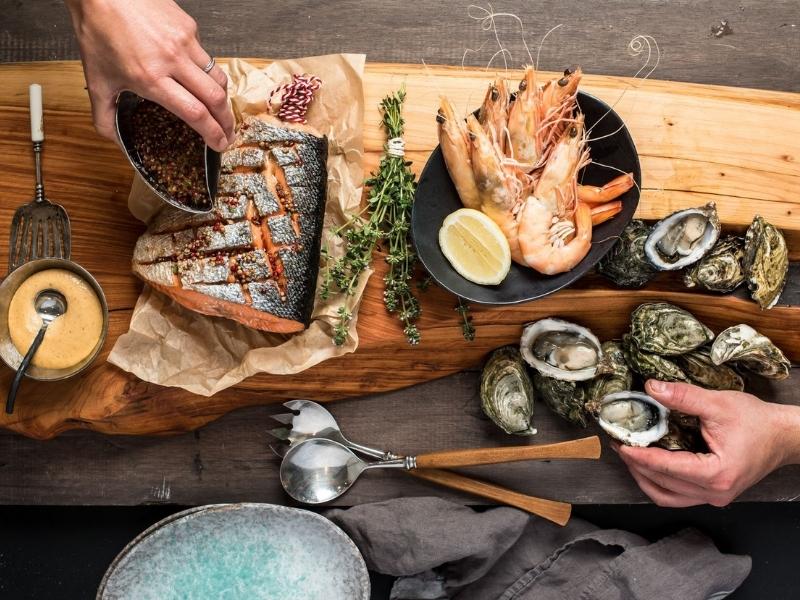 Sustainable and ethically sourced seafood is on the menu at Angler.
Creating a sustainable and ethical seafood restaurant is the ethos behind this Adelaide Hills venue, the first in South Australia to sell dry-aged fish. Angler presents a compact space with stools and a bar top overlooking the street for those who want to dine in; while the concise menu sources fresh catches daily from local fishermen, prepared respectfully onsite to tempt all tastes.
In the kitchen you'll find Sam who started his formal cooking career at just 15 at Lenzerheide restaurant, which provided a strong foundation and exposure to quality fine dining. After a lot of hard work and determination, Sam headed to the UK in 2010 and secured a gig at Heston Blumenthal's The Fat Duck restaurant.
"This has been the absolute highlight of my career and after returning from the UK, I completed a lengthy stage at Attica in Melbourne. I am grateful to have had the opportunity to work in two of the finest restaurants in the world," he says.
"These experiences assisted with growing my technical skills and personal food identity."
Sam says helping his Mum in the kitchen sparked his cooking passion, as his family has always been heavily involved in food, fruit and vegetables. Starting as a kitchen hand at age 14, he quickly began to love the environment of chaos and refinement at the same time.
COVID has taught him to not take anything for granted as overnight life can change drastically. He believes customers have really started to question where their food comes from and how it is being handled; they also are keen to support venues who in turn support small local fishermen, producers and farmers.
After Angler opened in January, a second Chef with Michelin-star experience joined Sam on the pans.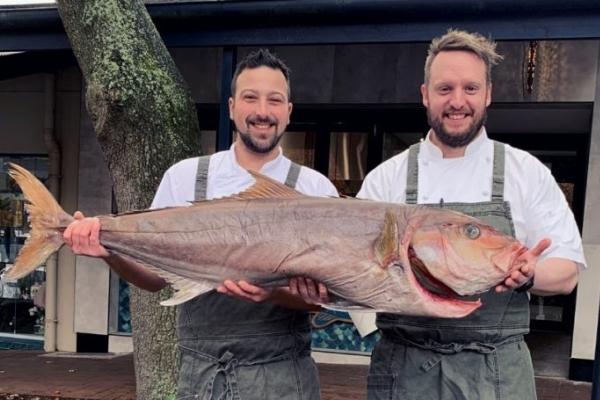 Angler Stirling's Chefs Jeremy (left) and Sam know a thing or two about fish!
Originally from the Netherlands, Jeremy Arrascaeta had been working as a Chef on Kangaroo Island at Hanson Bay Sanctuary and Flinders Chase Café, which was destroyed by bushfires.
After evacuating the island and driving to Stirling, Jeremy was looking for a campsite when he parked in front of Angler, where the dry-ager in the window captured his curiosity.
The Dutch Chef has since introduced carp bacon and the carp burger, along with an assortment of dry-aged seafood creations to Angler's menu. Jeremy is the dry-aging expert, curing everything from sashimi to fish sausages and barramundi crackling.
"I love organised chaos and that's the same for my dry-age recipes as well, they're organised but they change constantly; there's not one thing in the agers that will be the same week-after-week," he says.
Together the two Chefs share Angler's recipe for
Spencer Gulf kingfish
– basted with fermented honey, lemon, sea salt and butter – a sure-fire way to start your next seafood dinner party.
Sam and Jeremy are determined for Angler to set the benchmark standard in Australia for how seafood is sourced and handled; expanding this ethos and the idea of what the restaurant stands for into other sectors of the hospitality industry.