By Leigh O'Connor.
Before you swear off meat altogether, you need to know that adopting a vegetarian or vegan diet is not as easy as just taking the meat out of your burger and eating the buns.
Vegetarian and vegan diets are healthy, nutritionally adequate and may prevent and treat some diseases; they are naturally low in saturated fat and cholesterol and high in fibre, which may help to prevent heart disease, diabetes, kidney stones and some cancers.
Here are five fun facts about vegetarians/vegans and five restaurants to enjoy a meal:
•1.3 billion people could be fed by the grain that is currently eaten by livestock for meat production.
•It takes 95 litres of water to produce 500 grams of wheat, but 950 litres to produce 500 grams of meat.
•Chinese people living on a mainly vegetarian diet consume 20% more calories than Americans, but the Yanks are 20% fatter.
•It takes 60 calories of oil to produce 1 calorie of meat.
•84% of food poisoning is due to eating infected meat.
Nourish yourself during lockdown with plant-based goodness from
Bowl Me Over & Back Bar Pizza
on New Street in Brighton. Nutrition bowls and superfood smoothies tempt as healthy options to beat isolation blues, or perhaps mouth-watering pizzas and cauliflower tacos hit the mark; from a clean menu where no refined sugars and minimally processed ingredients are used as much as possible.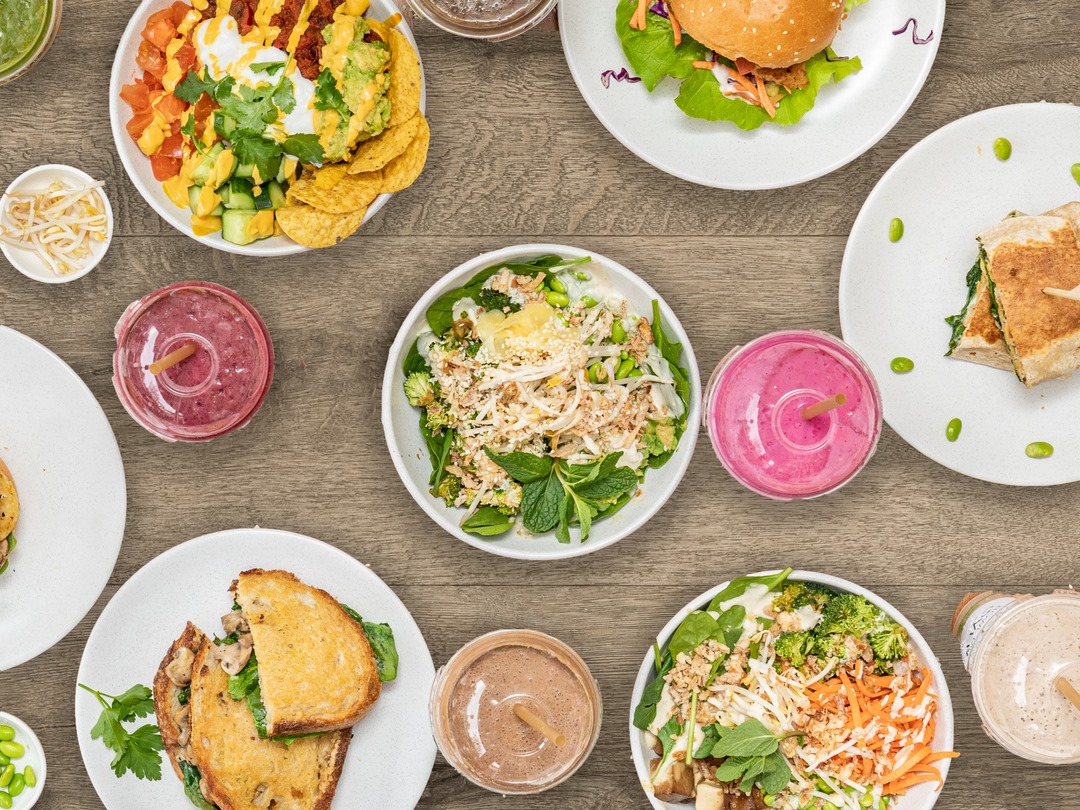 Eat the rainbow at Bowl Me Over.
Escape the rush of modern society at
Elixiba Herbal Alchemy Bar & Restaurant
on Ocean Street in Maroochydore. Offering a holistic approach to dining and nightlife for locals and visitors, step into a magical interior, where timbers twist into bar stools and lights hypnotise with purple and green hues; perhaps order Noble Nachos – corn chips loaded with spiced beans, fresh salsa, chimichurri, garlic cream and South-west sauce.
Not everything is as it seems at
VegOut on George
in the heart of Launceston's CBD – the cheeze sauce is made from carrots and potatoes, while the chikun is housemade from flour and spices. From humble beginnings in a food van, VegOut now serves seriously good plant-based fare in a calming vibe of white stools, bench seating and potted greenery; small-batch cooking ensures everything is fresh and delicious, such as Thai yellow coconut curry, vegetables, chilli and jasmine rice.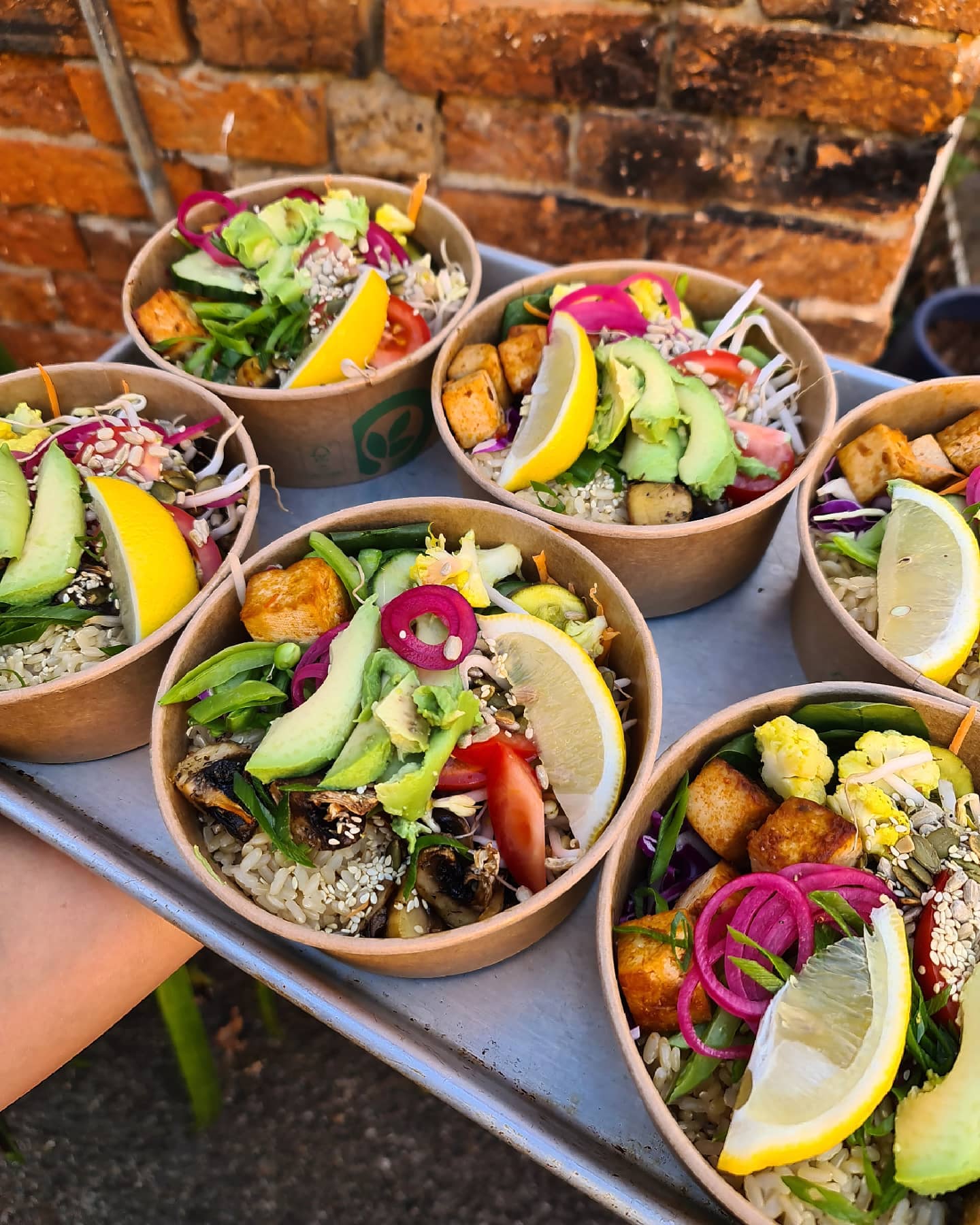 Veggie bowls at VegOut on George.
Vegan, vegetarian and rawist café,
Four Seasons Bistro
on Bowral Road in Mittagong is still dishing up mouth-watering takeaway fare during NSW's lockdown. Think monthly Sunday roasts such as Beet Wellington and roast vegetables, cauliflower mornay, gravy and a dessert of apple pie and custard; or specialty takeaway nights with themes like Jamaican jerk eggplant, jackfruit rice, salted fried tofu, pumpkin and pimento curry, fried plantains and taro flatbread.
Encounter the exotic at
ZA ZA TA
on Ann Street in Fortitude Valley – a place where worlds and cultures collide amongst a sprawling, colonial backdrop and buzzing open kitchen. This Brisbane bar and kitchen packs a Mediterranean and Middle Eastern punch, delivering a soulful blend of cuisine designed to be shared; think dishes like cauliflower shawarma, tahini, pickled fennel and quince, best washed down with a signature cocktail.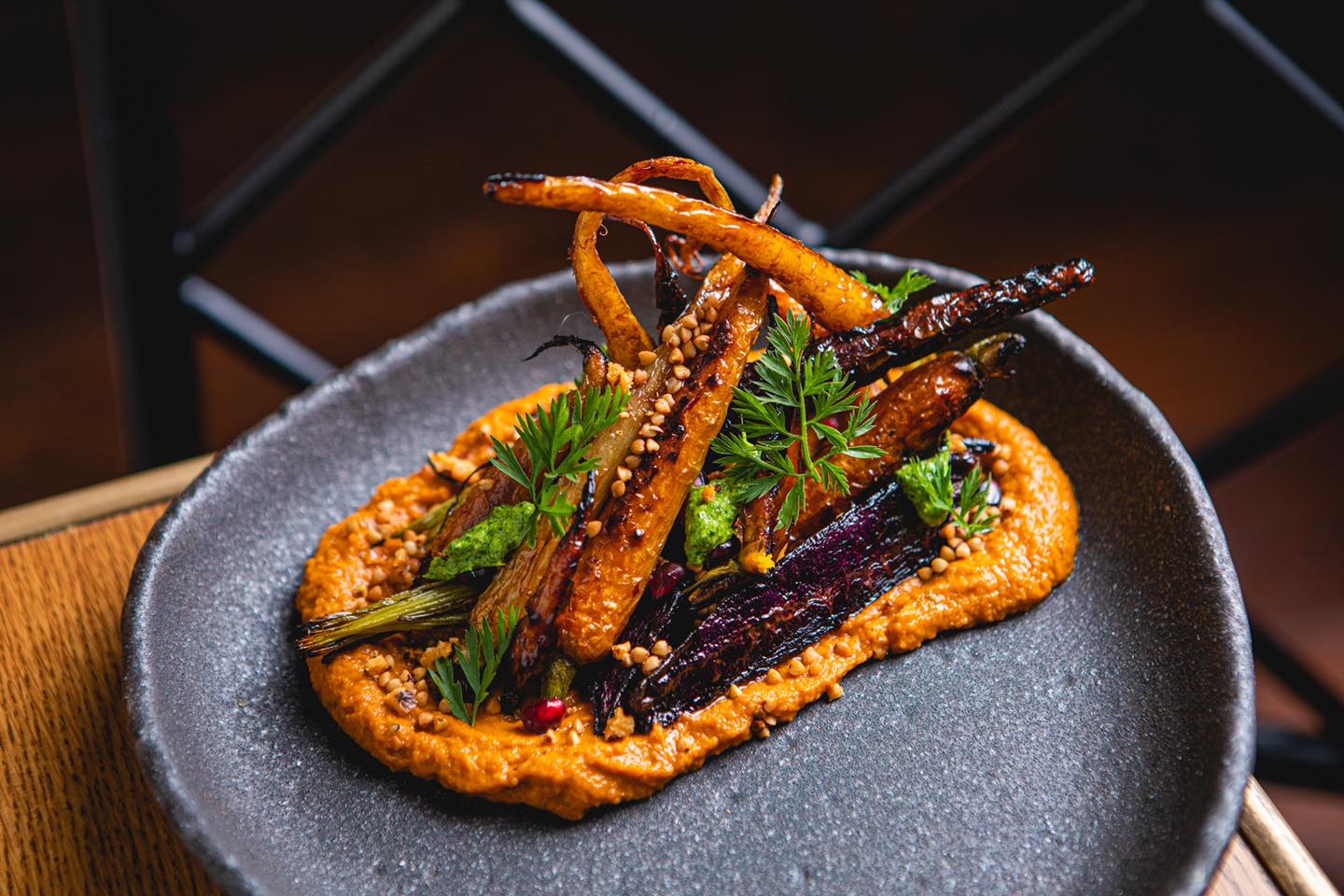 Braised Carrots at ZA ZA TA.
For those living on the veg…click
here
for more dining options near you.