America's Pizza Obsession by Michelle Tchea from My Little SoHo Kitchen.
~~~ Interview with Chef Johnny Di Fracesco of Gradi Crown Included ~~~
Getting a good slice ofpizzain the US is pretty easy. Pop into anypizzaparlour and pick up a glorious slice of cheese flatbread for under $3. You could do better and get a small slab for 99c, but you wouldn't be getting the best slice, and that's exactly what you should be after. When it comes to fast- food options, Americans go by a few simple rules. Bigger is better.
Lots of food trends have come and gone in the US and like many street foods from Asia, they have been recreated and at times butchered by novice cooks wanting to be the next big thing in the Big Apple. The Japanese must squirm at the NY ramen burger; the French are probably going to new heights to turn their noses at the cronut; and us Aussies, aren't very impressed with the half-asked lattes in Brooklyn.
Yet, when it comes to Italian food, Americans seem to have done something right.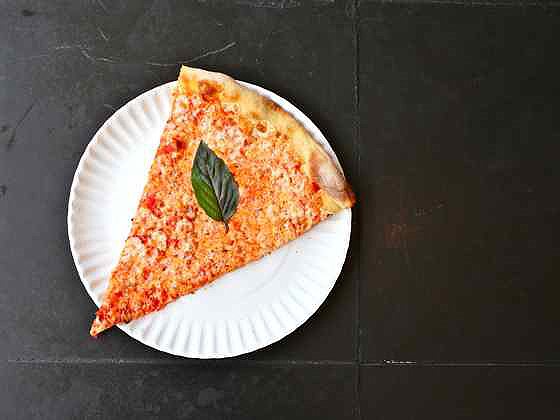 A New York Slice - All you have to do is fold and devour!
Pizza, round or square,flator stuffed, thin or thick,pizzais affectionately adored by all Americans. It is most definitely fundamental over here than even in the South of Italy where it apparently originated. Americans have made it their own and possibly perfected the Italian specialty. Whether you demand a thin crust with spicy sausage, or the heartier Chicago rendition,pizzais best eaten in America. Realpizzaaficionados probably agree that the bestpizzais not in the topping, sauce or cheese, but its crust. Clean, no-fuss tomato sauce, mozzarella cheese (fresh for the gourmets out there) and a blistering hot oven equals pizzaperfection.
The beauty ofpizzain the US is that it caters to all gourmets, budget-conscience eaters from all walks of life. You don't need a pesky knife and fork, nor do you need a spot to sit down. Hand heldpizzasare at their best when on the go. Toppings are not essential and quite frankly pointless.Pizzasalong the East Coast are thin, smeared with a bit of tomato sauce and a generous sprinkle of cheese. That's it. Vegans, veggie hipsters and meat lovers, find common ground and keep it simple too. Toppings like mushrooms egg or God forbid pineapple are a sacrilege to say the least.
The first time I ate a real New Yorkpizzawas unforgettable. I longed for that first bite but it couldn't be just anypizzajoint, it had to be the best. Eating a New York slice is all about the execution. Thepizzahas to be fresh, hot out of the oven but not burn-the-top-of-your-mouth hot. For mere tourists, the size may be overwhelming, but don't be shy; it is after all a thin crust pie, so you're safe if you are worried about the carbs.
Lovers of social media, don't jeopardize the pie with all your tedious instagraming, facebooking and other food porn nonsense, a pie is at stake. Hold the pie from the crust, make the New Yorkpizzafold with the paper plate still supporting your pie and bring it up to your drooling mouth.
Taste the sauce, remember the cheese and savour the crust. If you know what's good for you, you will pop back in for another slice of New York history.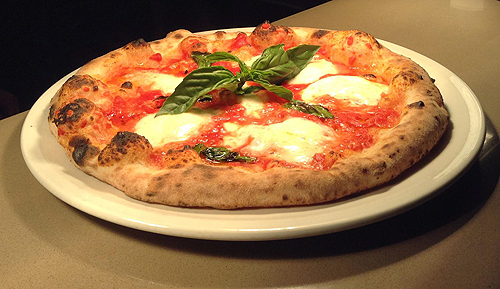 A delicious margarita pizza from Scoozi.
Of course – if you don't live in New York City – or Italy for that matter, there are great pizza places everywhere. Rewarded 'best pizza' in the world, Chef Johnny Di Francesco calls Melbourne home and has added to Melbourne's dynamic pizza battle.
My favourite Pizza joints around Melbourne (and not necessarily on Lygon Street):
Gradi, Crown
La Svolta
90secondi
La Zerpig
I had the great chance to interview Chef Johnny Di Fracesco of Gradi Crown on how to get the perfect pizza at home and what he loves most about Melbourne.
What's the secret to a great pizza?
High quality ingredients. What you put into your pizza - from the dough to the toppings - is absolutely what makes or breaks it. I also believe that fewer toppings is the secret to a really great taste, I've never believed in loading up a pizza with as many ingredients as you can!
For people with pizza ovens at home, what are the best ways to control the heat and fire of a HOT oven?
There are a few ways to manage the temperature - the easiest is of course a temperature gauge. The flour test is another good one, which you can do after an oven has been burning for about an hour and a half so it should be close to ready to start cooking. Scatter flour inside the oven, and if your oven is at the right temperature to cook the flour will start to turn golden then darken but not too quickly. If the flour darkens quickly and starts to burn, the oven is too hot and you should stop adding wood to the fire.
What's next for you?
I'm working on opening another restaurant in Essendon which is exciting. It will be a similar concept to 400 Gradi, but like Gradi at Crown, it will have its own personality and take on the menu.
How would you describe Melbournes dining / food scene?
Eclectic and evolving. I love that there are so many different variations of dining available here - you can eat from a food truck or you can experience absolute fine dining. All facets of the food spectrum are covered, and there's always something new happening, somewhere new to eat, some new food trend to try. It's food heaven!
Where are your favourite places for pizza around the world?
Naples of course - there are so many great pizzerias in my home town that I find it difficult to get to all of them whenever I am there. I can also admit that I don't mind a giant slice of New York style pizza when I'm in the USA!
What are your favourite spots for eating / breakfast and coffee in Melbourne?
I spend so much time at Crown and on Lygon Street that most of my favourite spots are centred around those two areas. There's a great Cafe, Code Black not far from 400 Gradi that I stop in at when I have time to grab a coffee, but to be honest I spend most of my time in my own restaurants so I tend to literally live, breathe and even eat Gradi Group!