Rockpool Dining Group and Neil Perry AM will serve their first housemade burgers in Brisbane on Friday, 17 February when Burger Project makes its Queensland debut at the new Southpoint precinct in South Bank.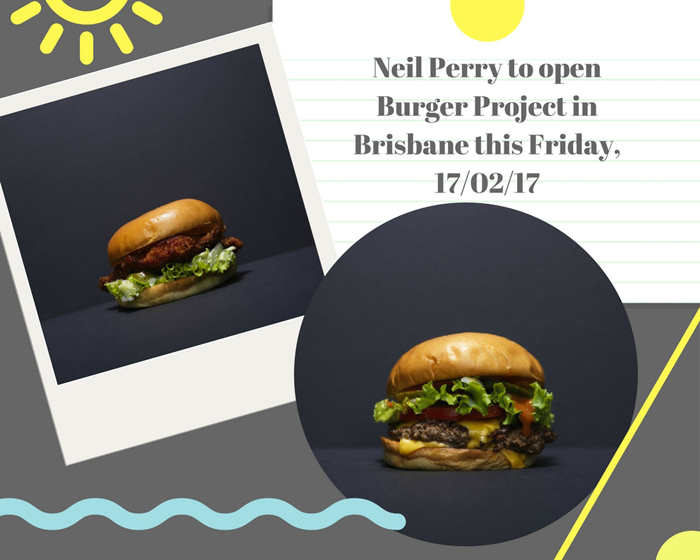 Perry will roll up his sleeves in the open kitchen from 11am on launch day, spending the day personally welcoming guests, crafting delicious burgers made from the finest Australian beef, and steering hundreds of meals into the hands of customers who have eagerly awaited the arrival of the much-loved burger group in the state.
The eighth Burger Project in the country and the first in Queensland is similar in look and feel to its Sydney and Melbourne counterparts, with a smart, casual interior designed by leading architect Grant Cheyne.
Located on street level of the new Anthony John Group precinct, the modern venue boasts ground-to ceiling external glass walls that provide an uncompromised view of the light-filled, spacious interior, and the street beyond. A large, open kitchen is strikingly located in the centre of the venue, with seating around it for 60 customers. Outdoor seating accommodates a further 30 diners.
The menu features 14 hand-crafted burgers showcasing 36-month, grass-fed Cape Grim beef from Tasmania, free-range Lilydale chicken, as well as a vegetarian Magic Mushroom option. Chips can be salted and sauced-up in a range of lip-smacking flavours, while house-churned soft-serve is the hero of a range of ice cream desserts.
Classic shakes, sodas and iced teas are all shaken, spritzed and brewed in-house, and exclusive 'Project' wines are made in South Australia by legendary winemaker, Jeffrey Grosset. Burger Project's exclusive Pilsner and craft beers by Urban Craft Brewing Co are also available.
Burger Project Southpoint will open for breakfast from 8am-11am on Monday, 20 February. Customers can power up for the day on bacon and egg burgers, BLTs, ELTs (egg, lettuce, tomato), mushroom and egg burgers, and potato gems.
Orange juice will be freshly squeezed, while coffee aficionados will get their caffeine fix thanks to boutique Victorian coffee roaster Market Lane, which sources beans from some of the world's best growers.
Perry said he was thrilled to be bringing the first Burger Project to Brisbane, with more to follow this year.
"It's long been our goal to add Brisbane to our East Coast road-trip," said Perry.
"Brisbane diners love burgers and Southpoint is a stunning, centrally located precinct with lots of foot traffic so it's a great fit.
"We're spreading our love of quality ingredients, sourced from reputable and admirable local producers, served in a quick, convenient and relaxed setting all the way to the Sunshine State."
Market Lane's owner Fleur Studd is proud to supply Burger Project with her Seasonal Espresso coffee, a heavy bodied blend with notes of dark chocolate, orange and caramel.
"We are very excited to be working with Rockpool Dining Group and Neil Perry, whose commitment to sourcing great ingredients is second to none," said Studd.
DETAILS:
BURGER PROJECT SOUTHPOINT Address: 271 Grey Street, South Bank, Brisbane Hours: Monday to Sunday, 8am – 9pm Website, Instagram, Facebook and Twitter.