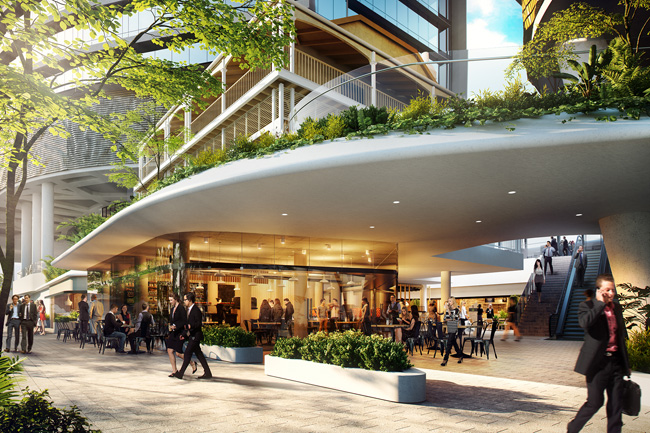 Artist's impression of the new Southpoint precinct.
There is new life being breathed into the southern end of Grey St at Southbank in Brisbane City, with the construction of the Southpoint precinct well underway. As this new development moves skyward, locals and visitors can anticipate a dining, shopping, accommodation and residential precinct like no other.
Set to open in February 2017, Anthony John Group will reveal the final stages of the $6 million Southpoint development and introduce the 4,500 sqm retail and dining precinct, residing in the 21 storey Emporium Hotel, directly underneath Flight Centres new global headquarters.
Offering a carefully selected contrast of casual and formal dining, as well as fresh food markets to cater for the residents of the area, Southpoint will be a one stop destination for seasoned foodies, tourist, workers, families and couples alike. The Emporium Hotel will also be unveiling the city's newest rooftop bar which will be open to the public and positioned on the pool deck with picturesque, uninterrupted views over the city and river.
Anthony John Group Managing Director Tony John said that the group is proud to contribute a complementary precinct to South Banks current offering in a singular destination location.
"We are creating a village style atmosphere that supports an upmarket destination appeal with a balanced blend of neighbourhood services and food in one central location," said John.
Among the exclusive proprietors will be Neil Perry's highly anticipated Burger Project, set to occupy a 172sqm space, offering indoor and alfresco dining options and a menu catering from breakfast through to dinner, paired with a selection of premium alcoholic beverages. After seeing much success with the opening of flagship stores in Sydney and Melbourne, Perry is now bringing his acclaimed casual eatery to the people of Brisbane.
Renowned coffee connoisseur Sebastian Butler-White will also be expanding his hugely popular Pourboy Espresso operation on Wharf Street with Pourboy, offering distinctive brews to accompany a Mod Oz menu. Catering for the after work and weekend crowds, Pourboy will also operate as a wine bar in the evenings, offering a diverse and ever-changing array of boutique wines and beers.
Husband and wife artisan bakers Brad and Megan Clapham, whose Le Champagne Bakery in Greenslopes has built a significant fan base and is widely regarded as one of the best in South East Queensland, will be opening the anticipated second store to the brand with Stone Artisan, a unique mix of specialty sourdough breads and decadent freshly baked goods.
"We are very proud to be partnering with such notable operators, all of who share our passion for quality and delivering customers a great experience. This will be an exciting, vibrant urban hub," says, John.
For more information, visit: www.lastpieceofsouthbank.com.au.