By Leigh O'Connor. Purchase Naughty X Nice Here.
"You find this ugly, I find it lovely," ~ Kenneth Slessor.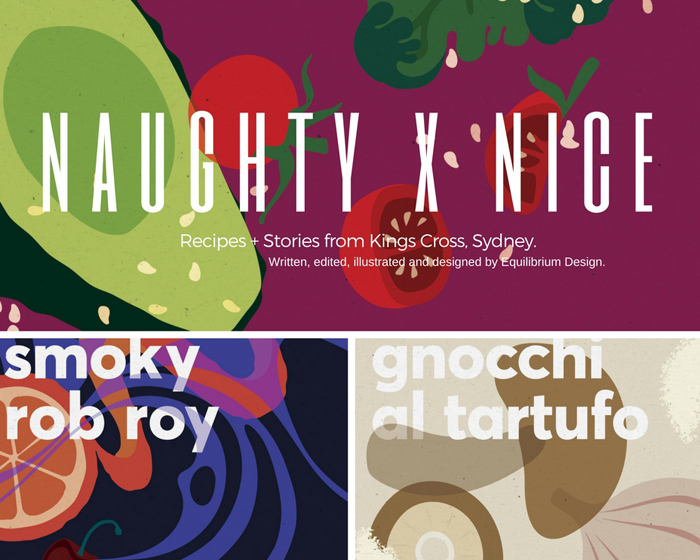 Love it, or hate it, Kings Cross is an icon to many generations - a world famous playground of neon-lit indulgence and a Sydney suburb that almost everyone has been to and has an opinion about. There is something infinitely magnetic about the Cross, from its early days of windmills and wealthy estates to migrant influxes and wartime American sailors treading its streets.
The home of Australia's first drag shows and the birth of the Carlotta legend, now boasts a diverse and wide range of bars, restaurants and cafes, all with their own story to tell.
Publisher, Equilibrium Design, has brought together a collection of recipes to celebrate the lifestyle and history of Sydney's sin city, where the Cross can be a haven or a nightmare, it is naughty and nice.
Naughty x Nice is primarily a cookbook, but also a culinary guided tour through an area that has changed dramatically over time. Most of the featured dining spots have been there long enough to witness the cycles of decay and rebirth the Cross has been through and their recipes reflect these changing times.
Equilibrium has been based in Kings Cross for five years and some staff also live there, so their insight into the culture and vibe comes from a strong connection to the area. If you want to know how this place ticks, there is no better way than to dine and drink within its boundaries.
Let's start with a drink at Eau de Vie, reminding readers of the state's own era of prohibition with the lockout laws enforcing a transition in the Cross from party central to a village of gastronomy arts and community.
In the 1940s, infamous gangster Kate Leigh ran more than 20 grog joints, bootleg bars and speakeasies in the area. Small cocktail and whiskey bar, Eau de Vie is a take on this chequered past and their recipe for Smoky Rob Roy adds a theatrical twist to a whiskey cocktail. Using Scotch, Johnnie Walker, Solera Rum and sweet Vermouth, the concoction uses liquid nitrogen and flame to produce the smoky component.
What could say more about the Cross than this?
Satisfy your pasta desires with gnocchi al tartufo from Caffe Roma, where Danilo Tozzi has been welcoming patrons for more than 30 years. Starting off his career as a dishwasher, Danilo sneakily watched the Head Chef making this dish and memorised the recipe. Many celebrities have dined here and tried the gnocchi with truffle and mushroom – Bowie, Spielberg and Kylie to name just a few.
Now wander up Bayswater Road on your recipe journey for chicken za'atar at Uliveto, a local gem that has been in the same spot for 15 years. This dish is easy, tasty and healthy – something the whole family would enjoy for a munch lunch. Mixing spices with olive oil and lemon to marinate the chicken for roasting and served with pita, tabouleh and quinoa, it is a favourite staple on the restaurant's menu and celebrates the cultures of diners who frequent the area.
The book's selection of recipes represent the melting pot that is Kings Cross – young, old, rich, poor, gay or straight, gangsters and police. They are illustrated with photos and artwork that is as eclectic as the suburb itself and while this may not be everybody's cup of tea, it is an interesting take on an era, lifestyle and place that is ever-evolving.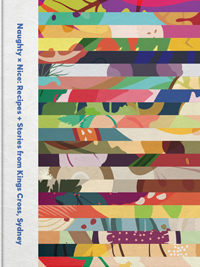 Recipes and illustrations from Naughty x Nice: Recipes + Stories from Kings Cross. Written, edited, illustrated and designed by Equilibrium Design.