He's young, full of ambition and energy, and he's just come back from three years with renowned, two-Michelin-star Chef, René Redzepi in Copenhagen. Meet Vue de monde's new Executive Chef, Hugh Allen.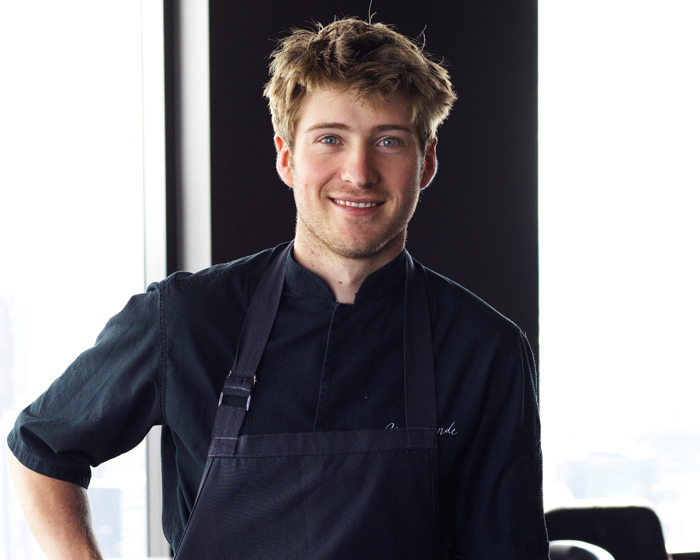 Executive Chef, Hugh Allen at Vue de monde.
While Group Executive Chef, Justin James will continue his role, with a focus on a pipeline of new ventures across Vue Group's other venues, Hugh will drive Vue de monde's culinary vision, focusing on local, seasonal produce and innovation, paying homage to classical fine dining in a modern context.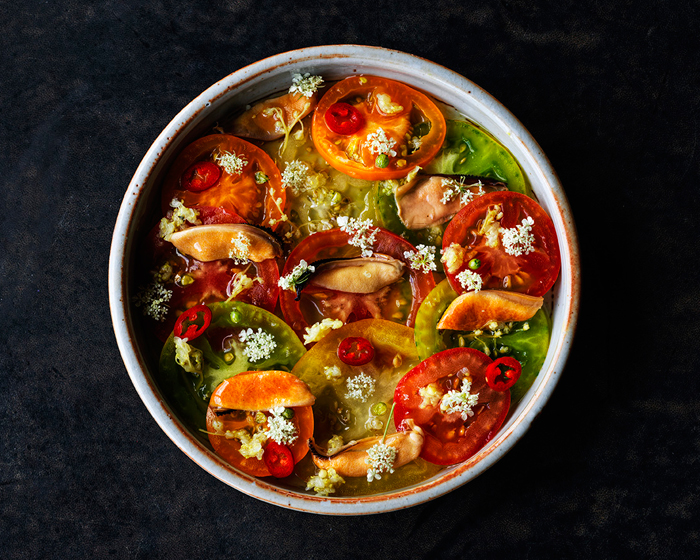 Burnham Beeches tomatoes with smoked mussels and elderflower at Vue de monde.
Hugh said he was thrilled to be back in Australia and working for Vue de monde again.
"Vue de monde has always felt like home. I'm excited to draw inspiration from my recent travels and apply it to this iconic restaurant," says Hugh.
"Noma taught me to look at ingredients in a whole new way. We were often experimenting with ingredients that you've never ever heard of before, let alone seen or tasted! So, I'm keen to draw from this experience and challenge the norm when it comes to creating new dishes at Vue de monde.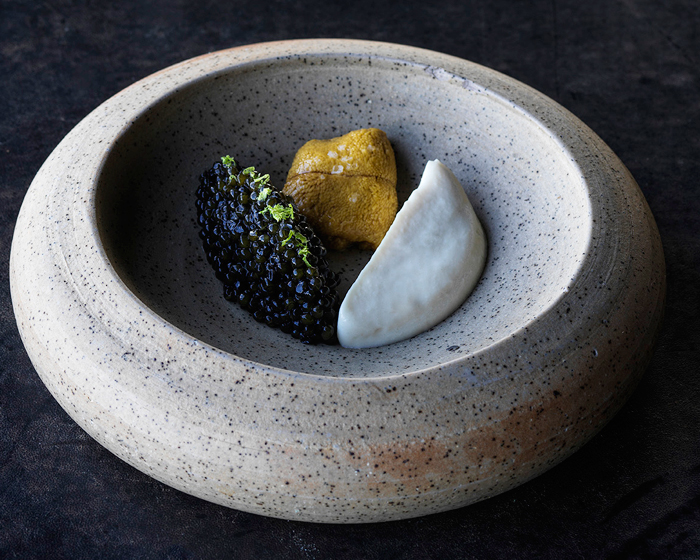 Tasmanian sea urchin with caviar and Bunya Bunya at Vue de monde.
"We've already started changing up the dining experience with the introduction of rare Indigenous ingredients like Bunya Bunya, Magpie Goose and sea urchin, and we're also looking at ways we can start producing and using more fermentation in our cooking which also played a major role at Noma."
Working alongside Head Chef, Chris Marshall, Hugh will be joining Restaurant Manager, Christoph Schrottenbaum, and Master Sommelier, Dorian Guillon, in leading the Vue de monde team.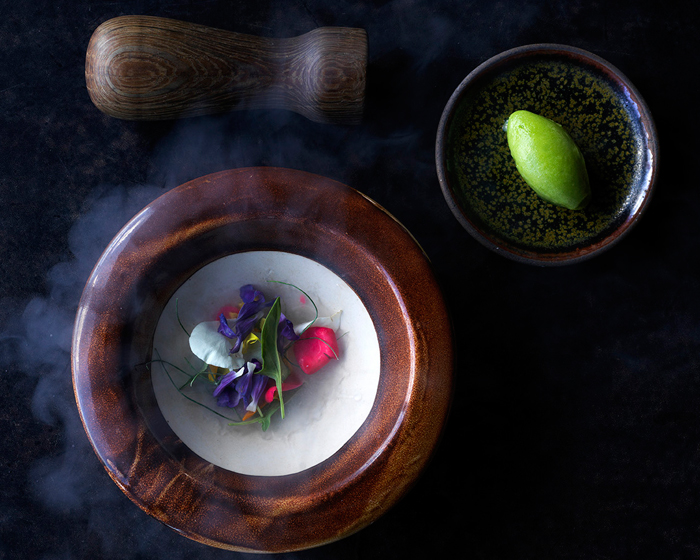 Sea parsley sorbet with flowers from Vue de monde's gardens at Burnham Beeches.
Vue Group's Founder & Creative Director Shannon Bennett said he was looking forward to working closely with Hugh to continue evolving Vue de monde's dining experience.
"With the expansion of Justin's role within the group, it makes for a great opportunity to appoint a new Executive Chef at Vue de monde," comments Shannon.
"Following in the group's philosophy of promoting rising stars, Hugh is the perfect candidate with his invaluable experience starting with an apprenticeship at Rockpool Group before furthering his skills at Vue de monde and then Noma.
"Hugh is one of Australia's most esteemed contemporary Chefs and we're keen to tap into his culinary flair and knowledge of the craft following his experience cooking in some of the world's best restaurants. I'm looking forward to seeing the direction Hugh, Christoph and Dorian take the brand. It'll be one to watch closely."