By Laura Rancie
Welcome to our Meet the French Pastry Chef series as we gear up towards Bastille Day, held this 14th July or as the French call it la Fête Nationale.

I recently had the enormous pleasure of spending time in the South Melbourne Market kitchen of
Agathé Pâtisserie. I took immense pleasure being immersed in a sensory world of warm pastries cooling down, the steam rising from pandan croissants as the oven door opened, the busyness of the staff each working to precision on their selected pastry - piping, cutting, stretching, and the aroma of sweet dough tantalising my senses.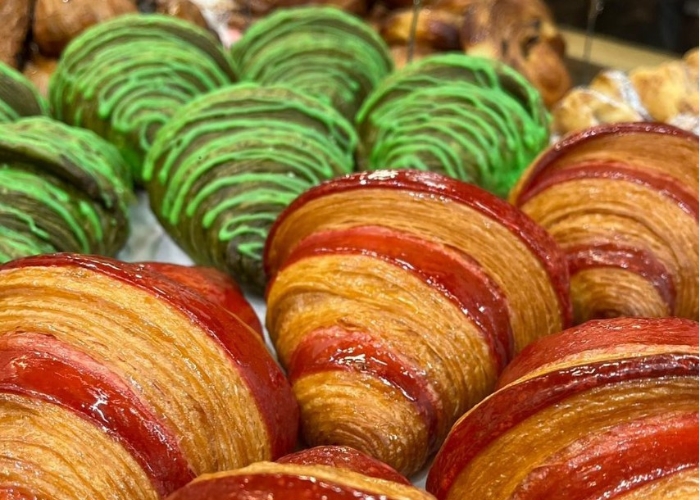 The queuing culture has not slowed down in Australia and regardless of what day you visit the absolutely outstanding Agathé Pâtisserie you are destined to queue. Fear not, the endless fresh, warm pastries are on constant rotation between the oven, the counter and customers hands so you won't wait long. And the bonus is the open kitchen right next to you as you wait patiently watching curiously as the dough is shaped before your eyes. I think I can already see you! Read on for my one on one interview with Pastry Chef legend,
Agathé
Ifrah Kerr.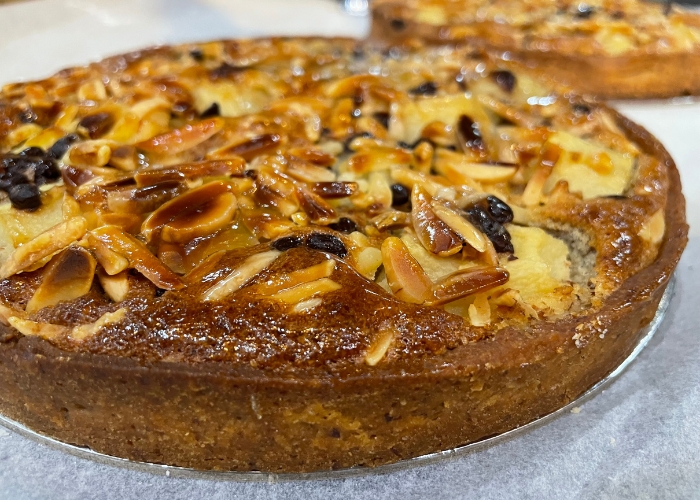 You have been an incredibly successful Pastry Chef for a long time now, what is it that makes great pastry ?
I think you need to start with good and fresh ingredients, add a little bit of skills and a LOT of love and patience.
Pastries like croissants are 'alive' because of the yeast which means every day they are different. That is when the love and patience come into the actual mix as you need to literally watch the croissants grow differently each day based on heat and humidity conditions at that time, and not get frustrated when they don't exactly turn out the way you expect.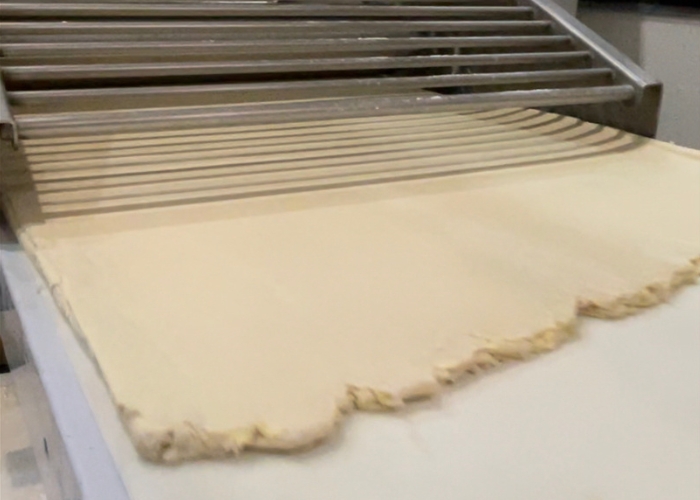 What is a classic recipe that you think every Aussie should know in their own home kitchen?
I think a classic recipe everyone can make and that we are bringing back very soon on the menu is the Friand, or in French we call this a
Financier
. It's a super moist almond cake that you can serve for afternoon tea but I like mine in the morning dipped in my coffee. You can make the classic one with the
beurre noisette (butter that is browned in the pan)
and a little vanilla, or add cherries, pistachios, even chocolate for a more decadent flavour.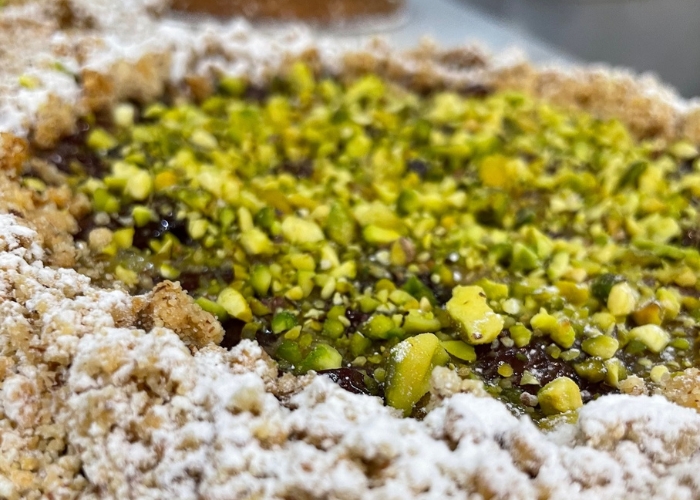 What would be your go-to flavour combo?
My favourite flavours are pistachio and sour cherry. At
Agathé
Pâtisserie
w
e have an almond, cherry and pistachio tart at the market and it is one of our best sellers. I love the mixture of sweet and sour in general. I absolutely adore sour cherry - in France I would often eat camembert with sour cherry jam. Pistachio adds a little sweetness and crunchiness to the delicious mix.
What is your most popular item at Agathe Patisserie?
Definitely the green pandan croissant. It is a staple product of
Agathé
Pâtisserie
since the beginning. It was always very popular but has reached the next level of fame in the last year. As a result we had to reorganise our entire kitchen to be able to cater for the demand.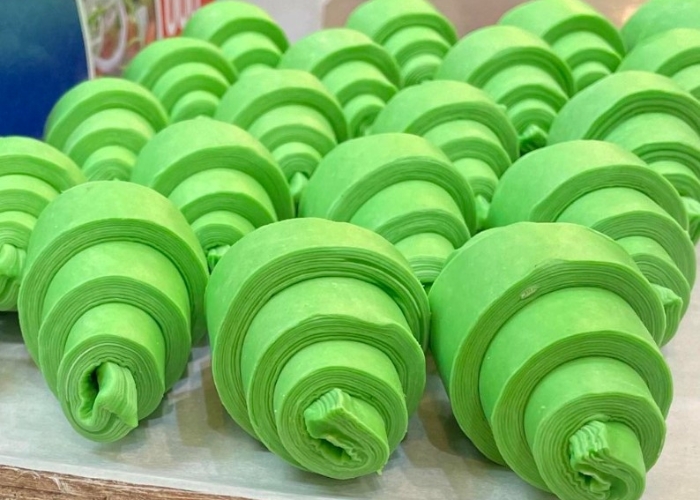 How have you balanced being a mum and pastry chef?
To be honest it has never been easy to have a career and spend enough quality time with the children. For me there is always a lot of guilt – both ways – I feel guilty because I don't spend enough time with the children or I feel guilty because I don't spend enough time on my business.
When I opened the shop at the market my husband was sent to work in Brisbane. I cried a lot at first but then I got it together and relied on my amazing staff so I could still do school drop offs and pick ups. Warren was back every weekend so I spent those days at the market.
This unexpected work obligation for my husband forced me to set up an good organisation system and delegate to my staff more than what I wanted to do originally. I am now very thankful because today I am still surrounded by great staff and I delegate even more to them; which makes it also more engaging for them. They get to see every part of the business.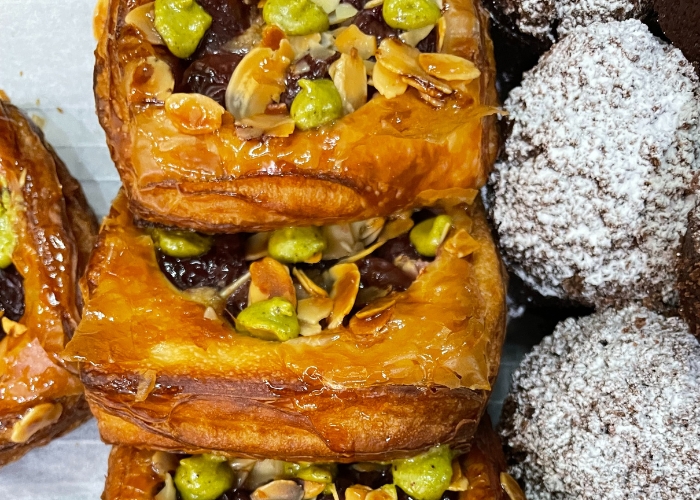 Also I think the key is the quality of time you spend with your children. I try to turn off the phone when I am with them. Recently my oldest started working in the shop on Saturdays so we spend time together at work too. And I think the kids are very proud of what their mum has achieved – a stranger in a new country and in a new career after 40 years old.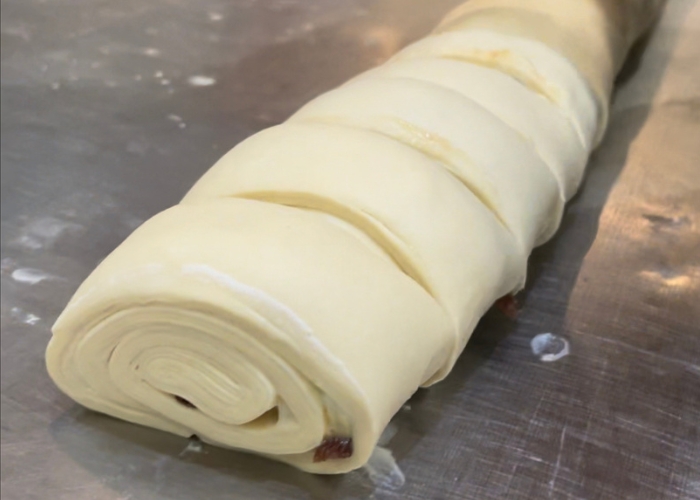 What is something special about th

e

Agathé Pâtisserie

k

itchen that we may not know about?
We try to use local products as much as possible, and haven't changed any ingredient or recipe since the very beginning. We also use the same suppliers since we started. I am very loyal to the people who helped me when I started alone in my little shared kitchen on Artists Lane in Windsor, and went out of their way to supply me with the small quantities I needed back then.
Our current kitchen is tiny and maintenance is extremely difficult. We have to share benches and sometimes have to work in any tiny space available. That requires being extremely tidy and organised.
Visit the patisserie at the South Melbourne Market Wednesdays and Fridays-Sundays.