MasterChef Cooks Up Steaming New Live Show for Sydney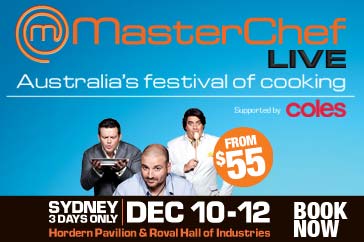 A brand new event is launching in Sydney this December that will bring Australia's favourite cooking show to life and is set to be the hottest ticket in town – MasterChef Live.
To be held for three action packed days from 10-12 December at the Hordern Pavilion and Royal Hall of Industries at Moore Park, MasterChef Live will be a festival of cooking encompassing a live theatre show and food festival that will bring the MasterChef experience live to its fans.
The MasterChef Live theatre show brings together judges Gary Mehigan, George Calombaris and Matt Preston for sixty minutes of non-stop cooking action and entertainment, complete with celebrity guest chefs and some of the favourite MasterChef contestants with Coles supplying quality ingredients to the pantry. There will be a chance to learn new cooking skills, watch challenges and master classes and get all of the behind-the-scenes exclusives from the TV show.
In addition to the theatre will be a mouth-watering food festival where visitors can taste some of Australia's best produce, take part in taste and invention tests, watch and learn from the best chefs in the country including top chefs Kylie Kwong, Justin North, Christine Manfield and many more*.
The festival area will also include a Junior MasterChef area to provide an entertaining and inspiring experience for budding young cooks and chefs.
MasterChef judge Matt Preston said, "With the phenomenal success of the last two television series, the next logical step was to bring the show to the public and let them experience every element of MasterChef as if they were taking part in the show itself."
"George, Gary and I are really looking forward to getting hands-on with the visitors and giving them a real behind-the-scenes taste of the MasterChef experience which they won't get anywhere else."
The event will be produced by Brand Events, under license from FremantleMedia Enterprises, as the representatives of the MasterChef Australia brand. FremantleMedia Enterprises Director, Live Experiences Dustin Lockett said, "MasterChef has been such a phenomenon with broad audience appeal and we're confident that MasterChef Live will really capture the essence and excitement of the show and be a real feast for the senses."
Minister for Tourism and Acting Minister for Major Events, Jodi McKay said this is an outstanding major event for Sydney, the cuisine capital of Australia.
"Securing an event like MasterChef Live in December finishes off a hugely successful year of major events for Sydney and NSW.
"We will continue to aggressively pursue events like MasterChef Live to boost our events calendar and attract even more interstate and international visitors to our famous harbour city," Ms McKay said.
MasterChef Live is part of the NSW Master Events Calendar developed by Events NSW on behalf of the NSW Government.
Ticket prices start at $55 and include a seat in the theatre show, access to the festival of cooking. Tickets go on general sale from Monday 13 September.
For further information and to register for tickets, visit www.mastercheflive.com.au. Tickets are strictly limited so book early to avoid disappointment.
*Guest chef line-up subject to change and not all chefs will attend each day.