Autumn has arrived and many of your favourite restaurants will be coming out with new seasonal menus, if they haven't already, emphasizing subtle flavours and featuring produce such as fresh figs and wild mushrooms. Desserts at this time of year will revolve around crunchy apples, made smooth and supple, and crisp pears perfectly prepared for the tasting.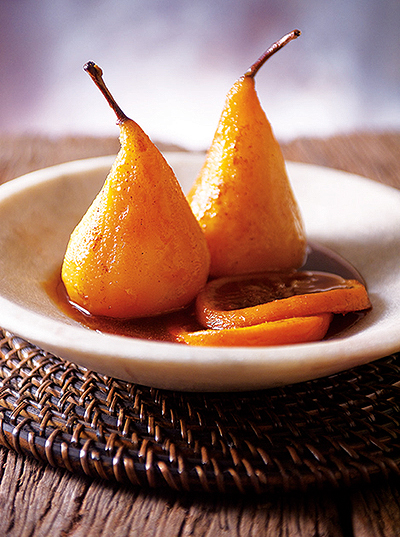 Pears are in season, so why not try a Moroccan delight of Spiced Pear and Caramel Sauce?
What's in Season for March
In the first month of the autumn season, we're naturally inclined towards recipes that will warm us right up during those cool evenings. Complementing this transitionary time, when deciduous trees across the country are shedding their leaves, we turn to colourful golden produce standing out vibrantly amongst darker hued dishes.
This time of year we think of the three produce "P's" of the season: persimmons, pumpkins & pistachios. Though you're unlikely to find a recipe that allows you to emphasize these seasonal goodies all in one go, definitely aim to build them into your meals throughout March. In our recipe collection you will find an abundance of options to help you in this quest.
Fruits in Season
Apples –Jonathan, Pink Lady, Red Delicious & Royal Gala; Apricots, Avocadoes – Fuerte are coming into season; Bananas, Blueberries – winding down; Breadfruit, Cumquat, Custard Apples, Feijoa, Figs, Grapes, Guava, Kiwifruit, Kumatoes, Lemons, Limes, Mangoes – Honeygolds & Keitt; Mangosteen, Melons - Rockmelon & Honeydew (still sweet but are coming to the end of their season), Nectarines (coming to the end of their season) and Nuts – almond, chestnut, hazelnut, pistachio & walnut.
Oranges – Valencia in particular; Papaya –Skybury red; Passionfruit, Paw Paws, Peaches (coming to the end of their season), Pears – Beurre, Bosc, Josephine, Nashi & William; Persimmon, Plum, Pomegranate, Prickly Pears, Rambutan, Raspberries - Stanthorpe; Strawberries – a bit of a challenge around this time; Tamarillo and Tomatoes – Truss, Cherry & Mini Romas.
Vegetables in Season
Asian Greens – bok choy, gai lan & choy sum; Beans – Borlotti, butter, green & snake; Broccoli, Broccolini, Cabbage – red & Chinese (wombok); Capsicum, Carrots, Celeriac, Celery, Choko, Cucumber, Daikon, Eggplant, Leek, Lettuce, Mushrooms - Slippery Jack are back; Okra, Onions – brown, red & spring; Peas, Potato, Pumpkin, Radish, Silverbeet, Squash, Sweet Corn, Sweet Potato, Tomato, and Zucchini.