By Leigh O'Connor.
'Barbeque may not be the road to world peace, but it's a start.' – Anthony Bourdain.
All around the globe cooks steak their reputation on serving a grate barbeque and this Sunday, July 4 is the time to celebrate by throwing a prawn on the grill for World BBQ Day.
The origins of the barbeque are smoky to say the least – it is believed indigenous Haitians encountered by the Spanish when Columbus first arrived, were found cooking meat on sticks suspended above a fire.
The Spaniards took the process home with them and the term
barbacoa
entered their language, from there it became
barbeque
and spread around the world, where today it is one of the most popular forms of entertaining family and friends.
If you are heading out this weekend to celebrate, here are four of our favourite restaurants to enjoy barbeque fare:
Grill it the Korean way at SO Urban BBQ in Adelaide.
Meaning 'cow' in Korean,
SO Urban BBQ
on King William Street in the heart of Adelaide is the home of char-grilling and on Sunday this restaurant is dishing up a Surasang menu fit for a King.
Expect signature dishes such as short rib, prime beef sirloin, pork belly and shoulder, plus 18 small side plates like King prawns, oysters, vegetables and rice; there is also a vegetarian option available at this sleek restaurant, where a large back courtyard has been transformed into a charcoal kitchen.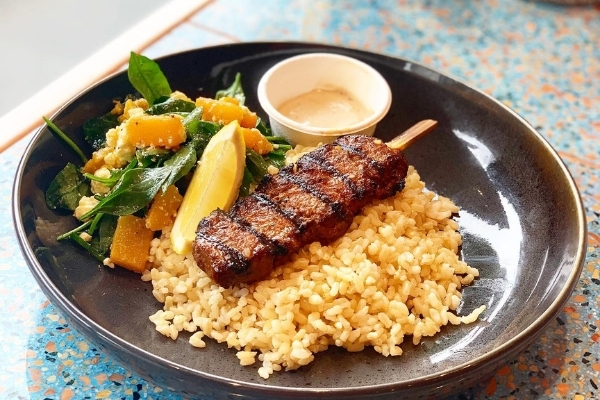 No one leaves Stick it Grill still hungry!
Taking eating back to the basics of sticks and fire, no one leaves
Stick It Grill
on Smith Street in Collingwood, still hungry. This healthy, fast food concept specialises in delicious char-grilled sticks, salads and smiles, in fun and funky surrounds of glowing neon signage, a white subway-tiled counter, bright orange staff uniforms and accents.
Stop in on Sunday for a Nick the Greek pack of three sticks – lamb, chicken and pork – along with thick-cut fries, Aegean slaw and a super grain salad with cumin yoghurt and freeze-dried raspberries; washed down by a drink of choice.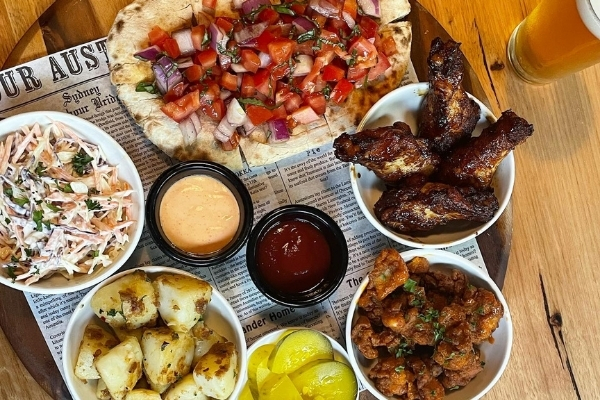 Celebrate all things American at Braeside Brewing.
Sunday is also American Independence Day and
Braeside Brewing
on Governor Road in Mordialloc is celebrating all things US with food, games and drink specials. Come dressed supporting your favourite US team and watch live sport, as well as sampling this craft brewery's new American Stout.
Delivering a relaxed and comfortable space to share a bevvy and bite to eat in a warm and welcoming family-friendly atmosphere, chill out with an icy glass of Bayside IPA and snack on beer-battered chips to start. Perhaps wrap your hands around a Wagyu beef and bacon burger, or share a BBQ chicken pizza, with tomato, fior di latte and red onion.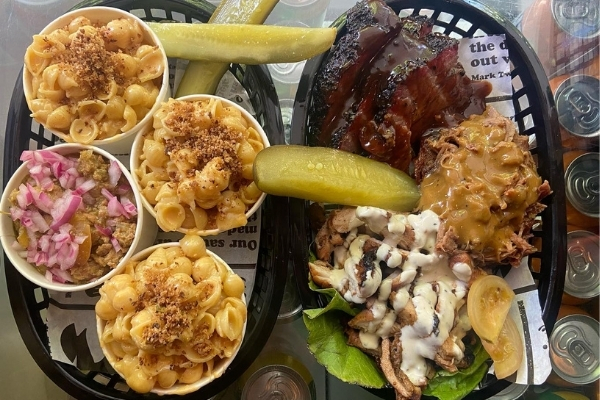 It's all about the smoked meat at Low & Slow Leigh St.
Follow the aromas of smoked meat to find
Low & Slow Leigh St
in Adelaide's CBD. This hole-in-the-wall eatery, where alfresco tables beckon for lunchtime dining from the service window, serves wood-grilled chicken, smoked brisket, pulled pork and ribs to satisfy the inner carnivore along with housemade hot sauces and condiments.
Perhaps take your finger-lickin' good meal to go and dine wherever you choose, while devouring a brisket brioche sandwich, with apple slaw and Low & Slow's classic barbeque sauce; or chow down on smoked pork ribs, with potato salad, or a side of mac and cheese.
For more sizzling choices to celebrate on Sunday, click
here
.