Calendar Date: April 13- 17 (Easter long weekend).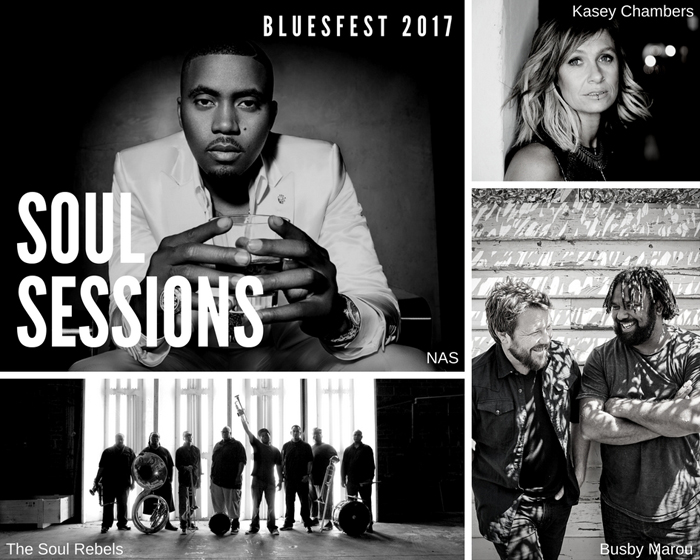 Jump on the groove train this Easter long weekend for Bluesfest, one of Australia's most iconic music festivals. Featuring a vibrant mix of blues, roots, folk, soul and world artists, Bluesfest is set to be an electrifying treat for all senses. For the second year running, Bluesfest will also be home to Boomerang - a new world Indigenous festival for all Australians featuring an array of music, dance, workshops and healing programs, along with cultural knowledge exchanges and thought provoking conversations. You can find out more about Boomerang, via their website.
The 120-hectare Tyagarah Tea Tree Farm, located just 11km north of Byron Bay, will be transformed into a live site encompassing seven performance stages with over 200 performances in 5, 12 hour days and five licensed bars in addition to more than 100 tantalising food and market stalls including food courts, beer gardens and children's entertainment.
On the forefront, one of America's top Hip Hop artists, Nas, is teaming up with New Orleans' renowned Brass band, The Soul Rebels, for an exclusive Australian performance. You can only catch Nas and guests, The Soul Rebels at Bluesfest and nowhere else in Australia on Bluesfest's opening night, Thursday April 13. This performance will make history, as it will be only the second time this momentous collaboration has ever occurred, and the first time outside of the USA.
Peter Noble OAM and Festival Director says that the countdown is truly on.
"[Bluesfest is featuring] two Australian artists who have both had No 1 albums on the Australian Aria Charts in the past month, Busby Marou and one of our very favourite artists, who did her first ever solo show at Bluesfest, the incomparable Kasey Chambers. Add Nas doing an exclusive performance in Australia - with special guests, The Soul Rebels from New Orleans, who will only play a handful of shows anywhere, including headlining The Hip Hop Festival, Brooklyn New York, as well as Jazzfest in New Orleans, and you have a very, very strong [lineup]. There are wonderful returning artists who were revelations last year. Rhiannon Giddens, St Paul and the Broken Bones, Vintage Trouble, and there will be a whole new group of artists playing for the first time this year who will become your new favourites.
"Put the headliners on top, both legends, such as our headliner Patti Smith playing her final ever festival performances in Australia, and contemporary artists, including The Lumineers, who Billboard magazine hailed as the top grossing band in the USA in February, plus returning favourites, and you have what I believe is a very, very special Bluesfest coming. There's a real vibe on our 2017 edition," said Noble.
These artists are just a taste of what is set to be an extraordinary music festival for blues, roots and jazz fans (and just music fans in general), as Santana, Zac Brown Band, The Doobie Brothers, Playing for Change and Jimmy Buffett are also in the mix. If you are yet to get your ticket, it's time for you to make a decision as Bluesfest is 90% sold out, for your last chance, check out what's still available here.
To make your decision easier, here is the full playing schedule (as of March 27), as well as the most recent lineup:
NAS
WITH GUESTS THE SOUL REBELS
(A ONE OFF EXCLUSIVE PERFORMANCE)
KASEY CHAMBERS
BUSBY MAROU
WOUTER KELLERMAN
LITTLE GEORGIA
JOINING THE 2017 ARTISTS ALREADY ANNOUNCED:
SANTANA
JIMMY BUFFETT EXCLUSIVE
ZAC BROWN BAND
PATTI SMITH AND HER BAND PERFORM HORSES
PATTI SMITH AND HER BAND ACOUSTIC
NEILL FINN
MARY J. BLIGE
THE LUMINEERS
BUDDY GUY EXCLUSIVE
THE DOOBIE BROTHERS
MADNESS
BONNIE RAITT
MAVIS STAPLES EXCLUSIVE
BILLY BRAGG
COURTNEY BARNETT
BILLY BRAGG AND JOE HENRY
SIR ROSEVELT
JETHRO TULL
MILES ELECTRIC BAND
TROMBONE SHORTY AND ORLEANS AVENUE
RICKIE LEE JONES
GREGORY PORTER
SNARKY PUPPY
SLIGHTLY STOOPID
ST. PAUL & THE BROKEN BONES
CORINNE BAILEY RAE
BETH HART EXCLUSIVE
LAURA MVULA
MICHAEL KIWANUKA
ANDREW BIRD
RHIANNON GIDDENS
BOOKER T. PRESENTS THE STAX RECORDS REVIEW
EXPERIENCE JIMI HENDRIX
GALLANT
ROY AYERS
ERIC GALES
MUD MORGANFIELD
DEVON ALLMAN
MAX JURY
NAHKO AND MEDICINE FOR THE PEOPLE
NIC CESTER
TURIN BRAKES
BLIND BOY PAXTON
TREVOR HALL
JAKE SHIMABUKURO
DUMPSTAPHUNK
PLAYING FOR CHANGE
ELLIS HALL
VASTI JACKSON
THE RECORD COMPANY
THE MOUNTAIN GOATS
TONY JOE WHITE
THE SUFFERS EXCLUSIVE
NIKKI HILL
REMI
THE CALIFORNIA HONEYDROPS
JEFF LANG
RAY BEADLE AND THE SILVER DOLLARS
LLOYD SPIEGEL
JOAN OSBORNE
GLENN CARDIER AND THE SIDESHOW
DAVY KNOWLES
MELODY ANGEL
IRISH MYTHEN
THE STRUMBELLAS
THE WILSON PICKERS
ROUND MOUNTAIN GIRLS
AUSTRALIAN UKULELE SHOW
IVY