By Leigh O'Connor.
You can tune a guitar, but you can't tuna fish…unless of course you play bass!
From the waters surrounding Australia comes a diverse bounty of unique taste sensations, which have seafood lovers salivating at the thought of lobster, prawns and oysters.
Whether you reel in a fresh fish yourself to cook on the barbeque, or are lured in by offerings plated up every night at a local eatery – there's no denying Aussies love their seafood.
Take the ocean drive from water to your plate and drop a line at one of these six restaurants:
Sit back with a chilled cocktail in hand and watch the sunset as balmy tropical breezes waft in the air at
Wharfside Kitchen
on Wharf Street in Port Douglas. This new restaurant on the Far North Queensland block is the place to see and be seen, in surrounds of polished wood floors, cane furniture and sea blue-coloured feature walls.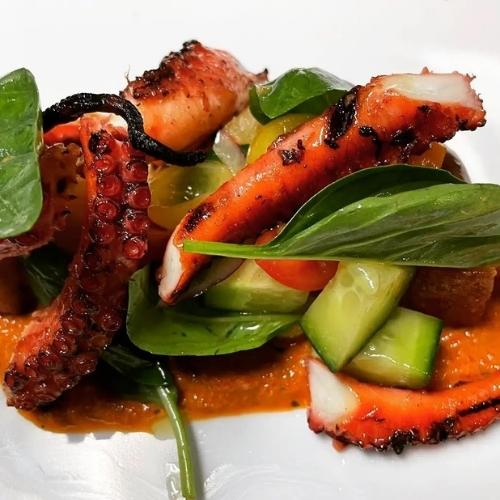 Wharfside Kitchen's grilled octopus, panzanella and walnut Romesco.
Try grilled octopus, panzanella and walnut Romesco to start, before indulging your seafood fantasies with crayfish thermidor and whisky-spiked cream sauce; or perhaps crab and prawn fettuccine entices, with housemade saffron pasta, blue swimmer crab and local Tiger prawns.
Experience the flavours and spices of the Mediterranean and Middle East at
Humble On Duke
in Sunshine Beach. Nestled along Duke Street, this fun and funky venue oozes vibrancy from the colourful abstract wall art to bright yellow table napkins and comfy cushions, as guests ponder a menu that is familiar and nostalgic, but at the same time exciting and new.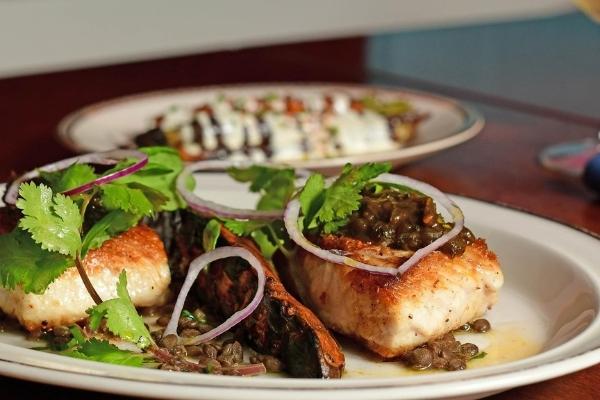 Cooktown snapper, Iranian tamarind relish, sweet potato and lentils at Humble on Duke.
Net yourself a starter such as Noosa Gin-cured salmon gravlax, soft herbs and sumac to go with a glass of Chardonnay; before hooking a main of Cooktown snapper, with Iranian tamarind relish, sweet potato and lentils.
When it comes to seafood, few do it as well as
Rick Stein at Bannisters
, located within the grounds of Bannisters by the Sea in Mollymook. Whether you visit for the restaurant experience or let it be part of a pampering package, the coastal views don't end on the road; this is a waterfront venue and every diner has an ocean panorama.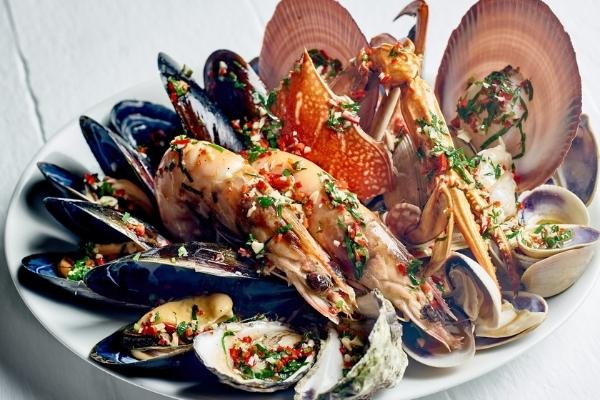 Rick Stein at Bannisters warm seafood platter…shrimply irresistible.
Cast your line for an entrée of snapper ceviche, with coconut milk, kaffir lime leaf, chilli, ginger, coriander and lime; then dive into Bombay salmon Masala curry, with pilau rice and naan, which according to Rick is the perfect curry for salmon.
Inspired by Australia's pristine coastline and stories from ancient Greek mythology,
Gods Of The Sea
on Gold Coast Highway in Mermaid Beach delivers a menu filled with fresh, sustainably caught seafood. Linger over plates prepared by Chef Jon Nurminens, in an elegant vibe of white-clothed tables opening onto alfresco dining.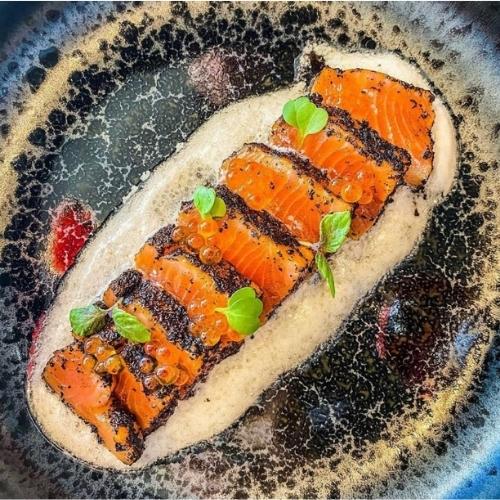 Swim on in to Gods of the Sea for pickled ocean trout, smoked roe and wasabi.
Bait your appetite with a starter like pickled ocean trout, smoked oil foam, dashi soy, shiso, smoked trout roe and wasabi; then dive into mains such as grilled swordfish, braised leek and mushrooms, with chicken fat butter.
When life gives you lemons, order a lobster roll at
The Lobster Pier
on Murray Street in the heart of Perth's CBD. Swim up to this nautically decorated restaurant and take a seat on orange banquettes, or at high stools under a ceiling adorned with knotted ropes, setting the scene for delving into plates of sustainably sourced WA lobster, gently poached in butter.
Wrap your fins around a truffled 'n' cheesed lobster roll at The Lobster Pier.
Affectionately known as the Lighthouse, this dining space anchors a menu of all things seafood – wrap your hands around a truffled 'n' cheesed lobster roll, with chunks of lobster in a brioche roll, then torched to finish for an irresistible smoky flavour.
You'll never seafood better than at
Sammy's on the Marina
in Glenelg. This Holdfast Promenade seafood restaurant offers stunning views of the beach and marina – if you are lucky, you might spot some playful dolphins – or drop by later and watch the sun set over the ocean, with a chilled glass of wine in hand.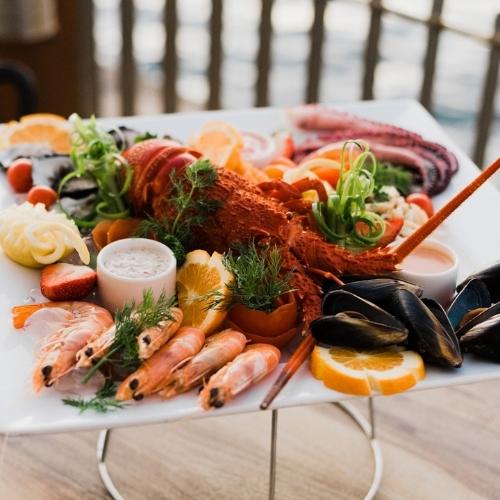 You'll never seafood better than at Sammy's on the Marina.
Throw your net over entrées like grilled scallops, cauliflower purée, crispy prosciutto and spice ratatouille vegetables; then twirl your fork around Nero marinara spaghetti, with prawns, squid, mussels, scallops, blue swimmer crab and salmon.
For more restaurants to get your seafood fix, click
here
.