By Leigh O'Connor.
Burgers are definitely the most popular sandwich known to man…there are thousands of different combinations from basic meat patty to soft-shell crab and everything in between.
Even celebrities like Scarlett Johansson and Lady Gaga concur and can be found chowing down on their favourites:
"I still eat a burger at a counter with ketchup dripping down my face," Scarlett confesses; while Lady Gaga believes 'once you kill a cow, you gotta make a burger'.
Did you know burgers weren't popular until they were introduced at the St Louis World Fair in the USA in 1904?
Here are five more fun burger facts and three recipes to try at home:
•The world's largest commercially sold cheeseburger weighed in at a whopping 813.7 kg and took the Chefs at Mallie's Sports Grill & Bar in Detroit four years to plan how to cook and execute the beefy monstrosity – and it's actually on the menu.
•If all the hamburgers consumed by Americans in one year were assembled in a straight line, it would go around the Earth more than 32 times.
•New Haven's Louis Lunch, where the burger was born, only serves onions, tomatoes and cheese spread as condiments; maintaining a ban on ketchup, mustard and mayonnaise.
•Hamburgers were known during World War II as Liberty sandwiches in an attempt to avoid using German names.
•50 billion hamburgers are devoured every year in the United States.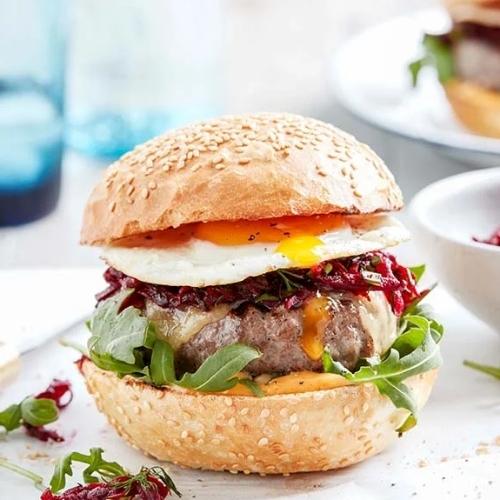 The messier the better…that's Curtis Stone's Aussie Burger.
According to celebrity Chef Curtis Stone, the messier the burger the better it tastes! Give his epic
Aussie Burger
a go when cravings hit – think Aussie beef patties, homemade beetroot relish, fried egg, chilli mayo, rocket and tasty cheese – best enjoyed alfresco with an ice-cold beer or glass of wine on a hot Summer's day.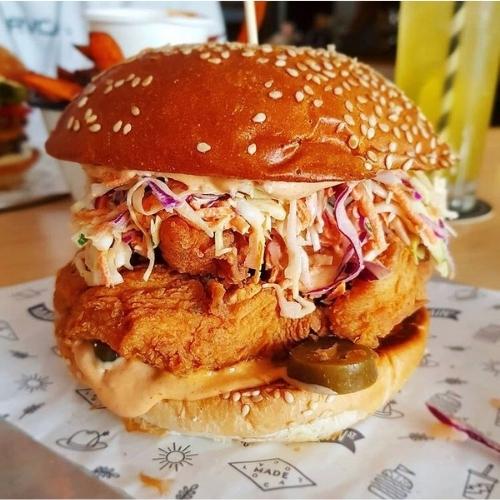 Main Streets' spicy buttermilk fried chicken burger.
There's nothing better than a
spicy and crunchy buttermilk fried chicken burger
, with chipotle mayo, coleslaw and jalapenos on an organic bun and
Main Street Burger Bar
in Byron Bay does this one better than most. Combine Cajun spice, salt and buttermilk to marinate the chicken, massaging the buttermilk into the flesh and leave overnight for the best resulting tender flesh.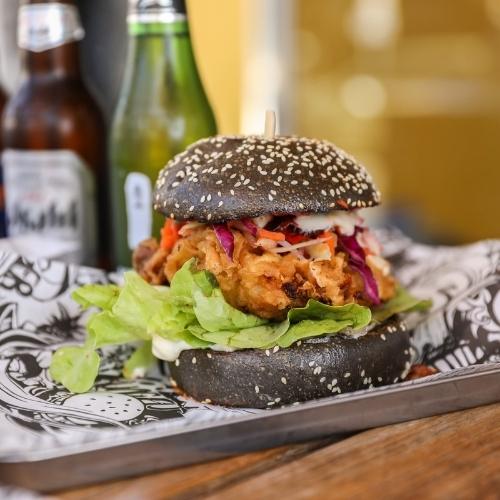 This
Oh Crab burge
r from
Kung Fu Burger
in South Yarra is served on a squid ink or charcoal bun, but if that doesn't tempt the family you can also use a normal milk bun or brioche. The crab is deep-fried in batter and topped with Asian green papaya, carrot, red onion and Japanese radish slaw, dressed with wasabi-mayo sauce and sandwiched between toasted buns of choice.
For more burger joints near you, click
here
.