By Freya Ensbey.
For many of us, the difference between an upbeat "good morning" and a "grunt" can all come down to the quality of our morning mug of that addictive, caffeinated, cocoa brown elixir we all love.
Tracing back to the 15th century in Yemen, Arabica beans were roasted and brewed in a similar way to present day. By the 16th century, Persia, Turkey and North Africa were all enjoying this social drink before it reached the Italian village of Venice, where the privilege of this indulgence was reserved for the wealthy, traditionally served short, strong and mainly in espresso form.
Over generations, coffee has shifted form into many movements. From the seemingly ceremonious ritual we can all remember of our parents, blending a 'cuppa' for guests visiting, asking the distinguishing known questions of "white, black, how many sugars?", to the café scene rising with unstoppable momentum, taking the role of barista from back of house to a forefront profession, imperative to the overall dining experience.
The past decade has transitioned once again, seeing a boom in niche micro coffee roasting companies, sourcing beans the world over to create distinct tastes and blends, saturating the industry with diversity and choice, in a familiar way that boutique vintners and wineries evolved the wine scene, creating a more accessible market.
As we have been percolating on the topic of coffee, we have brewed up our top list of Australian micro coffee companies, making their mark on the bean scene and keeping us from pro-caffeinating throughout the day.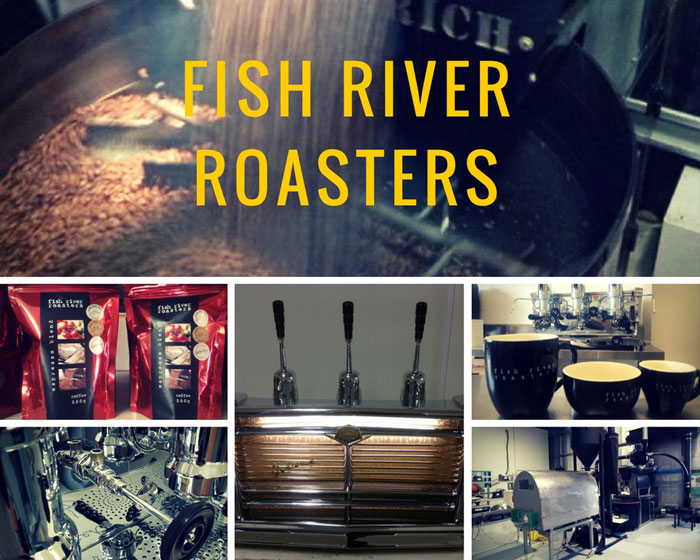 Fish River Roasters
As has been the recipe for many great business's, a home garage, an awareness of a gap in the market and a cup full of passion is what turned Fish River Roasters, named after a nearby river, into the coffee company it is today. Supplying to over 100 cafés and restaurants across the country and gaining attention from those in the know with an impressive 22 awards under their belt, Fish River Roasters have gained a fierce following since their launch in 2006.
The best ideas have usually had the luxury of time to marinate for years, as was the idea of Peter Harrison, finding out during his travels of 1995 that the coffee of London was actually quite poor.
Harrison recalls being taken by a friend, who was also fed up with coffee standards of the city cafés to Bar Italia in Soho, where they would sip perfectly brewed short espresso shots; sweet, strong and punchy in flavour, transforming his view on coffee all together.
It was here, enjoying life's simple pleasure of good coffee that drove Harrison and, his life and business partner, Sonia to open up their own café, honing his skills firstly as a barista before delving into the world of roasting his own beans. As business expanded, so did the request for more coffee beans, eventually taking Harrisons attention full time, selling the café to allow him to focus solely on his craft of roasting. A brave move and transition he has not regretted since. Admiring the Italian way, Fish River Roasters produce blends in respect to the espresso coffee tradition.
The Blend:
Colombian Supremo. Origin: Columbia.
The Colombian Supremo, with a strength rating of 3.5 out of 5, has been derived from the Bachue Plantation near the city of Bogota, one of the best coffee bean growing regions in the country. This blend is ideal for home coffee enthusiasts with a distinctive chocolate flavour, natural sweetness and mellow acidity.
The Blend:
Tiger Snake Blend. The Origin: Costa Rica.
Those who like it strong can opt for the Tiger Snake Blend with a strength rating of 5 out of 5 and is aptly named after our countries resident venomous snake. This blend has a Costa Rican base which gives a brightness along with flavours of chocolate and malt, a medal winner at the Golden Base competition, this blend has become a requested and popular choice for cafes.
Bag the bean at their website here, where they also restore coffee machines, they currently use a 1957 Astoria, a three lever group machine, the pinnacle of machines.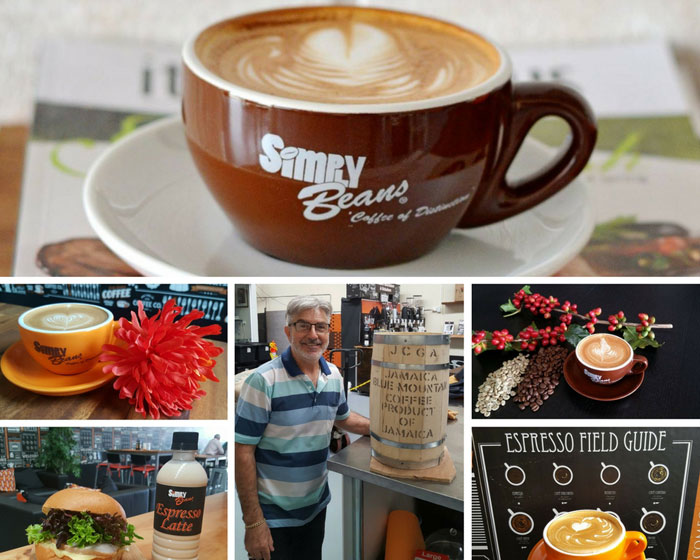 Simply Beans
Simply Beans Director, Giuseppe Anapo is also the Roast Master and has personally trained Simply Beans Head Roaster, Paul Kikuchi to the extremely high standards of hand roasting, that the company is known for.
The multi award-winning Simply Beans Boutique Coffee Roasters company was born out of a vision, passion and love for all things coffee. As the name suggests at Simply Beans, it is all about the coffee beans. With a large emphasis on training, Simply Beans offers workshops that can be delivered to suit any need and skill level, even offering training for the public on their own domestic machine, educating them on how to get the best out of their Simply Beans coffee blends from their machine at home, or train those baristas wanting to up skill and keep up with coffee trends.
Simply Beans have numerous blends along with single origin offerings, all derived from Arabica beans that fall into the Italian style roast profile, Davero, Majestic Mountain and the Colombian "La Norena."
The Blend:
Davero.
With a name translating directly in Italian to 'real,' the Davero blend produces espresso that is honest and real. A combination of body, acidity and sweetness, makes for perfect balance, with a great after taste, ideal for serious coffee drinkers, it is no wonder this blend has won numerous awards in both espresso and milk categories in competition. A popular choice with Simply Beans clientele, the Davero has even been given its own logo and has quickly become one of their main signature blends.
Bag the bean here.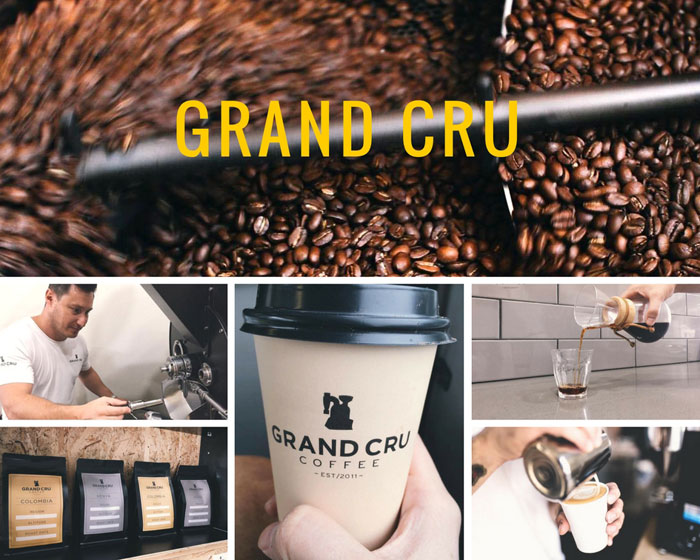 Grand Cru
French for great growth, Grand Cru refers to an estate or a region with optimal growing conditions. Grand Cru was established in 2011 and has been designed to fulfill the needs of all palates, from the Modern Australian style 100 % Arabica connoisseurs, to the 'old school Italian' with their Arabica / Robusta blends. Grand Cru also caters for the environmentally conscientious with their 100% Australian Certified Organic blend.
Owner and avid coffee enthusiast, Sam, talks about coffee like it is wine. His direction and attention to detail has seen a focus on which beans to use depending on the time of year they were grown, the location and the altitude in which they were picked.
The Blend:
Grand Cru Signature Blend.
A smooth, versatile, medium bodied coffee. With cardamom and caramel on the nose, the Grand Cru signature blend is loaded with flavours of bold caramel sweetness, notes of salted chocolate and a rich oak finish. This blend performs beautifully with it being gentle enough for both a black coffee, and in milk where you will find a sweet, malty cocoa with hints of sea-salt.
The Blend:
The Italianio. The Origin: Brazil/Ethiopia/India.
The Italianio is a strong but complex Italian influenced blend and definitely not for the faint hearted, with a full-bodied kick and a rich sweetness with chocolate notes, it is great for all brewing methods.
It is a known fact at Grand Cru that the perfectly roasted beans can only shine if they are brewed perfectly, which has been the idea behind the recommended use and training of the Sanremo Verona TCS coffee machine and Mazzer grinders as the preferred equipment to execute a smooth espresso from their product.
Bag the bean here.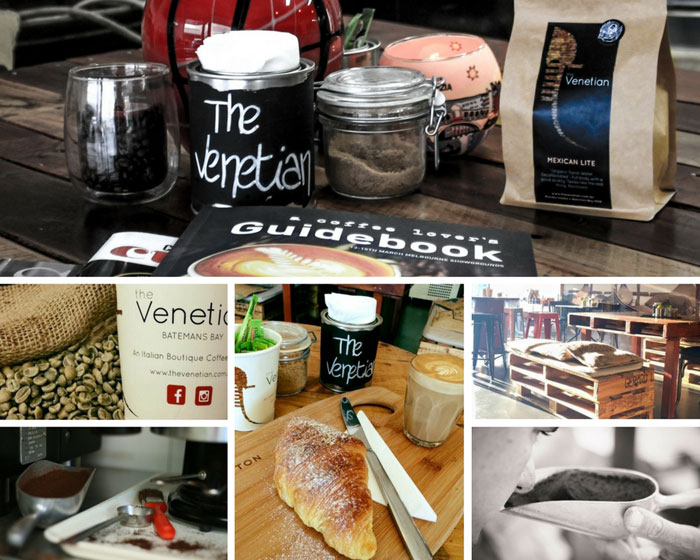 The Venetian
Owner of The Venetian, Davide Pergola was born in the city of Venice and has been working in hospitality his entire life. Always an avid coffee drinker, Pergola took his years of experience in the industry and focussed on perfecting the roasting techniques required in creating signature blends to serve through his boutique Batemans Bay café, The Venetian.
More than just a café, The Venetian offers nineteen blends to suit everyone's tastes, along with the atmosphere and hospitality one would find, travelling abroad to Venice.
The Blend:
The Mediterranean. The Origin: Colombia/Brazil/India.
The Mediterranean blend is a very round and sweet coffee blend with a juicy feel and robust flavour. Mild in acidity, medium-body, balanced and nutty, this blend leaves an impressive lasting taste of caramel, liquorice, tobacco and chocolate.
The Blend:
The Coffee Snob. The Origin: Colombia/India.
The Coffee Snob is a lively blend of three strong flavours that leave a smooth and well-rounded finish. The acidity is mild with a medium to strong body, leaving a kick of tangy spice and tobacco after tones, although strong in body, a sweet and distinctive fruity flavour triumphs to shine through.
The Blend:
ECO Blend. The Origin: Ethiopia/Brazil/El Salvador.
The Venetian's ECO Blend is a blend of African and South American coffee, encompassing strong positive aromatic notes, whilst the high levels of cocoa goes hand in hand with a strong flower and honey note followed with a pleasant finish of dried fruit, ideal for an afternoon pick me up with a slice of chocolate cake.
Bag the bean here.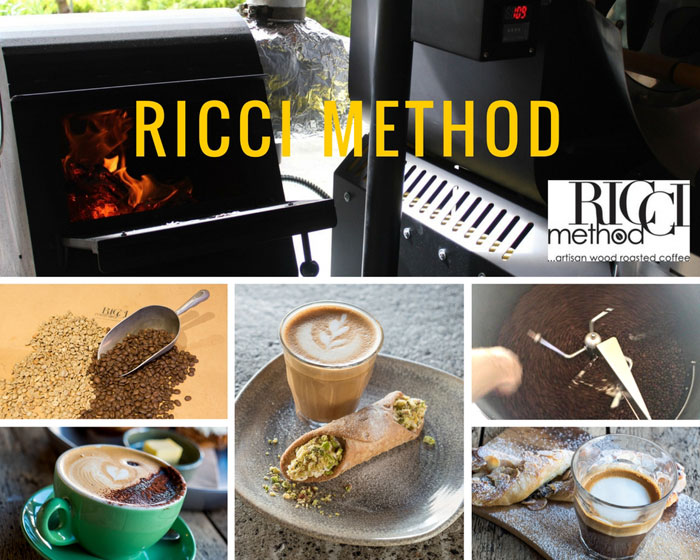 Ricci Method
The name Ricci Method was contrived as a play on words. Chosen on the one hand as it described the plight of the 17th century, Jesuit Matteo Ricci in trying to bring Christianity to Asia. This compared to the company's own plight, in contributing to the (almost religious) coffee culture in Melbourne. On the other hand, the name pays homage to the Ricci brothers, the current Owners of the iconic Roman local Sant'Eustachio Il Caffè, which was established in 1938 and is renowned for its wood fired roasting process of coffee.
Ricci Method was established in 2012 by three friends bringing together their own interpretation of coffee culture. As first generation Australians growing up in Mediterranean households, coffee was the beverage complementing every social interaction. The Ricci trio decided to replicate and enhance their own experiences of the coffee process from the sourcing of high quality raw green beans through to developing a unique roasting method.
The Ricci Method seeks to enhance the variety and pleasure in the coffee experience of Melburnians. By pioneering a wood fired method of roasting in Victoria, they have raised the standard of artisan roasted coffee to a new level. This wood fired process uses a select range of timbers carefully adapted to the varieties of green beans. The slow, gentle roasting infuses the timber notes into the beans creating the unique character and taste of their coffee.
Crafting their products to not only satisfy the coffee aficionado, but to also introduce it to those as yet uninitiated to the delicate subtleties and characteristics that they are able to bring out in their blends.
The Blend:
Buona Sera Blend. Origin: Costa Rica.
The Buona Sera blend has been slowly wood fire roasted to bring out the fruitiness of the Colombian and Costa Rican beans. Although it can be enjoyed at any time of the day both with and without milk, it has been specially prepared as an evening coffee, hence its name, which is ideally enjoyed after a satisfying dinner.
The Blend:
Buon Giorno Blend. Origin: Brazil/Colombia.
The Buon Giorno blend, is a blend of prime Arabica beans with the addition of some premium Robusta to add an extra kick of caffeine which will get you going in the morning. This is a coffee for the serious caffeine kick seekers. The Buon Giorno blend has been slowly wood fire roasted to bring out the chocolate, caramel and earthy flavours which are typical of Brazilian coffee with the addition of Colombian beans to add some fruitiness and acidity. The Coffee is rounded off with a rich "crema" which can only be enjoyed from a good espresso and can be enjoyed either with or without milk.
Bag the bean at Il Melograno Melbourne, or via their website.
Happy caffeinating!