By David Ellis.
Mention castles and immediately to mind spring images of vast and picturesque affairs set in fairy-tale English or European countrysides…
However, near Long Compton village in England's Cotswolds, a couple of hours out of London, is an officially recognised castle that rather than being famed for its vastness, is renowned instead for just how small it is.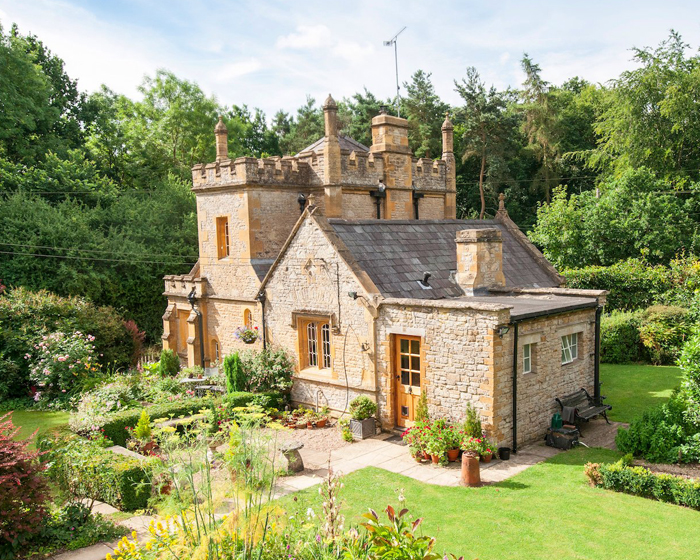 Because with a floor area of a mere 73 square metres it is England's smallest castle, and actually smaller than many of its neighbouring country bungalows and cottages.
Although it is called a castle, and recognised by many official authorities as a castle, to most locals it is known simply as Molly's Lodge, and comes with just one bedroom, a modest living room and dining room, compact kitchen and a little bathroom – and despite its moniker as a castle, served for a time as gatehouse to the opulent, once deer-hunting property, Weston Park Estate.
Importantly, it's still officially a castle as far as the British government is concerned, because it has corner turrets, mullion windows (fashionable in Romanesque architecture,) and a crenelated parapet from which arrows could be unleashed in days of yore at anyone foolish enough to try to attack.
This little castle was built in the 1830s by famed architect Edward Blore, who completed extensions to Buckingham Palace for Queen Victoria in the 1840s, and also designed Government House in far-off Sydney, Australia – and with his love of castles, created that in Gothic Revival style.
While his smallest of English castles in the picturesque Cotswolds may be tiny, it also has a separate 1-bedroom mews house that was added later from the conversion of original stables, the castle and mews last changing hands in 2017 for 550,000 pounds sterling (approximately AU$968,000.)