By Leigh O'Connor.
I'm into fitness – fitness whole burger in my mouth!
Did you know the first Happy Meal was served in June of 1979? The United States has the largest fast-food industry in the world, with American fast-food restaurants found in more than 100 countries worldwide.
On International Fast Food Day, Tuesday November 16 get your fix at a fave burger, chicken, taco, fish and chip shop, or pizza joint near you…whether you drive-through, dine-in or get it to go, fast food always satisfies ravenous hunger pangs.
First popularised in the US in the 1950s, fast food is considered any meal with low-preparation time, served to a customer in a packaged form; most fast-food restaurants also have drive-through options.
The term 'fast food' was first recognised by the Merriam-Webster dictionary in 1951 – automobiles had become more affordable and popular, leading to the introduction of the drive-in option for restaurants.
Time fries when you are having fast-food fun…here are five of our favourite places to indulge on Tuesday:
Follow the aroma of tasty and hot pizza just out of the oven to find
Napolitano Pizza
on North Concourse in Beaumaris. This Melbourne pizzeria invites dining alfresco street side at black table settings as you people watch; while indoors feels traditional with red walls, a white tiled floor and an open kitchen, bringing the taste of Italy Down Under.
Come into
Broaster Chicken
on Military Road in Guildford for chicken that is more tender, juicier and tastes better than ordinary fried chicken. Broasting is a unique cooking method developed in the United States, which combines the principles of a pressure cooker and deep fryer into one appliance and results in crunchy and delicious chicken.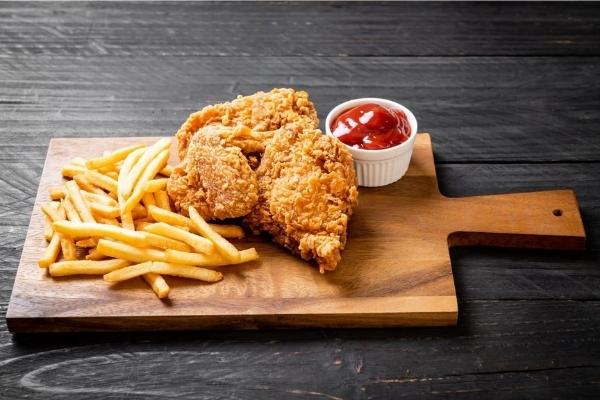 Broaster Chicken is no ordinary fried chicken!
Bringing a fun and refreshing dining experience to Airlie Beach, drop by
Little Vegas Burger & Bar
on Shute Harbour Road for bites and brews. A quirky industrial fit-out with large prints of Vegas rat pack stars combined with a smooth electro-swing track creates an upbeat yet relaxed vibe, complete with full table service by Little Vegas' friendly team.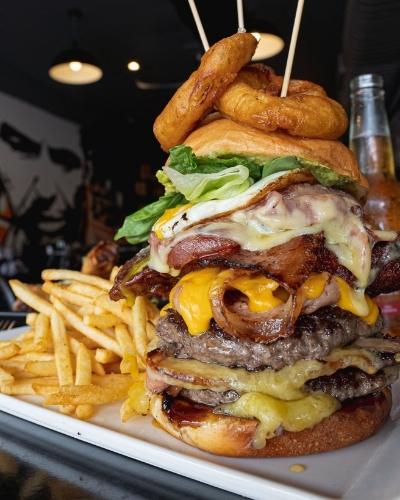 Burgers and brews await at Little Vegas Burger & Bar.
There's graffiti-style artwork on the food truck and the Surfcoast's best burgers on the menu at
The Gypsy's Lunchbox
, based in Torquay. Owned and operated by local husband and wife Adrian and Jess, expect to chow down on burgers made from beef grown on the family farm, providing a true paddock-to-plate experience; along with a full function catering option.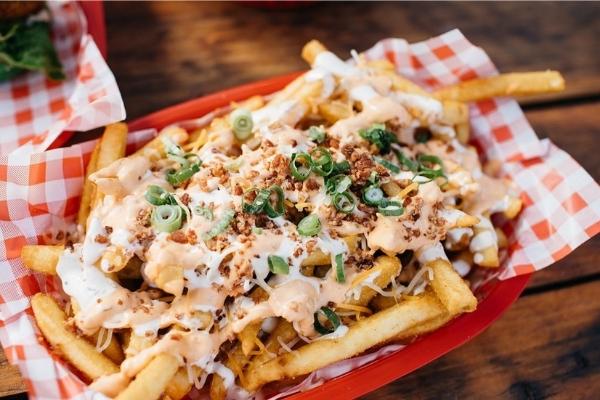 Loaded fries from The Gypsy's Lunchbox food truck.
Californian inspired, Melbourne born head to
Green Burgers
on Smith Street in Collingwood for crave-worthy monstrosities using only the bounty of the soil. If you are looking for squeaky clean green cooking, this isn't the place – it's all plant-based but definitely not boring, there's a nip of hip and a leap in thyme, resulting in a pan-seared burger without the crime.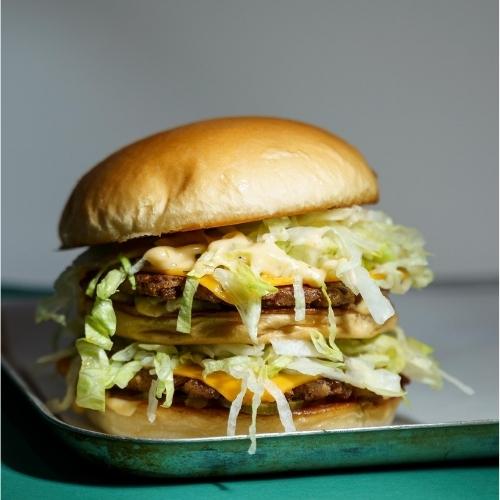 There's a nip of hip in fare from Green Burgers.