Along with Garfield, I've never met a lasagna I didn't like and on Thursday, July 29 it'll be on the plate as we celebrate National Lasagna Day.
Lasagna originated in Italy during the Middle Ages with its birthplace commonly attributed to the city of Naples. The first recorded recipe was set down in the early 14th Century in
Liber de Coquina
(The Book of Cookery), which evolved into the traditional lasagna dish of local sausage, fried meatballs, hard-boiled eggs, mozzarella and Neapolitan ragu.
Did you know the world's largest lasagna was created by Magillo Restaurant and Macro Supermarket in Poland in 2012? Weighing in at 4865 kg, this monster was served during the UEFA European Football Championship in the city where the Italian national team was staying.
For the world's most expensive lasagna, head to Portofino at the Mirage in Las Vegas, where you'll fork out $100 a slice for 'Diamond and Gold' pasta – stuffed with porcini mushrooms, Iberico ham, prosciutto di Parma, 24-month-aged Parmigiano Reggiano, buffalo mozzarella and Kobe Bolognese.
A 'foiefredo' sauce – alfredo infused with foie gras – tops the dish, along with white diamond truffles, shaved at the table and 23-carat gold flakes.
While there may not be gold on the plate come Thursday, here are seven of our favourite places to say ciao to delicious lasagna: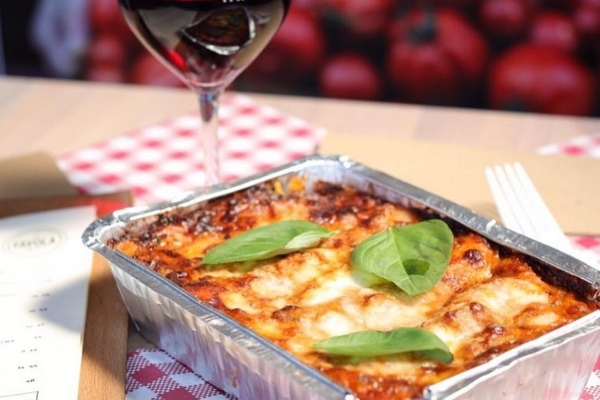 La Favola's take home lasagna…best enjoyed with a glass of red.
For authentic Italian mouth-watering lasagna carefully and freshly prepared from semolina and slow-cooked tender ragu, order a family-sized portion from
La Favola
on King Street in Newtown and celebrate in lockdown style at home on Thursday. Don't forget a great bottle of red to wash it down as you watch the Olympic action from the comfort of your lounge.
Buy one lasagna at
All' Antica Italian Restaurant
on Point Cartwright Drive in Buddina on Wednesday and Thursday and get a second to take home for free. This offer is only for dining in so make sure to reserve your table now and relax in warm and inviting surrounds of sleek dark furniture, stylish ceiling lamps and brick feature walls at this classic Italian ristorante.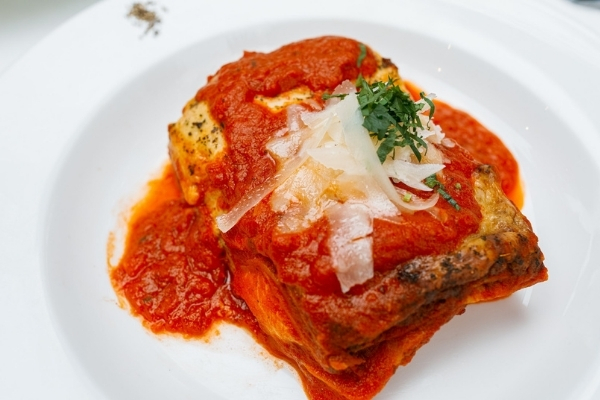 L'Unico Trattoria's delicious lasagna carne.
Do you love layers of pasta wedged between the finest ingredients, sauce and cheese? Head to
L'Unico Trattoria
on Vasey Street in Trinity Beach this Thursday to take in unparalleled views of the glistening Coral Sea and Marlin Coast, alongside delicious housemade lasagna carne, best enjoyed with a glass of McLaren Vale Shiraz.
Purchase five meals for take away or delivery from
I Maccheroni
on Jersey Road in Woollahra to get the chance to win a complimentary lasagna to celebrate National Lasagna Day on Thursday. With a new range of family takeaway boxes available for lockdown meals; order dishes like mushroom arancini, beef cheek, polenta and tiramisu to be delivered to your door.
Ward off Winter chills on Thursday night by ordering a lasagna from
Rococo Acland Street
in St Kilda and
Rococo Glenferrie Road
in Hawthorn. Choose from traditional beef lasagna, with Bolognese ragu, buffalo mozzarella, bechamel, fresh basil and Parmesan; vegetarian, with roasted capsicum, pumpkin, mushroom, zucchini, eggplant and spinach, or a vegan option.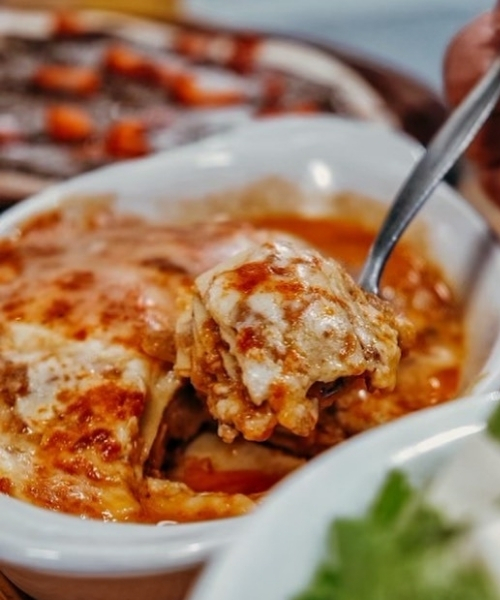 Dani and Fiori's Gourmet Pizza has great takeaway pasta deals.
Layers of pasta sheets, filled with rich Bolognese, mozzarella and bechamel cream sauce are on offer for takeaway and delivery at
Dani and Fiori's Gourmet Pizza
on Homer Street in Earlwood. While you can't dine in to celebrate on Thursday, there's still dinner deals to beat lockdown blues and satisfy all the family's Italian cravings, such as $10 large traditional pizzas or pastas.
For more Italian restaurants to celebrate National Lasagna Day, click
here
.