By John Rozentals.
I've always found mature Hunter Valley semillon, or at least good-quality mature Hunter Valley Semillon, to be one of the wine world's genuine wonders.
My chief oenology lecturer described it as one of only three unique Australian wine styles, the other two being sparkling shiraz (or 'sparkling burgundy' as it was known in less PC times) and Rutherglen muscat.
I remember an early-morning round of very early-morning golf many years ago in Hobart with that somewhat controversial, certainly provocative, Melbourne-based winewriter, the late Mark Shield.
He waxed for several holes about the qualities of aged Hunter semillon and wondered how such a "mean, squinty-eyed youngster" could develop such grace, richness and complexity with time in the bottle.
There are, of course, some fine examples available for keen drinkers — wines such as Tyrrells Vat 1 Semillon, but you're going to have to fork out quite a bit for the pleasure of drinking that with your best seafood.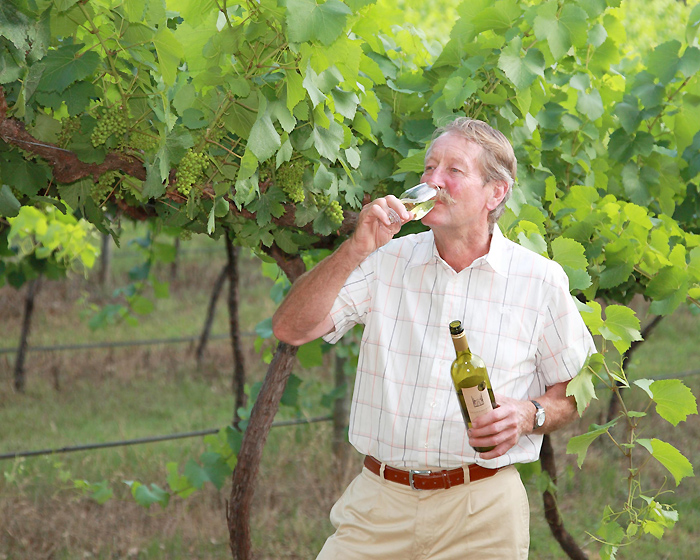 Daryl Heslop … his Stonehurst 2007 Semillon is still available cellar door.
Imagine my pleasure last weekend to be offered at Wollombi's smallish Stonehurst a few glasses of 2007 Semillon — and my even greater pleasure in finding that it was still available for purchase at the cellar door, for the very reasonable price of $35 ($28 in case lots) a bottle.
While proprietor/winemaker Daryl Heslop isn't quite giving the stuff away for this ask, it really is a bargain.
The wine in question has a trophy and gold medal to its credit, and as can be seen from my tasting notes it really is a gem.
And Daryl has some very handy, other older semillons available as well. Visit: www.cedarcreekcottages.com.au.
Wine Reviews:
Tyrrells 2013 Vat 47 Hunter Chardonnay ($75): this line, created by Murray Tyrrell in the 1960s, has assumed near legendary status as one of Australia's first and best chardonnays. At last count this particular vintage had won four trophies and 15 gold medals, and thoroughly deserved every one of them — a lovely, tight, modern style of dry white with great length of flavour. Even if you say you don't drink chardonnay I reckon you'll fall for this one. Made entirely from the family's Short Flat vineyard, directly across the road from the Broke Road winery.
Draytons NV Hunter Blue ($24): pouring a glass of this presents an immediate surprise. The wine is a bright, vivid blue in colour. Given that it's made from a blend of semillon and Verdelho, I'll stick with calling it a white wine, as I normally would. It has a noticeable level of sweetness and will appeal to a broad range of tastes. Surprise your friends by serving it as an aperitif.
Wine of the Week:
Stonehurst 2007 Cedar Creek Semillon ($35): a truly delightful bottle-aged dry white that's showing ample enough toasty, honeyed flavours to be regarded as a classic. Still showing fresh citrus flavours on bouquet and palate, it's nearing its peak right now but should hang around for a few years.