By Freya Ensbey.
Australia is a remarkably diverse and abundant country when it comes to providing growing conditions for produce. Our winery regions yield some of the best wine terroir in the world, while our warmer north provides tropical fruit in abundance year-round. However, it is the coffee growing industry which has percolated our attention of late, growing and expanding before our very eyes.
Although we have seen a dramatic increase in growth within the coffee industry here in Australia, statistically we are far behind the rest of the world. Per annum, we are still only producing approximately the amount of coffee that is consumed in Sydney, Melbourne and Brisbane in just one day.
However, with boutique coffee roasters brewing in numbers quicker than ever before, we decided to delve a little deeper into what has made these three companies decide to focus on our local industry, making use of the distinct taste characteristics Australian coffee provides, with its medium body, low acidity and mild sweetness.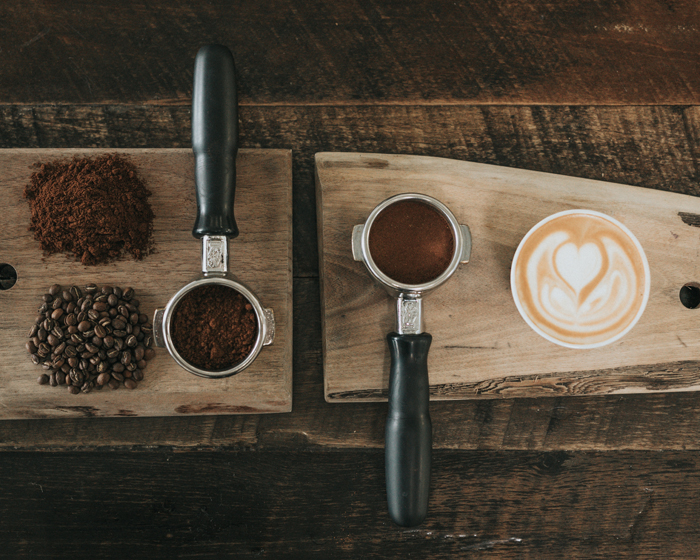 The East Australia Coffee Company
The East Australia Coffee Company was created with the sole mission of sourcing the very best coffee beans grown in our wide country of extremes, blending them with their own organic sustainably farmed beans to produce what they consider as the ultimate cup of Australian Coffee. The unique flavour which they produce is the reflection of this ethos and a representation of the country we live in.
Among their products is a coffee which has everyone a buzz in more ways than one - the Voodoo Extremely Strong Coffee range. Not for the faint hearted, The Voodoo X brings with it a heart fluttering 18,650 mg of caffeine per kg of coffee, which is a staggering 100% more potent than its nearest competitor of 8,870 mg per kg.
Those who are concerned about the use of chemicals that they consume, may opt for a bag of beans from the organic coffee range, offering naturally fermented sun-dried beans which have been roasted to perfection and ideal for either commercial or home use.
One way the professionals at the EACC recommend enjoying their coffee is to make a plunger full of their Australian coffee and freeze it into ice cube trays. Once frozen, add these to a small glass of milk along with a nip of Bailey's for an indulgent night cap.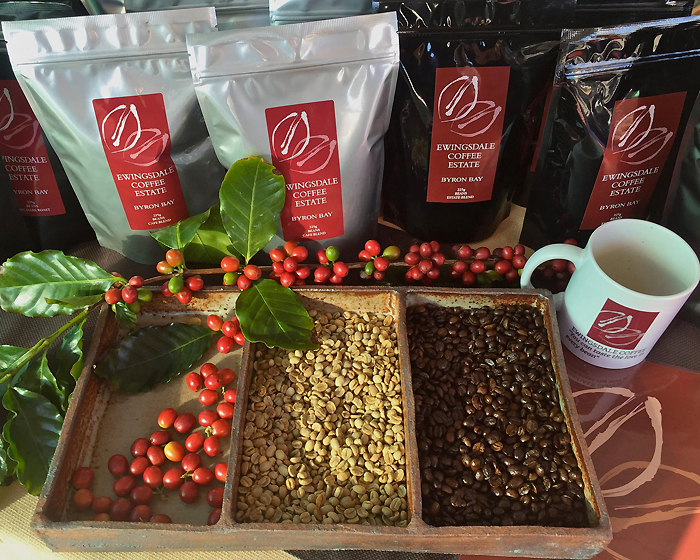 Ewingsdale Coffee is located in the shady lush hinterland of Byron Bay, creating the ideal growing conditions for the estate to flourish and produce 100% Australian grown coffee beans. Having taken on a health conscious and holistic approach to their plantation, Ewingsdale doesn't spay any pesticides or herbicides, which they say only benefits their coffee trees further.
Once the trees on the estate naturally reach maturity, they are handpicked to ensure only the ripe cherries are chosen, leaving any leftover berries to ripen in their own time without intervention. Using a 'wet' process, the cherries are pulped and the coffee beans are fermented in rain water before being sun dried, again minimising their foot print with production methods.
Before roasting, the beans are kept in their own parchment for at least twelve months to achieve maximum flavour and avoid them taking on any extra odours. Once this process has been finished the beans are roasted locally within the area, producing a distinctive mellow taste and rich nutty aroma, with a smooth aftertaste, void of any remaining bitterness.
Have the Ewingsdale blends delivered straight to your door within days of being roasted, with options of the Mild Roast Byron Blend, Medium Roast Estate Blend, Cafe Blend and the 100% Dark Roast.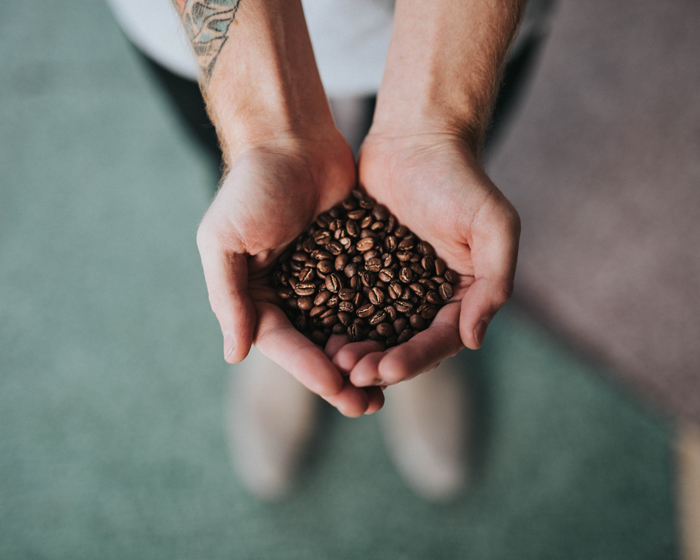 The temperate micro-climate of the Mackellar Range has the ideal growing conditions for Mackellar Range Australian Coffee to produce some of the finest 100% Arabica beans in the country. Distinct from other growing areas which are typically closer to the coast, the growing area of the plantation has less humidity and precipitation, with warmer periods during the Winter months. This specific climate type produces slower ripening and a naturally sweeter bean, bringing with it a unique taste which has been captured in their range of coffee blends.
As many in the industry are doing now, Mackellar Coffee have embraced the sun drying process during the production of their plants. It is believed that sun drying of the processed coffee parchment is the original and the preferred method of drying the coffee beans as the UV rays eliminate any residual e-coli and other bacteria. This system is also kinder to the bean as it is a natural process and not artificially force-dried.
Making the purchasing process easy for us die hard coffee fans, simply choose your bean roast type from medium through to the stronger espresso, before opting for your grind type of whole bean, espresso and plunger. The team have also given us some helpful hints for home brewing in the humble plunger.
Firstly make sure all equipment is cleaned and warmed. Place one rounded dessert spoon of coffee per each mug you will be making. Pour over hot water just off the boil. Let the brew stand for three minutes before stirring with a warmed spoon and let it settle before plunging.
If all this talk has left you stimulated and brewing over ways to use your newly purchased Australian coffee blends, get your hands on a copy of Pidapipo, Gelato Eight Days a Week and find our top picks of decadent coffee inspired recipes.