By David Ellis from vintnews.
Brothers Steve and Matt Harrop drew on fruit from 30-year old vines grown on the site of an old bluestone quarry in the cool Victorian Highlands, to create a most-moreish 2015 Chardonnay under their unusually named Amen Break label.
Amen Break is said to be the most sampled drum beat in musical history, and the Harrop brothers say that just as that drum beat is perfect in its simplicity, so too is their philosophy to replicate a winemaking "perfect simplicity."
"Our vines produce a small crop of concentrated, outstanding quality fruit that is harvested by hand, and to which we apply minimal intervention to achieve exceptional quality," they say.
"The Quarry Ridge Vineyard is 550m above sea level near Kilmore, a high, cold place where crops are low and farming must be exact – we hand-pick when acidity, sugar and flavour are all in balance, and our winemaking is simple but precise."
The brothers' 2015 Amen Break Chardonnay is high altitude Chardonnay at its best, with a beautiful palate of fig and pear flavours, mealy phenolic at the finish, and bright acidity.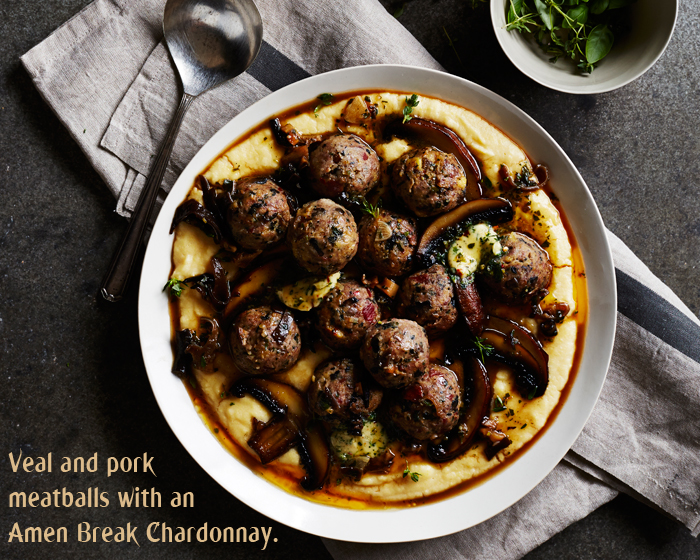 At $25 enjoy on its own, or with grilled veal chops and creamy-sauced mushrooms. AGFG suggests whipping up these veal and pork meatballs with polenta and mushroom as well.
One to note: not only is d'Arenberg's 2015 The Footbolt Shiraz quintessential McLaren Vale Shiraz, it takes us back 103 years to when founder Joseph Osborn made the gut-wrenching decision to sell his stable of highly successful race horses, to buy a vineyard.
A teetotaller, Joseph Osborn grew and sold wine grapes for nine years before his death in 1921, when son Frank took over their vineyards, and added a winery in 1927.
Frank and his wife Helen d'Arenberg had a son Francis, who was more generally known as d'Arry, and who in 1943 at just 16 joined his father running the vineyards and winery.
On Frank's death in 1957, d'Arry took control and launched his own d'Arenberg label named in honour of his mother. In 1996 his d'Arenberg Old Vine Shiraz was renamed d'Arenberg The Footbolt Shiraz – Footbolt being Joseph Osborn's favourite horse that he had sold back in 1912 to buy his first vineyard.
A current 2015 Footbolt Shiraz is proof why Shiraz is king of McLaren Vale wines – rich and full-bodied with ripe blackberry and spice aromas, it's all about dark cherries, plums, rhubarb and aniseed, and varietal pepper and spice in the mouth. Pay $18 to enjoy with roast duck breast and a raspberry sauce.