By Leigh O'Connor.
What did the eggs Benedict say during the COVID-19 pandemic? We're Hollandaise together.
There's no yolkin' around when it comes to our favourite brunch classics…at the top of the list is eggs Benedict, with crisp bacon and smothered in creamy Hollandaise.
This Friday, April 16 is National Eggs Benedict Day - what better way to shellabrate than to visit your favourite café for a plate of deliciousness, washed down with a cup of Joe.
There have been many 'Benedicts' through the years who have tried to lay claim to the creation of this breakfast staple, but the two who have the most credibility are a stockbroker called Lemuel Benedict and Pope Benedict XIII.
The story goes that in 1894 Lemuel Benedict ordered 'buttered toast, poached eggs, crisp bacon and a side of Hollandaise' at the Waldorf Hotel in New York; they were so impressed with the dish they put it on the menu, substituting ham and English muffins for the bacon and toast.
While in the early 18th Century, Pope Benedict XIII liked an egg dish so much he requested it over and over again; he also had an illness which added to his craving for the dish, so it was named after him.
Here are five egg-ceptional venues to delve into your favourite version of eggs Benny: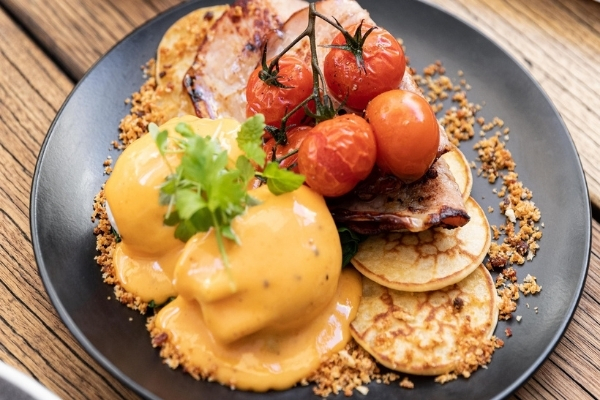 Green Phoenix's pulled pork eggs Benny.
Head to new kid on the Brunswick café block
Green Phoenix
on Sydney Road on Friday and shellabrate with pulled pork eggs Benny, spinach, chorizo crumble and sriracha Hollandaise, served on a chapati; from a menu focused on plant-based foods, natural wines and vegan cocktails.
An unassuming frontage gives way to a sleek interior vibe of an aqua colour palette, glowing pendent light fittings, booth and shared table seating; or soak up the sun alfresco while enjoying all-day choices like craboulade – crab cakes, with two poached eggs, broccoli, mango salsa, chipotle remoulade and pea puree – washed down with a glass of Sauvignon Blanc.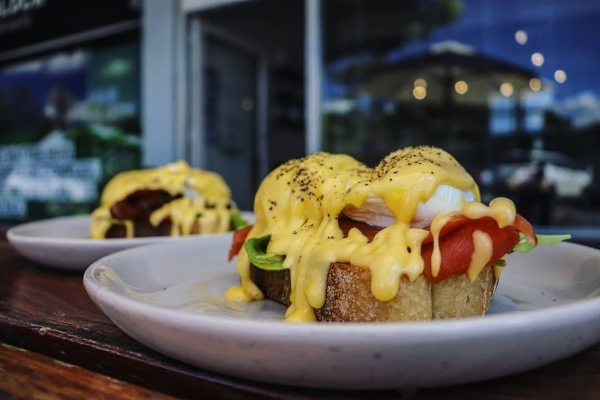 Get egg-cited with Single Guys smoked salmon Benny.
Kenmore foodies drop by
The Single Guys Coffee Co.
on Moggill Road for a daily caffeine fix and tasty café bites. Relocating to larger premises next door last year, this locally-loved venue in the leafy Brisbane suburbs invites chilling out under market umbrellas alfresco; or indoors where the smell of coffee and sweet treats is hard to resist.
Get egg-cited over a plate of Benny with smoked salmon, poached eggs and housemade herb Hollandaise on a toasted English muffin; or perhaps choose corn fritters, avocado, relish, corn puree, poached egg and fresh herbs, alongside a green smoothie with pear, pineapple, mango, spinach and coconut water.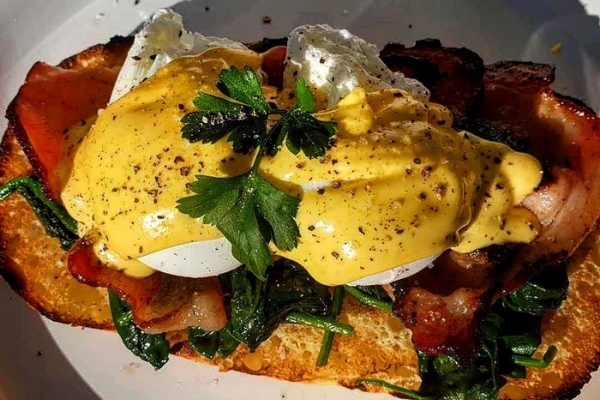 Cracking eggs Benny at Café Catalina.
Boasting an egg-ceptional coastal location, it's time to unwind and shell out at iconic
Café Catalina
in Southport's Broadwater Parklands. Nestled near the Gold Coast Aquatic Centre and on the water's edge, soak up balmy breezes at this casual venue; or take to trendy tables indoors and catch up on conversation with friends while perusing a Mod Oz menu.
For a cracking eggs Benny on Friday, stop in and order soft poached eggs on Turkish toast, with spinach, honey-smoked ham, mushrooms and Hollandaise; while those with heartier brunch appetites may be tempted by white bean, pork belly and chorizo cassoulet, poached eggs and sourdough toast.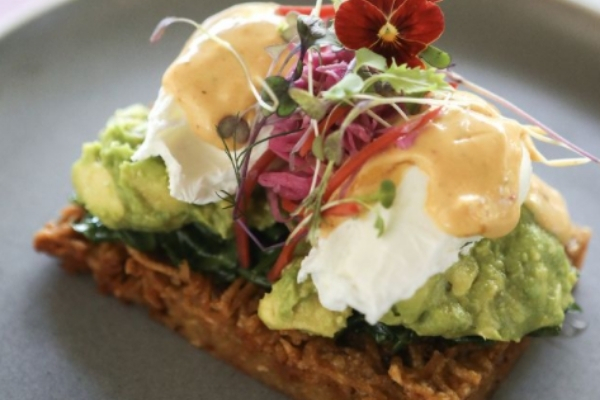 Barlog Benny with chipotle Hollandaise.
Barlog Benny comes with perfectly poached eggs, pulled pork, chipotle Hollandaise, avocado, spinach and pickled cabbage, on a housemade potato rosti at
Barlog Espresso
on Waterview Walk in Melbourne's Docklands. With bold, bright colours along with pink wire chairs, potted greenery and a full glass frontage, this is the place to see and be seen for breakfast and lunch rendezvous.
Pancake lovers won't go past Barlog's lemon curd option, with strawberry compote, meringue, cream and mascarpone for a decadent breaky treat; or maybe smashed avo, tomato, seeds, marinated feta and pesto on sourdough hits the mark.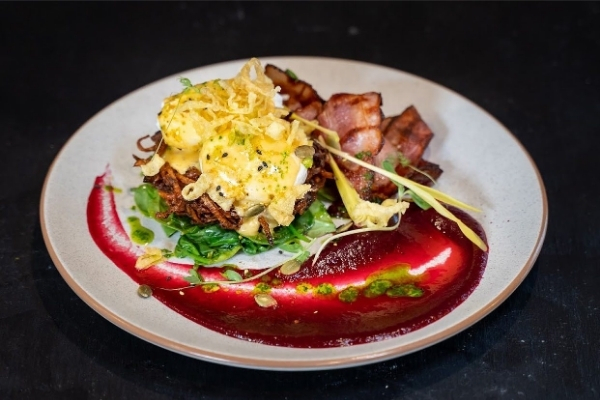 Clove n'Honey Café's version of Benny with beetroot puree.
Tuck into two poached eggs, sitting on a rosti, with crispy bacon, beetroot puree and lashings of housemade lemon butter Hollandaise at
Clove n'Honey Café
on Logan Road in Greenslopes on Friday and any other day. Perched at the entrance to Stones Corner Village with tables spilling out onto an undercover verandah, this rustically trendy eatery is the ideal spot for a catch-up over coffee.
Reclaimed timber tables, potted greenery and subway tiles create a relaxing vibe for lingering over dishes from a versatile menu, with choices like the Mortgage Broker – free-range eggs, smoked bacon, mushroom, almonds, mango chutney, roast tomato, cheese kransky, sourdough, sauerkraut, sauteed greens and kumara.
Still looking for a cracking café near you to visit on Friday, click
here.