Say 'Guten tag' to S.A's settlement community
A small town, 30 minutes from Adelaide, Hahndorf is Australia's oldest surviving German settlement. Very much maintaining the style, ambiance and authenticity of its Germanic ties, Hahndorf is a blend of old and new, a tourist town full of museums, antiques, galleries and German eateries. Hahndorf's German charm is complimented by its traditional, long standing architecture of many buildings throughout the town.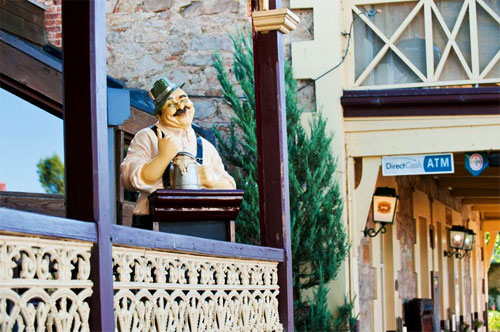 What can I do in Hahndorf?
In Hahndorf, be sure to visit the galleries of 'The Cedars', housing the works of renowned artist Sir Hans Heysen as well as The Hahndorf Academy, the largest regional art gallery in South Australia.
Hahndorf is also home to the historic Beerenberg Farm, which dates back to the 1830's during German settlement. Making its mark with interesting and assorted jams, chutneys and sauces, Beerenberg is now an internationally recognized name, with products sold in 23 countries. Here, you can pick your own strawberries, take a stroll through the rose gardens or head for the farm shop stocked with a full range of Beerenberg products. And speaking of food, be sure to taste of what Hahndorf is all about. Head for the town centre, where authentic German food is served in many eateries, including a specialty German cake shop and several smallgoods outlets.
Great for a day trip, this little town is one of South Australia's premier tourist destinations, full of well preserved history, small town hospitality and a quaint village style charm. After a days worth of wandering Hahndorf, be sure to drop by one of the surrounding wineries producing some of Adelaide's famous cool climate wines.
For more information about the Adelaide Hills region, head to our guide