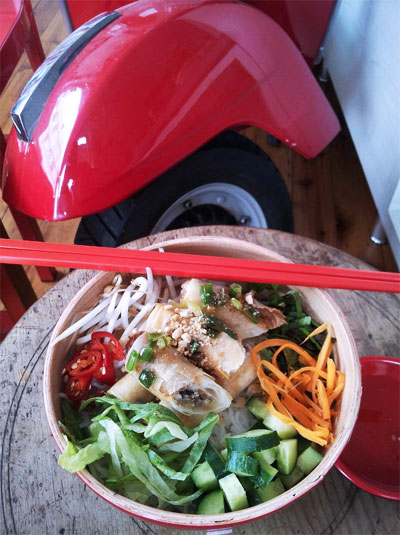 Michael and Mai Le are the owners of Great Aunty Three in Enmore, preserving the sensual sanctity of Vietnamese street food in Sydney's inner west. Once tucked away in cubicles within the financial world, Michael and Mai relocated to a 'corner office' in the form of a restaurant, which you'll find colourfully painted in pink and plum on Phillip Street and Enmore Road.
When their newborn, Ethan, came into their lives, the couple decided to follow their hearts and turned to Grandma Yi Ba (Aunty Three) for inspiration – she's their 76 year old 'Great Aunty Three' icon. Grandma was given the number three because she is the second eldest in her family; in Asian culture parents are in the number one position, the 1st child in number two and so on… To this day, Yi Ba works as Head Chef at a vegan restaurant in Cabramatta.
A Vietnamese Food Lineage
Though Michael spent a decade climbing the corporate ladder, at thirty-something, on his own accord, he stepped down and reinvented their family reality by re-connecting with his roots. In his teens, Michael's father - who was a chef – also contributed to his gastronomic lineage, introducing him to the business of food with their family café in Kingsgrove. On 5 August, 2011 Michael was back in the game when he and his wife established Great Aunty Three.
It's noteworthy that the only way you'll be experiencing Great Aunty Three Vietnamese pho and rice paper wraps as street food is if you take-away. While that's a viable option, and a large part of their business, we highly recommend you dine in and make yourself comfortable, as Great Aunty Three restaurant embodies the very spirit of their role model, Grandma Yi Ba; as in the glue of their heritage, Great Aunty Three is full of love and has been designed with respect for Vietnamese tradition, reflected in a balanced menu.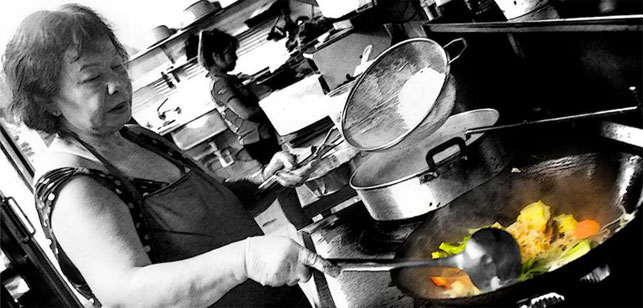 Inner City West Sydney Dining
Great Aunty Three's street walls are a salmon hue, offset by their promotional cherry red scooter and accentuated by alfresco dining tables filled with lively and lighthearted customers. One step inside and you're welcomed by a team of dreamers living the life and their banh mi station, where house-made wholemeal rolls await you, soon to be filled with caramelised pork belly, pickled daikon, watercress, pate and pumpkin seeds amongst other options.
Their blessings are yours, as Great Aunty Three's commitment to simple and fresh foods translates into a healthy menu full of tasty dishes that you can mix and match when dining with family and friends. Grandma Yi-Ba's own restaurant in Vietnam had the community raving about her recipes, and her Grandson's is now doing the same in his purposefully placed inner city location of Enmore.
115 Enmore Road, Enmore, NSW
Mon – Thu: 10:00 am – 3:00 pm. Fri – Sat: 9:00 am – 5:00 pm. Sun: 10:00 am – 3:00 pm.